Was Steve Jobs right about Android?
When Steve Jobs said that Google's Android platform was way too fragmented, Google said the statement was meant purely to frighten junior developers and, to a great extent, potential customers as well. It seems, though, that Steve Jobs might have been right. The main problem with Android is that there have been six releases within a short span of 19 months and that's too many revisions for developers as well as customers.
The journey of Android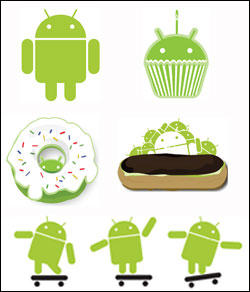 Android Inc was a small startup based in Palo Alto, California, way back in 2005, when it was bought by Google. Its founder Andy Rubin, and his team, began work on a Linux based operating system for mobile devices targeted at handset manufacturers and carriers. At the end of 2007, several major companies including Google, Intel, Qualcomm, Sprint Nextel, HTC, Motorola, T-Mobile, and Nvidia came together in a group which was called the Open Handset Alliance.
Since 2008, Android has been available as open source software and various private companies are allowed to add their own apps to it and sell them as well (surprisingly, they are not required to submit the new product back to the open source community).
At the Mobile World Conference 2008, there were three handsets running Android apps in one form or other. The first major device with a touchscreen and a Qualcomm processor was unveiled at the Google IO conference. People now know this device as T-Mobile G1.
The Android update timeline
Users have seen numerous updates to the Android platform since its inception. Version 1.5, also called Cupcake, had several new features and user interface updates. Using Cupcake, people could record and play video, and directly upload their pictures to Picasa and videos to YouTube. A soft keyboard was also added to it, with text prediction capabilities.
After Cupcake came Android 1.6, or Donut. It delivered an improved Android Market experience and a much better unified interface for camera, gallery and camcorder. In the gallery, users could select multiple photos to delete. The voice search facility was updated, so users could get faster response and better integration with native apps. There was also support for CDMA/EVDO, VPNs, and text to speech conversion. The maximum resolution it could deliver was WVGA.
The third version of Android was 2.0 or 2.1, also known as Eclair. In this version hardware speed was optimised, and it could support higher resolutions and screen sizes. The browser's user interface was new and so was support for HTML5. The camera had built in support for Flash and Microsoft Exchange.
The Android 2.2 Froyo update had its performance, memory and OS speed optimised. Also its Chrome browser application as well as Microsoft Exchange and app launcher were improved.
Gingerbread, the latest edition of Android, or version 2.3, supports internet telephony, video calls, video playback, near field communication (NFC) and copy paste functionality.
Other versions in the pipeline are Honeycomb and Ice Cream.
Android 2.1: The dominant platform
About half the Android phones in circulation are Android 1.5 or 1.6, which means it (fragmentation) has already started to gain pace. The six major releases within 19 months are confusing for average consumers. Sooner rather than later, compatibility issues (especially for app developers) will increase.
Google itself admits its product cycle has become stable now and says that updates are likely to come twice a year, and that they are likely to boil down to once a year later on. Although fragmentation will remain an issue with Google, careful management of newer versions may prevent earlier versions of Android from going obsolete right away. This will give many users something to be happy about, but we are not sure about the geeks.