It's Independence Day week and the shopping world is abuzz with offers and discounts. Almost all the shops and retail chains are offering discounts. So we decided to give you a bird's eye view of what is on offer if you are in the market to buy a mobile phone.


We have put together different options from online retail sites as well as retail chains.
###PAGE###
Indiatimes.com
Indiatimes.com is offering up to Rs 3,000 off over and above its usual discounts on mobile phones. The site has a good selection of phones and tablets including the Google Nexus tablet, which is not available in the country officially. Users can use the coupon code 'SETMEFREE' to get this discount. All the products available through this offer come with the manufacturer's warranty.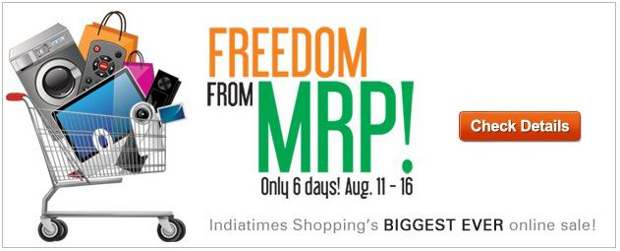 The site also offers an EMI option (though most credit cards offer this option anyway).
###PAGE###
eBay.in
eBay is promising a gift with every purchase of more than Rs 5,000. The good part is that you can buy anything of any price till August 16 and the total will be accumulated, making you eligible for the biggest gifts on offer for the amount you have spent. There are additional discounts available as usual.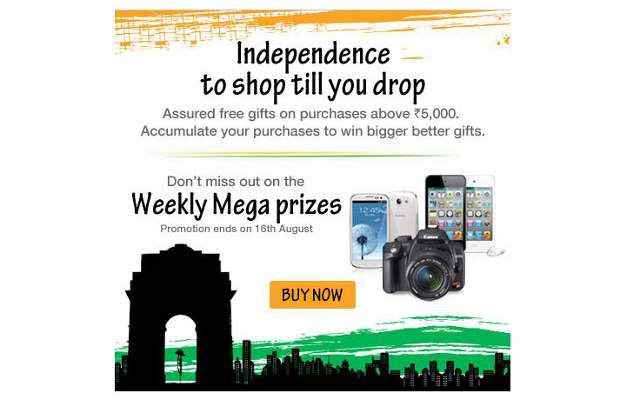 The gifts range from a 16 GB SDcard (on purchase of Rs 5,000) to a Samsung Galaxy S3 on purchases of more than Rs 4 lakh. In between you have lots of good free gifts. There are also choices in each category and none of the products on offer is old.
###PAGE###
Snapdeal.com



Snapdeal is offering even bigger deals on Independence Day. Though there is no fixed discount, the offers look good. For example, HTC Sensation XL is available with a 32 per cent discount. There are also discounts of up to 64 per cent on certain models.
###PAGE###
Futurebazaar.com/BigBazaar
Till the 15th both Futurebazaar.com and its sibling BigBazaar are offering what they call Maha Bachat Bazaar, which offers more than usual discounts on all sorts of products including mobile phones, tablets, and accessories. You will find both very cheap non-branded (lesser known brands actually), as well as reputed brands.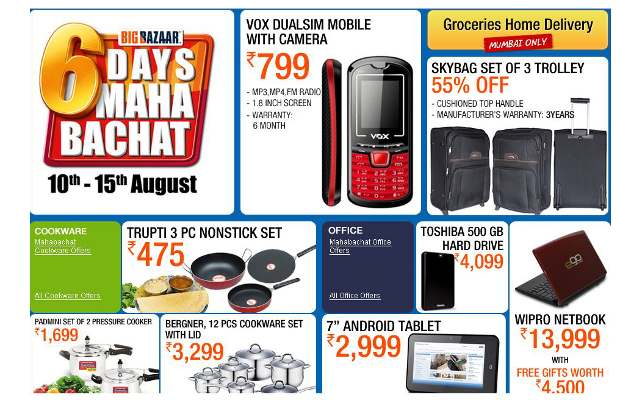 One of the associate sites and retailers eZone is offering up to 60 per cent off on electronics including mobiles and tablets. It's also offering a free iBall router on the purchase of a tablet priced above Rs 25,000, and an 8 GB SDcard and watch free when you buy a tablet worth Rs 6,000 and above.
###PAGE###
Jumbo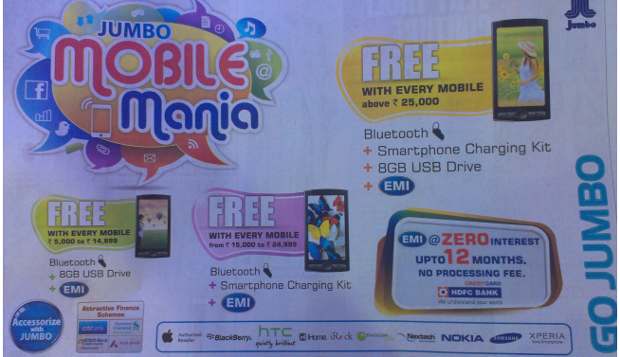 Jumbo is offering free gifts like 8 GB USB pen drives, smartphone charger kits, and Bluetooth headsets when you buy phones worth more than Rs 5,000. You also get 0 per cent EMI on all purchases, without any processing fee.
###PAGE###
Themobilestore.in
Though this offer is not yet announced, The Mobile Indian has exclusive information that from midnight tonight, if you log on to the Themobilestore's Facebook page you will get discount coupons. The amount is expected to be worth more than Rs 200, but there is no formal announcement.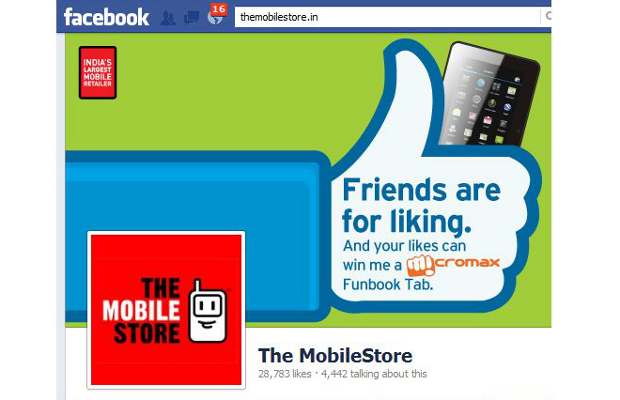 If you know of special offers from some other retailers, do let us know by commenting below or on our Facebook page.