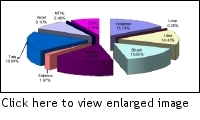 According to figures released by the Telecom Regulatory Authority of India (TRAI), Tata Teleservices has fetched the highest number of net additions during the month of November 2009, at 18.8 per cent growth. Tata Teleservices has three brands under its umbrella which includes Tata Indicom (the CDMA brand), Tata Docomo (the GSM brand) and Virgin Mobile (GSM, prepaid). The operator has added about 3.3 million subscribers in November over the previous month. It is followed by Bharti Airtel and Vodafone with 15.85 per cent (280,000 subscribers) and 15.74 per cent (278,000 subscribers) respectively.
Interestingly, Tata Teleservices has managed to lure the highest number of subscribers since the month of September 2009 when it recorded a 26 per cent rise in market share with 136 million subscribers. In October, it had 525 million customers or 23 per cent rise in market share. It is probable that launch of TTSL's GSM arm Tata Docomo has propelled the operator's growth.
The figures show that the telephone subscriber base in India reached 543 million in November, bringing the teledensity to 46.3 per hundred population. The wireless subscriber base stands at 506 million.
In a break-up of circle-wise growth in mobile subscriptions, the figures reveal that in absolute numbers, Circle B continues to add the highest number of additions at 7.9 million in November. This circle comprises Punjab, Rajasthan, Madhya Pradesh, Chhatisgarh, Kerala, Haryana, Uttar Pradesh (East), Uttar Pradesh (West), West Bengal, Sikkim and Lakshwadeep.
While the absolute growth for Circle C is 68.8 per cent in November, which shows that it has highest number of net additions year on year again second time in a row. This circle comprises Bihar, Jharkhand, Orissa, Assam, North East, Jammu & Kashmir and Himachal Pradesh.
As for the other circles, mobile subscribers grew at 47.9 per cent per cent in Circle A (Gujarat, Andhra Pradesh, Karnataka, Tamil Nadu, Maharashtra and Goa) and 36.9 per cent in metros (Mumbai, Delhi, Chennai and Kolkata).
Meanwhile, wireline or fixed line telephony continues to register a negative growth in all circles on a yearly basis.
The broadband subscriber base has seen a rise from 7.4 million in October to 7.57 million in November, a growth of 2.26 per cent.