Tata Docomo, the GSM brand of Tata Teleservices Ltd (TTSL) formed out of an alliance with Japan's NTT Docomo, has launch Docomics, an addition to the operator's recently announced m-comics service. Japan-based NTT Docomo is a provider of voice, data and multimedia services for mobile phones and Docomics is a trademark of NTT Docomo in India.
Subscribers can use Docomics to read full comics books, along with special effects like character vibration, sounds and zooming text bubbles. On this, Tata Docomo will offer popular Marvel titles such as Spider-Man, X-Men, Civil War; and Japanese Manga titles such as Goebreeders, Tamahagane, Aqua Planet Chronicle, Silent Mobius Complete Edition, Shinesman and Old Friend.
Customers can view the content frame by frame and can also download the same from the WAP site or through the viewer application. In the introductory offer, they will be charged Rs 15 per comic chapter and there will be no additional data charges in the home network.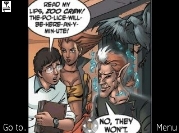 Tata Docomo had launched a similar m-comics service, Comix on the go, in November 2009. It offers about 2,000 titles from mythological tales, Supandi from Amar Chitra Katha, Mickey Mouse, Winnie the Pooh and Princess Diaries from Disney, and Sadhu and Devi from Liquid Comics. The service is available at various price points – Rs 3 for small scripts, Rs 10 for short stories, Rs 20 for full comics.
Speaking about Comix on the go, Zubin Jimmy Dubash, assistant vice-president, new products development, TTSL, told Telecom Yatra, "Though it is too early to comment on this, with its growing popularity we are expanding our comics portfolio and going forward, customers will get many more titles. We expect a good response and our comics product is very competitively priced compared to our competitors."
On the demographic profile of comics subscribers, he added, "Comics reading is enjoyed by all genres from teen to youngsters to adolescents. But largely our target group remains in the age group of 18 to 35 years."