The scale and stakes might be small, but the tablet war has begun in India too. Competition will likely get stiffer and prices will go downward considering India is a price sensitive market.
Besides major players like Apple and Samsung, some handset makers such as Lava and G'Five are also planning to enter the tablet space soon. Lava has announced it will launch its own tablet in September, whereas G'Five intends to do so within a month.
G'Five is likely to be priced around Rs 10,000 and the Lava tablet will cost about Rs 17,000 to Rs 20,000. Lava, however, plans to develop cheaper tablet devices as well.
Below we have discussed some tablets available in India.
HCL Me
The Me tablets, introduced by HCL, run on Android 2.2 operating system. There are two different models of Me: one has a 7 inch screen and the other has a 10 inch screen.
The HCL Me tablets come with HCL Touch functionality which allows users to access local content with the touch of a button.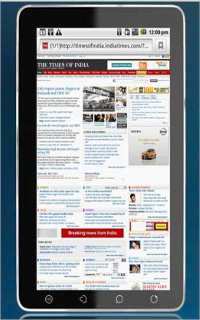 The 10 inch version of HCL Me has a resolution of 1024X600 pixels. It has a built in camera of 1.3 mega pixels, which could have been better. For location based services, it has GPS, ambient light sensor and accelerometer.
Olive Pad
Olive Pad has the distinction of becoming the first ever 3G Android tablet to be launched in India. It hit Indian stores in June 2010 carrying a price tag of Rs 25,990.
It has a 7 inch screen with display resolution of 800X480 pixels and Android 2.2 Froyo operating system. It comes armed with a 600MHz Qualcomm MSM 7227 processor and internal memory of 512 MB. It also has a 3 megapixel camera.
It appears that users are still averse to spending an amount which would otherwise fetch them a low end laptop or desktop.
MSI WindPad
The MSI WindPad 100W tablet was announced for the Indian market just after the Apple iPad came to India. It runs on Windows 7 operating system with an Intel mobile processor. It comes armed with two cameras so people can also use it for video chatting.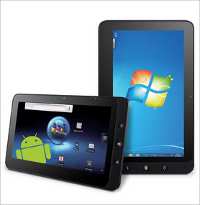 MSI WindPad comes with a 10.1 inch touchscreen and the display has 1024X600 pixels resolution.
Viewsonic ViewPad
Viewsonic, a PC monitor manufacturer, has two tablets: one with a 10.1 inch screen and the other with a 7 inch screen.
The 10.1 inch tablet has an Atom 1.66 GHz processor. It is expected in the Indian market soon.
The smaller version has a 600 MHz processor and is good for only simpler tasks such as browsing the internet and using the word processor.
Samsung Galaxy Tab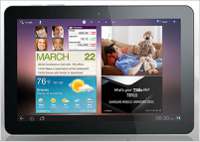 The Samsung Galaxy Tab, which runs on Android 2.2, has a 1GHz Hummingbird processor. It is the first real competitor to Apple's iPad, and it priced at around Rs 30,000.
It has a screen size of 7 inches (other screen sizes are also coming) and the tablet, unlike iPad, supports Flash Player 10.1. All the popular third party apps such as Facebook, Kindle and Qik come preloaded on the device.
Apart from the tablets mentioned above, the Indian market is set to witness a flood of such portable devices. Among them include the Notion Ink Adam (Rs 25,000), BlackBerry PlayBook (Rs 22,000), Samsung Galaxy Tab 10.1 inch and 8.9 inch (Rs 25,000 to Rs 30,000) and Motorola Xoom (Rs 35,000).