Syncuz, a location based real &#151 time event planning application, has been added to the Android an iOS application stores. Syncuz provides a simple and easy way to plan and organising events and meets which usually require calling a lot many people and taking their consent.
By using Syncuz, users can post information about an event in terms of location timing and many more such things and the same is immediately shared with a selected group of people or made available online if the event is a public one. Since messages are sent to all members of a selected group, there is no need to inform others individually.
Syncuz also incorporates location based services which make it easy for the users to make their way to the venue without much hassle. Each event member is represented by a PIN on the map that shows the member's real-time location. Members can attach messages to their pins for the whole group to see.
Privacy of users has been specially taken care of in the Syncuz App which gives full flexibility to the users to control what they want to show to other people.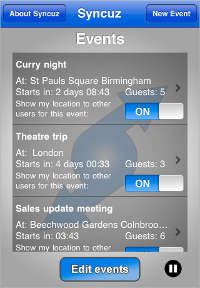 To make it easier to organise an event, the 'invitation' is automatically created by the app; user simply has to add the guest from their contact list then send the invitations, which contains a link to download the application if the guest hasn't already installed one on his device via SMS.
Syncuz is offering a year's of usage for free to anyone who downloads the app before August 31, 2011. After that, smartphone users will be able to download the app for free and try it out with three free trial events. Following which, users would be required pay a nominal amount for the services.
Users receiving invites will not be required to purchase application and neither there 3 free events will be utilised while attending or joining an event.
There are also plans to offer the services on other platforms other than Android and iOS.
The application can be downloaded directly on the Android 2.1 and above devices from the Android Marketplace or on iOS v3.1 and above devices from iTunes app store. Alternatively user can also follow the link to download it also.