Barely five days after the users heard about the arrival of Sony Tablet S2, reports now suggest that the company will rename the tablet as Sony Tablet P.
According to the report, the Sony Tablet P will be a clamshell device with the two screens of 5.5 inch each.
The two devices are going to be officially launched at IFA Berlin, a consumer electronics trade fair, in the first week of September.
The Sony Tablet P will run on Nvidia Tegra 2 processor with Android Honeycomb 3.1 and will be PlayStation certified &#151 so the PlayStation suite fans can access their favourite gaming content on it.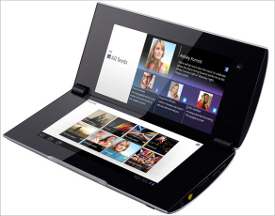 The Sony Tablet P will have 4 GB storage, along with WiFi and 4G configurations, though details about pricing are not clear yet. Users are not used to the idea of dual screen tablets, so this is a novelty, but the users have the option of using the two screens together to get the complete tablet experience.