IFA is that time of the year when chip manufacturers and OEMs showcase the best of the products they've been working on for a release this fall and Sony, like other tech companies will be taking a moment in not only hosting its own event but also plans the launch of a new product. Set for an unveiling at Berlin, Sony will be taking the wrappers off a new Xperia XZ smartphone at an event at IFA 2018 to which the Japanese company is currently sending press invites.
Sony has confirmed that it will be hosting its event on the very first day of the IFA Berlin 2018 on August 30 at 1 PM CET with the IFA conference set to go live from August 30 o September 5. It was speculated that Sony might be launching its newest smartphones in the Xperia XZ series with the XZ3 lineup popping up in renders and leaks lately. It wouldn't be surprising if we do witness the Xperia XZ3 and XZ3 Compact since Sony unveiled the XZ2 and XZ2 Compact at the same event last year.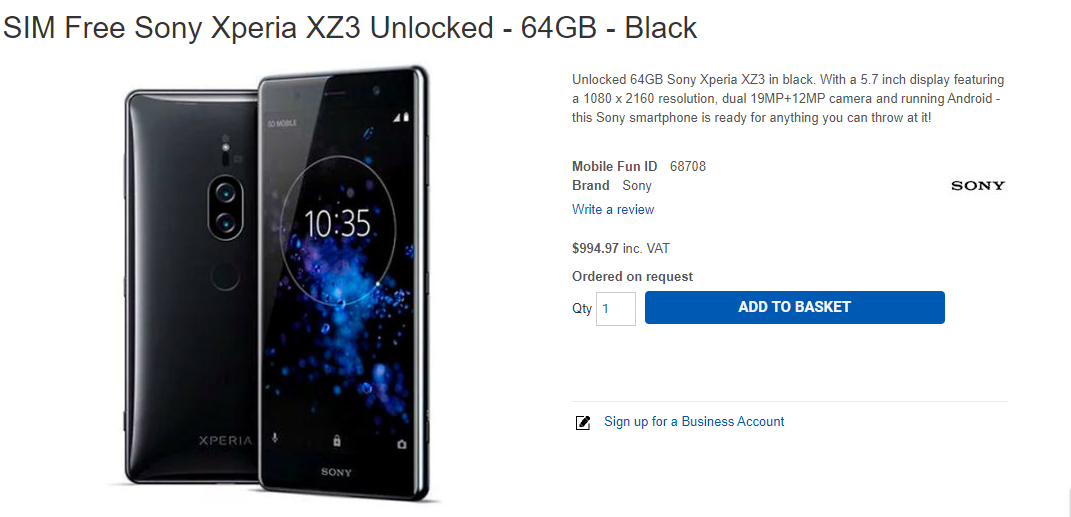 Coincidentally, a UK-based online retailer has already gone on to list an unlocked version of the upcoming Xperia XZ3 for pre-orders ahead of its official unveiling. According to the listing, the Xperia Xz3 will feature a 5.7-inch FHD+ display with a resolution of 2160 x 1080 pixels and an aspect ratio of 18:9 like its processor. The device will be powered by the flagship Snapdragon 845 SoC with 6GB of RAM and 64GB of onboard storage and fuelled by a 3,240mAh battery.
The specs sheet further indicates that the Xperia flagship will come with 19MP+ 12MP dual camera setup at the back with a 13MP shooter on the front for selfies. The listing also contains an official render of the device with pricing set at 749 pounds (approx. Rs 66,850) for the device in its black variant, which is the same price at which the Xperia XZ2 Premium was launched at.