As reported by The Mobile Indian in July, Sony has launched two tablets which will be available in the market by the end of this year.
Sony has renamed both the devices and now the larger of them, S1, will be known as Sony Tablet S and the smaller foldable tablet will be known as Sony Tablet P.
Sony S is a 9.4 inch device with a curved top, much like a folded magazine, which makes it easy to handle for long hours. Tablet P is a dual screen Clamshell device aimed particularly at people looking for both mobility and usability. Both tablets use Nvidia Tegra 2 processors and run a customised version of Android Honeycomb operating system.
Both devices run on Android &#151 Android 3.1 on Sony Tablet S; while Sony Tablet P is equipped with Android 3.2. Both also feature the PlayStation suite, which will enable them to download and run PS certified content. There is not much difference between the two tablets as far as functionality and hardware go.
"These devices truly represent the best of everything Sony has to offer," said Mike Lucas, senior vice president of Sony Electronics' Networked Technology and Services Division. "From hardware to software and services, Sony Tablet devices embody all our innovations rolled into one."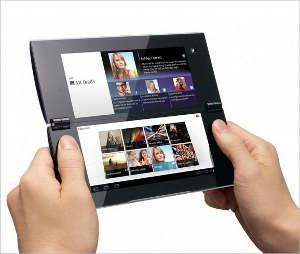 The tablets P and S will come with integrated support for Sony's Qriocity service that allows streaming of multimedia content to various Sony devices like Bravia, PlayStation etc. Along with that, both tablets will also be Digital Living Network Alliance (DLNA) certified, which will help users play multimedia content from the tablet on a DLNA capable display such as a TV. Tablet S will be compatible with a Sony remote control that will work on a number of Sony devices as well.
The Sony Tablet S device is available in 16 GB and 32 GB versions and will be sold at Sony Stores including online and at other authorised retailers nationwide from this year end for about $500 or approximately Rs 23,000 and $600 or Rs 27,500.
Whereas the Sony Tablet P is still awaiting a final launch date and price tag, it is expected that both the tablets will go on sale by the end of this year.