Skype has come out with a major update for its Android app which will allow users to send images and videos. Users also can share documents and view files through both 3G and WiFi networks.



The new Skype 2.6 version improves the video quality and battery life for those devices which run on Tegra 2 system on a chip (SoC). In the list of compatible devices, Skype is continuously adding more devices. Skype further says most devices having a front camera and running on Android Froyo or above would be able to run Skype video chat.
"While bringing you photo, video and file sending, we've also improved battery life and video quality with Skype 2.6 for Android on devices using NVIDIA's Tegra 2 chipset, which include amongst others; the Samsung Galaxy Tab 10.1, Motorola Xoom and Acer Iconia Tablet. Now you can take full advantage of the big screen with better video quality than ever before," Skype said in a blog post.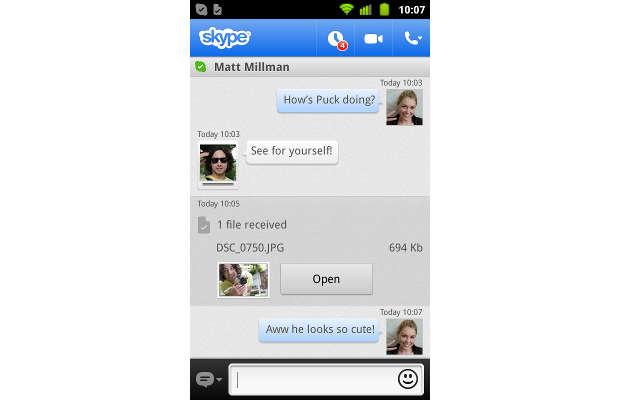 The update will come handy as users can share videos or documents without even launching the video call. The video calling facility on Skype for Android was added to the Skype for Android app only recently. After some time video calling may become more mainstream with the arrival of LTE devices, but right now it's still a novelty.