Apple quietly announced the much awaited iPhone 4S in India through Airtel and Aircel mobile operators. Several thousand jaws dropped. Not at the iPhone 4S but at its price &#151 Rs 44,500 for 16 GB, Rs 50,900 for 32 GB and Rs 57,500 for 64 GB. Indeed, it is jaw-dropping for the slightly bumped improvements and a half-step upgrade to the existing iPhone 4. So if you already have an iPhone 3G, iPhone 3GS or iPhone 4, and are thinking of upgrading to an iPhone 4S, here are a few things to think about.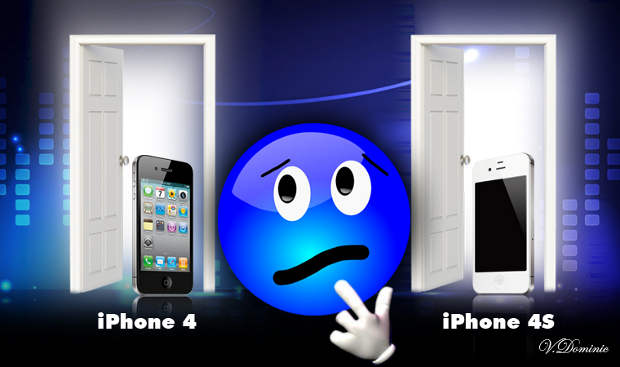 Design
iPhone 4S comes with the same design as the iPhone 4, . and has the same high-resolution 3.7 inch Retina display with 960 x 640 pixel resolution and 326 ppi density. There's no change in the physical design either. The device hasn't become slimmer or lighter. The lack of a bigger display was disappointing. It's likely that the display hasn't been increased in size because that would mean that developers would have to make their apps compatible with the new resolution.
However, rival are getting slimmer, lighter and sporting bigger displays with advanced panel technologies supporting highest possible resolution of up to 720p HD.
Hardware
Apple has packed a new dual-core A5 mobile processor, which was used in the iPad 2 tablet. Despite having a dual-core processor the phone has been clocked at 1 GHz and there is no mention of the significance of the second core. Although it does offer twice the computing muscle, not many applications can actually make the best of both cores. Apart from that, the graphics chip &#151 PowerVR SGX543MP2 is currently top of the line and comes with two cores. The graphics chip does offer seven times more performance while playing games and also loads apps faster, though the RAM configuration remains unchanged.
The iPhone 4S comes with a dual-mode network which means it supports GSM as well as CDMA. Though Apple still hasn't joined the Near Field Communication bandwagon, the company has compensated that with a Bluetooth 4.0 chip which consumes much less power compared to its predecessors.
Apple has, in all fairness, packed an 8 megapixel camera that can record 1080p full HD video, and is a step higher than the iPhone 4's 5 megapixel snapper. The iPhone 4S has a front facing camera for Face-Time but it still isn't possible to make video calls over 3G. If one is looking just at the camera, then the smartphone is more expensive than a good quality DSLR camera.
The bottom line is that despite the new hardware promising better performance, the display isn't big enough to make the best of it. Meanwhile, the competition has dual-core processors with higher clock speeds with larger but poorer quality displays.
Software and services
Apple did give serious attention to the needs of its consumers by rolling out the iOS 5 update. The age old MobileMe service was revamped and launched as iCloud offering 5 GB of online storage. However, the issues related to iOS 5, such as the volume and the end call button acting weirdly, continue to exist. Even the popular virtual assistant service Siri is causing trouble for users outside the United States.
Technically, Siri is perfect except for its sentence formation and its bad phonetics that cause weird results. As of now the service is in beta, and Dan Kittlaus, the creator of Siri, recently left Apple. Besides that, ever since the iPhone 4S was released its software has suffered from several SIM failure issues that continue to exist.
Battery
Battery life has taken a massive hit with the iOS 5 update. Also, the standby time of iPhone 4S has come down to approximately 200 hours, compared to the 300 hours of standby time on iPhone 4, though talktime has been improved by one hour in the new edition. Sure the hour more of talking time over 3G networks is welcome but the standby time foresees massive fall.
Price
In a price-sensitive country such as India, several consumers consider the price of a smartphone before buying it. The all time high prices of iPhone 4S have left a number of existing iPhone 4S users wondering. Sure, the iPhone 4S does have more graphics punch, a full HD recording camera and a half-baked Siri assistant, but all that isn't worth more than Rs 10,000. Relative to the competition, iPhone 4S certainly falls short in terms of hardware and specifications, if one were to ignore its apps. Also, there are no subsidised data plans for handset buyers, but only a promise of the savings they will see after a year or two. Clearly, the iPhone devices don't get to enjoy normal 3G data plans like other devices do.
Finally, the decision lies with the end consumer whether it is worth buying an upgraded phone that looks almost like iPhone 4, has battery issues, software issues but offers 1080p HD video recording.