Samsung has started rolling out the TouchWiz UX software update for its Galaxy Tab 10.1 tablet in the USA. As reported earlier, Samsung is holding a special event in New York to officially unveil and demonstrate the TouchWiz user interface bearing Android 3.1 Honeycomb later today.
The 10.1-inch display bearing Galaxy Tab 10.1 is expected to be launched in India next week. Notably, several users in the USA have already received the update over the air on their Samsung Galaxy Tab 10.1 tablet, as per the XDA Developers Forum.
This new software will bring a slew of features to the tablet such as Live Panel, Clipboard, Mini Apps Tray, and Indicator Quick Panel.
The TouchWiz UX will bring the Samsung Media Hub store to the tablet that offers access to over 5,000 movies and TV shows along with the Google Videos app. Apparently, the Google Video app will not work on the tablets that have been rooted. Amazon Kindle app and Amazon Music Cloud Player app will come pre-loaded along with few others like the Word with Friends as well.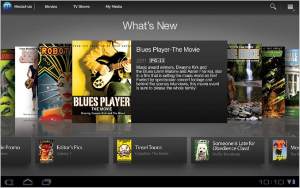 This software update will also bring Samsung Social Hub that aggregates and collates the user's email, instant messaging, contacts, calendars and social network connections in to one unified interface.
The update also brings ability to search for a lost or misplaced device with the new FindMyMobile feature which also offers capability to remotely wipe data in case of theft, just like the Mobile Tracker service and the Find My iPhone feature in Apple devices.
For the business class users, the Galaxy Tab 10.1 gets full support for the Exchange ActiveSync version 14 for staying up to date with official emails and calendar. Also the option of Mobile Printing feature allows wireless with any compatible printer, just like AirPrint feature for the Apple iOS based mobile devices.
You can get further information about this update here.