Samsung has announced the launch of two Android tablets in India. The tablets, named Samsung Galaxy 750 and Galaxy 730, will be available in the market towards the end of this month.
"Consumers all over the world are adopting easy to use and powerful smart devices. India presents one of the greatest opportunities for smartphones and tablets which is why it is one of the first few markets where we are lunching these revolutionary tablets," said YH Lee, senior vice president, global marketing, mobile communication business, Samsung Electronics. She was speaking on the sidelines of an event organised by the company to launch the tablets in Delhi.
Priced at Rs 36,200, Samsung Galaxy 750 is an Android 3.1 based tablet with a 10.1 inch capacitive display while the smaller Galaxy 730 tab has an 8.9 inch screen with the same operating system as the former. Samsung has kept the price of Galaxy 730 tab at Rs 33,990.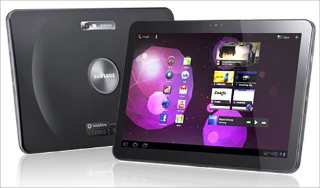 Other specifications of the tablets are the same such as 16 GB on internal storage, 1 GB RAM, and 1 Ghz processor. While the Galaxy 750 features a 7,000 mAh battery, the latter 8.9 inch tablet will house a 6,100 mAh battery.
The tablets will come with a My Reader application that will provide the users access to 17 newspapers, 17 magazines, and 30,000 Indian language books. With the preloaded Mobile TV, users can enjoy upto 55 Indian channels as well.
Vodafone has also announced a promotional offer for the consumers who can enjoy upto 2 GB of free data for six months for just Rs 3,000.