Samsung has reportedly launched three new models of Gear S2 smartwatch that include an 18K Rose Gold finish and one in Platinum finish – both are priced at Rs 34,900. The third model comes in white and is a variant of the standard Gear S2 smartwatch and it is priced at Rs 24,300.
Besides, Samsung has also announced few enhanced apps and games that include Uber, a sleep tracking app called G'Night, reminder specialist My Notes in Gear and an all-new YouTube browsing app Xenozu to its customers. Puzzle-based game called Hextris, a classic car racing Vroom Rider, a brain teaser themed Hangman, Space Wars and Snake have also been announced for Gear S2. These can be played on the smartwatch through its bezel.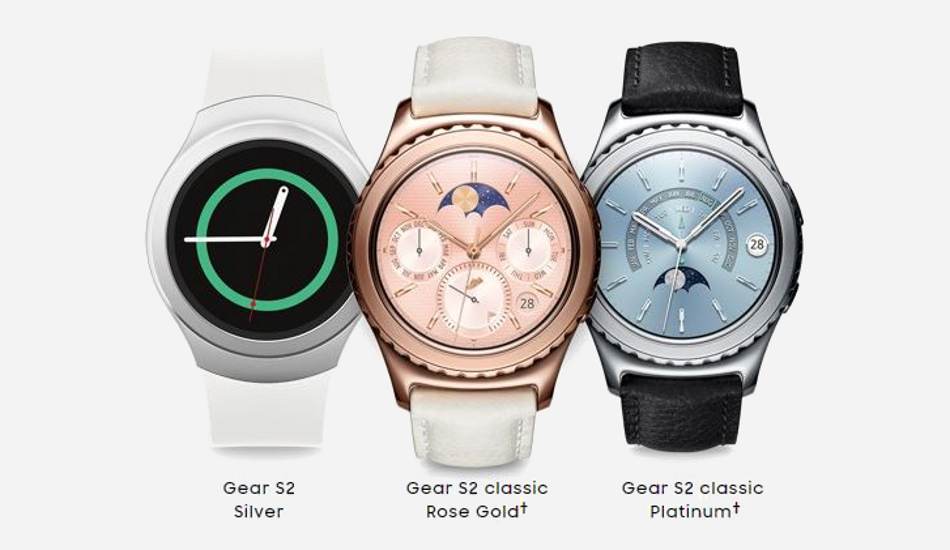 Samsung Gear S2 and Gear S2 Classic versions were first launched in India earlier in January this year for Rs 24,300 and Rs 25,800 respectively. Both Gear S2 and Gear S2 Classic offers 1.2 inch, circular Super AMOLED screen with 360×360 pixels resolution. They have 1 GHz dual core processor, Tizen operating system, 4 GB internal memory, 512 MB RAM, WiFi (b/g/n), Bluetooth 4.1 and NFC.
They have a 250 mAh Li-Ion battery that claims to offer 2-3 days of back up and these come with wireless charging facility. They have accelerometer, gyroscope, heart rate monitor, ambient light and barometer sensors. Both the S2 and S2 Classic are IP68 certified and thus are water and dust resistant.
The Gear S2 measures 42.3×49.8×11.4mm and weighs 47 grams while the S2 Classic measures 39.9×43.6×11.4 mm and weighs 42 grams. They have rotating bezel, along with the Home and Back buttons for quicker, more precise method to comfortably access notifications and applications.
These smartwatches allow users to check calendars, e-mails, news and to send text messages.