Samsung has announced the launch of two tablet-PC hybrid devices, namely Ativ and Ativ Pro. Though referred as smart PC, both are essentially tablets and come with attachable keypad that turns them into a PC.
The Ativ smart PC cum tablet comes with Windows 8 operating system and has the Intel Atom processor. The device comes with a 11.6 inch touchscreen and has 2 GB of DDR2L RAM, 64 GB of internal memory.
It has dual cameras as well including an 8 megapixel rear camera and a 2 megapixel front unit. It comes with Bluetooth and WiFi for connectivity but there is no SIM slot. Besides, the Samsung Ativ comes with HDMI, USB and card reader ports. It weighs just 0.75 KG and has 9 mm thickness only.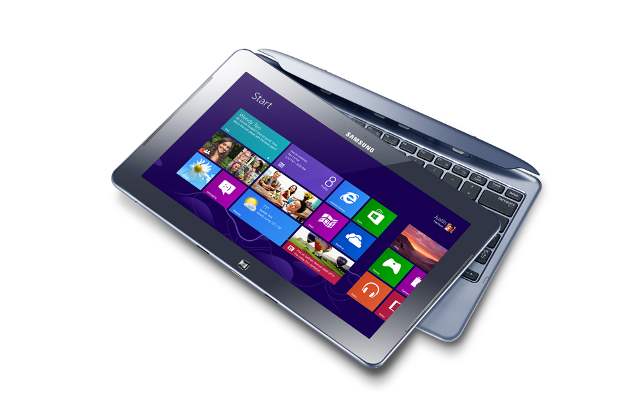 The Ativ Pro, as the name suggests, is an advanced version of the Samsung Ativ hybrid. The Samsung Ativ Pro comes with Windows 8 operating system as the other but it has the advanced Intel Core i5 processor. It too has a 11.6 inch screen but weighs slightly more than the other with 0.888 KG weight and is thicker as well with 11.9 mm thickness.
The Ativ Pro has also more RAM – 4 GB, and higher internal memory of 128 GB. Both the tablet hybrids come with micro SD card slot, so their memory can further be increased. Both Ativ and Ativ Pro also come with the S Pen stylus with a docking port.
Not only the Ativ Pro too has WiFi and Bluetooth like the Samsung Ativ but also it has a SIM slot for data connectivity.
While the Ativ Smart Pro is priced at Rs 75,490, the Samsung Ativ costs Rs 53,990. Keep checking The Mobile Indian for the hand on the hybrid devices.