Six months ago, back in late August, I made the choice to switch from a regular slab smartphone to a foldable smartphone from Samsung, which was the Galaxy Z Flip4. The device looked really attractive to me the day it came out and solved the biggest quarrel I had with the Z Flip3, and that was the battery life. These improvements alongside my urge to try a folding smartphone, made me switch to the Galaxy Z Flip4 and six months after dailying the device, I have a lot of thoughts. So right away, let's get into this long-term review of the Samsung Galaxy Z Flip4 and find out whether I made the right choice of switching to this device or was I better off with a candybar form factor smartphone.
The design and the crease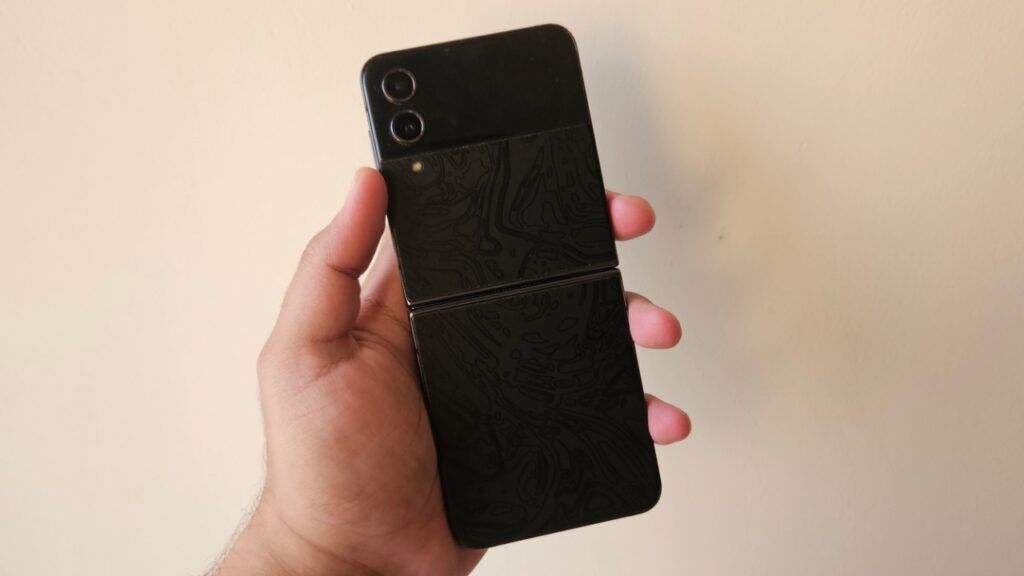 So let's talk about the elephant in the room, the design of the Galaxy Z Flip4 which is actually one of the most important aspects especially in a foldable due to the complexity of the form factor.
The design of the Flip4 never really disappointed me. It looks unique and eye-catchy wherever you take it. People do recognise this device while it's in my hand, unlike regular slab smartphones which often have a similar design language nowadays.
My friends and family have often come up to me to take a look at the smartphone and the way it unfolds from a square-shaped device that fits into the palm of my hand, into an unusually tall phone.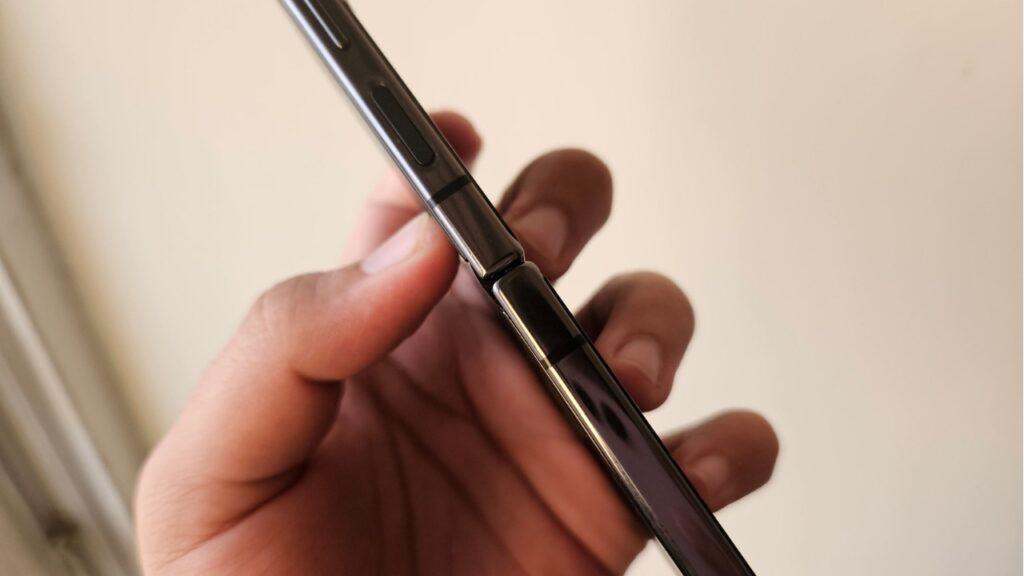 So there haven't been any issues with the design, including the higher placement of volume keys which some people complain about. It was never an issue for me. Moreover, there aren't a lot of phones that are this much thin and the Z Flip 4 feels fresh in the hand because of that. Next, I'll talk about the crease which worries many people that it would become intrusive and distracting.
In my case though, it has never been distracting unless you look at it from an angle where it becomes highly noticeable. Yes you do feel it while scrolling but once you become habitual to it, there's no looking back.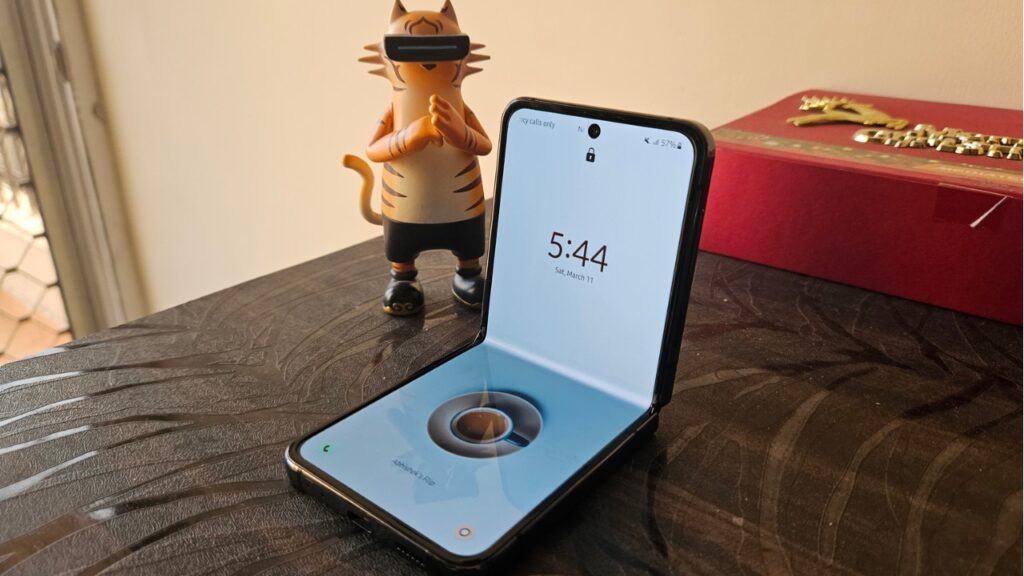 As for the folding mechanism, it has gotten smoother over time and isn't very sturdy as it used to be when I bought it. But again, that is the nature of the mechanism and it doesn't pose any issues as the device can still hold itself at various angles without automatically closing shut.
In my review of the Galaxy Z Flip4, I claimed that the hinge shouldn't give you any issues in the long run compared to what I felt with the hinge of the Z Flip 3 from 2021. I am happy to report that my claim stands true to this date as this hinge instills confidence whenever you unfold the device and close it shut.
Apart from that, a debatable topic about the Flip4 is the fact that you have to unfold it every time you want to use it. While it may be bothersome for many, it does help you cut down on your screen time as you don't want to open it for every small action you want to take, as the cover display gets the job done, such as in the case when you just want a glance at your notifications. I belong to the second category of people I spoke about and unfolding the device every time I wanted to use it, wasn't an issue for me at all.
The display and the Performance
The inner 6.7-inch display is as impressive as it can get with displays. Similar to how usual Samsung panels are, this panel is super vibrant with colours and gets adequately bright outdoors. Once again, there weren't any issues with the display as well.
Talking about the cover display, the device has a 1.9-inch panel which is decent for its size. Colours are good and brightness is okay. Competition is getting tougher for Samsung as other Flip phones, such as the Find N2 Flip has a bigger cover display which makes it more functional and practical, thereby increasing the use cases for the outer display.
However, rumors do say that the Z Flip5 will have a bigger panel and I am looking forward to that. As for the Z Flip4's cover display, it is good for what it can do, such as making calls, controlling music, and even opening some apps on it.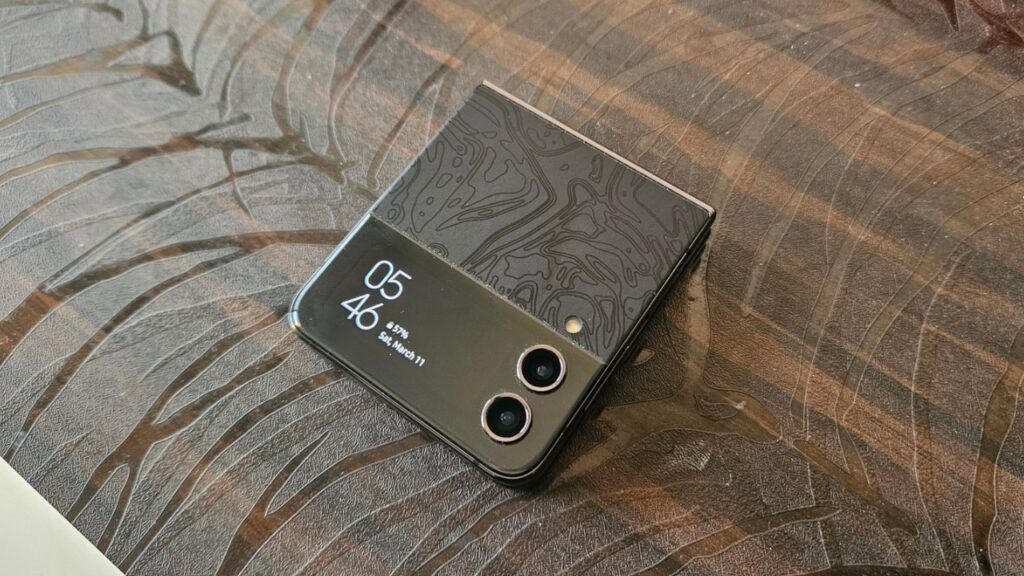 As for the software, the device came with Android 12-based OneUI 4.1 out of the box and since then, I have received two major updates including Android 13-based OneUI 5.0 and OneUI 5.1. Monthly Security patches have also been consistent which I obviously expect from a flagship.
OneUI has always been one of my favorite skins based on Android due to its versatility, features and the overall customisation available to the user. With Galaxy Z Flip4, you get some extra features such as the Flex mode so you can take full advantage of the foldable form factor. While I didn't find myself using Flex mode that much, the overall UI and addition of features with major OneUI updates has impressed me.
One of the tips I have for OneUI users is to use GoodLock modules to make your device truly your own. It offers such a deep level of customisation that you can change the smallest of elements without any hiccups.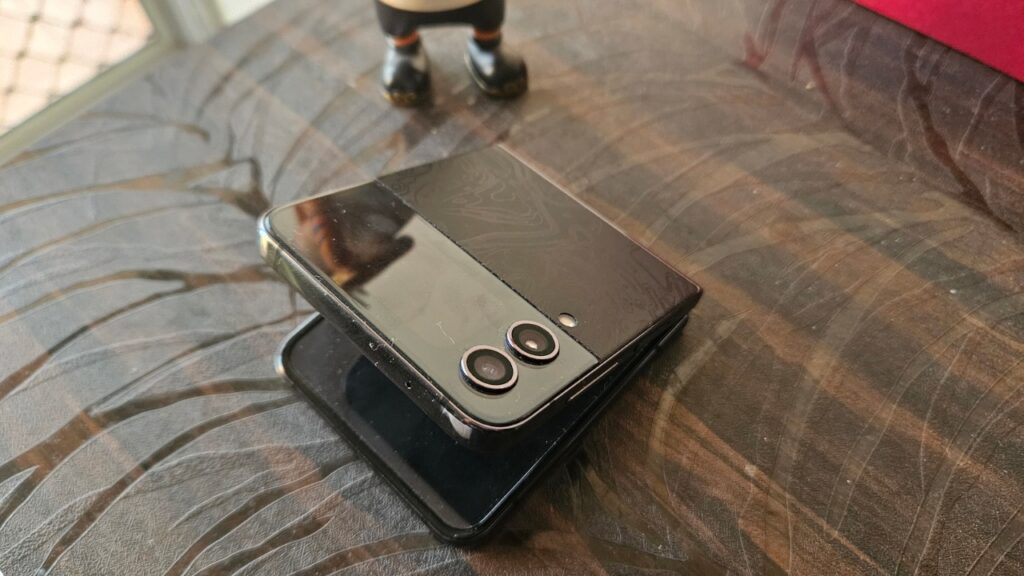 Now, coming to the performance, the Snapdragon 8+ Gen 1 hasn't disappointed me. It can handle anything you throw at it. However, I did reset my Flip after the OneUI 5.0 update which made it feel much smoother. I reset it not because I was facing any issues but because I wanted to check if it can get faster and smoother and I did notice a difference.
Gaming isn't an issue either, however, the device does get warmer than usual over extended periods, which I suspect is due to the smaller surface area for heat dissipation.
The Cameras and the Battery Life
The Galaxy Z Flip4 doesn't have the best set of cameras Samsung can use, which it also uses in its Galaxy S series devices. But, it does get the job done for me in most of the situations.
Low-lighting performance could have been better but photos under artificial lighting and in outdoor conditions look gorgeous. Night shots are decent, thanks to the night mode. Selfies are also sharp and accurate with colours. Overall, the cameras haven't changed much compared to when I reviewed the Galaxy Z Flip 4 in October last year.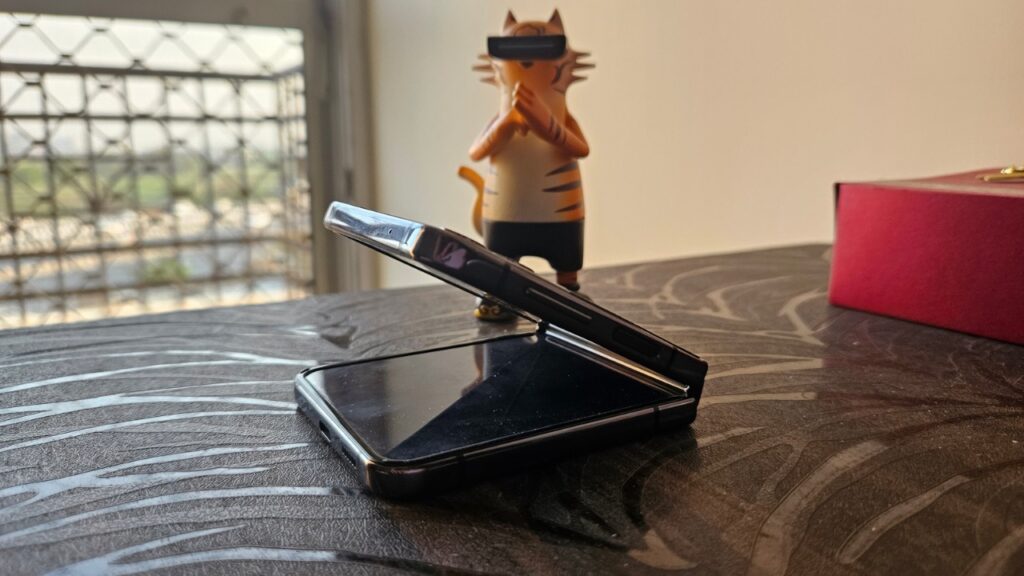 As for the battery life, the device can still last me a day and sometimes more when the usage is at its minimum. Screen-on time can get close to 5 hours and with OneUI 5.0 update, I could get slightly more at times. With heavy use, you can expect it to last under 4.5 hours, same as how it did during my review.
For most people who are considering a foldable, including me, this should be enough but if you are a heavy user, the Z Flip4 may not suffice your needs in terms of battery backup. Overall, there's a very marginal improvement in the battery life of Z Flip4 compared to six months back. Charging times are also identical to how they were back in October 2022.
To conclude, going with the Samsung Galaxy Z Flip4 over another slab style flagship was the right choice for me. I have had an enjoyable experience with the Flip4 during my time with it and I feel the Galaxy Z Flip5 will be an even better offering to which I am looking forward to.