Samsung has been pushing its foldables quite hard since the past couple of years and it seems to be bearing up fruit for the company. While the Z Flip 3 from last year was the most sold foldable of the year than all foldables combined, the Z Flip 4 carries on the legacy of its predecessor with even more powerful internals, a slightly tweaked design and a Rs 5,000 price hike, starting at Rs 89,999. Let's dive in deep as to what has improved in the Samsung Galaxy Z Flip 4 and is it worth upgrading from a Z Flip 3?
Before we start with the review, let's get you through the specifications first:
Samsung Galaxy Z Flip 4 Specifications
| | |
| --- | --- |
| Display (Main) | 6.7-inch, Foldable Dynamic AMOLED 2X, 120Hz, HDR10+, 1200 nits, 1080 x 2640 pixels |
| Display (Cover) | Super AMOLED, 1.9 inches, 260 x 512 pixels, Gorilla Glass Victus+, |
| Processor | Snapdragon 8+ Gen 1 |
| RAM + Storage | 8GB LPDDR5; 128GB, 256GB UFS 3.1 |
| Rear Cameras | 12MP, f/1.8 Aperture primary sensor, Dual Pixel PDAF, OIS + 12MP, f/2.2 ultra-wide angle sensor, 123-degree FoV |
| Front Camera | 10MP, f/2.4 aperture, 26mm wide |
| Battery & Charging | 3700mAh; 25W fast charging, 15W wireless charging, 4.5W reverse wireless charging |
| Connectivity | 5G (Single SIM + eSIM), Wi-Fi 6, Bluetooth 5.2, GPS, NFC, USB-C 2.0 |
| Software | OneUI 4.1.1 based on Android 12 (4 years of OS upgrades, 5 years of security patches) |
| Additionals | AKG-tuned Stereo speakers, IPX8 water resistant, Armor Aluminium Frame |
Galaxy Z Flip 4: Design, Hinge
The Galaxy Z Flip 3 impressed us with its design, and Samsung has decided to play it safe for this year as the Flip 4 retains most of the design elements of its predecessor. It has the same camera positioning, key placement, and the same size cover display, which I am going to talk about a bit later.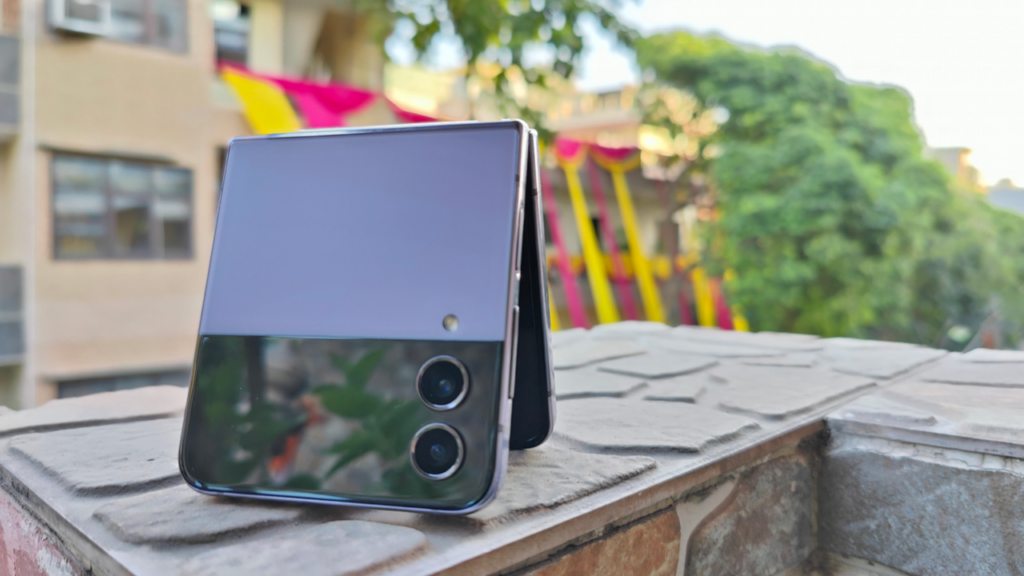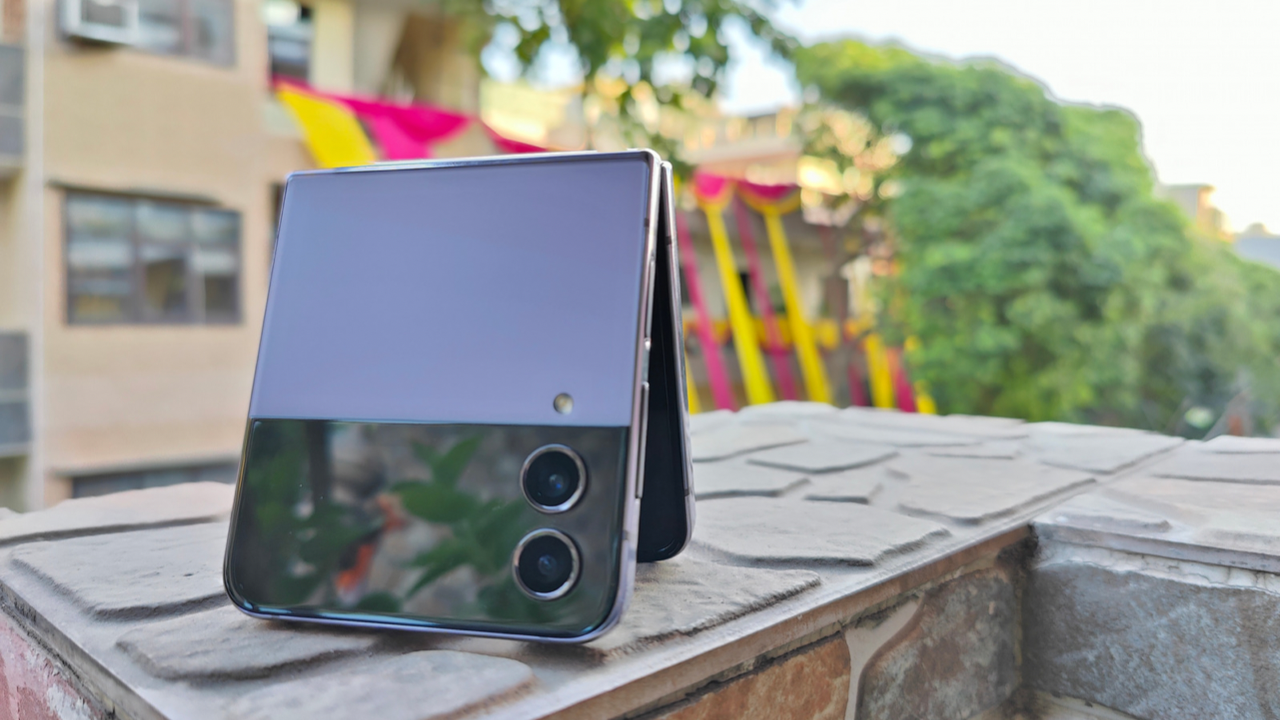 Before that, let's talk about the folding and unfolding experience of the Galaxy Z Flip 4 as Samsung has improved the hinge by redesigning it and making it even slimmer. Now, there's more resistance in the hinge when you fold/unfold the device. The Galaxy Z Flip 3's hinge, during our usage, became loose only in 3 months' time, but during my 2 weeks of rough usage with Flip 4, I have faced no problems with the hinge.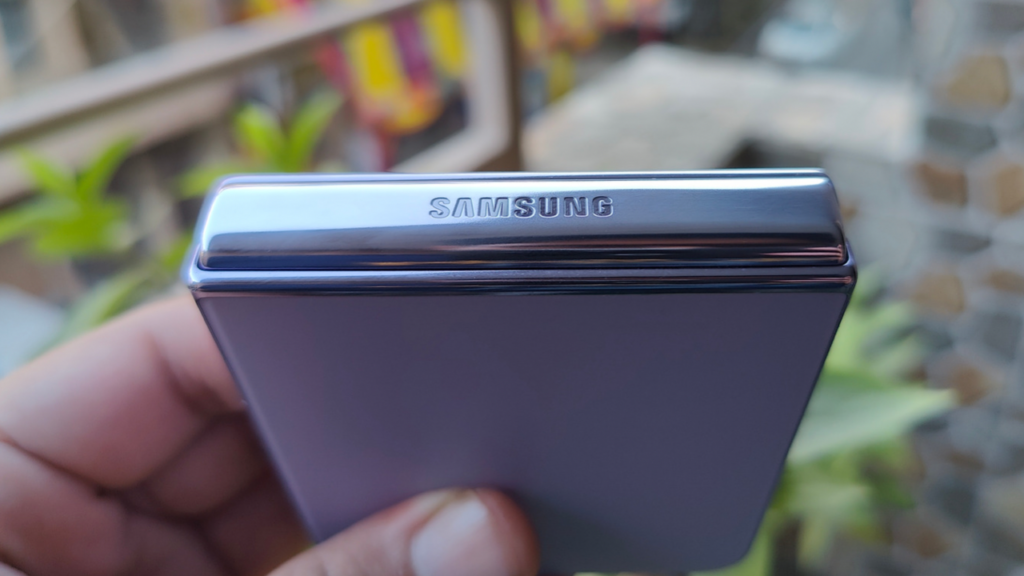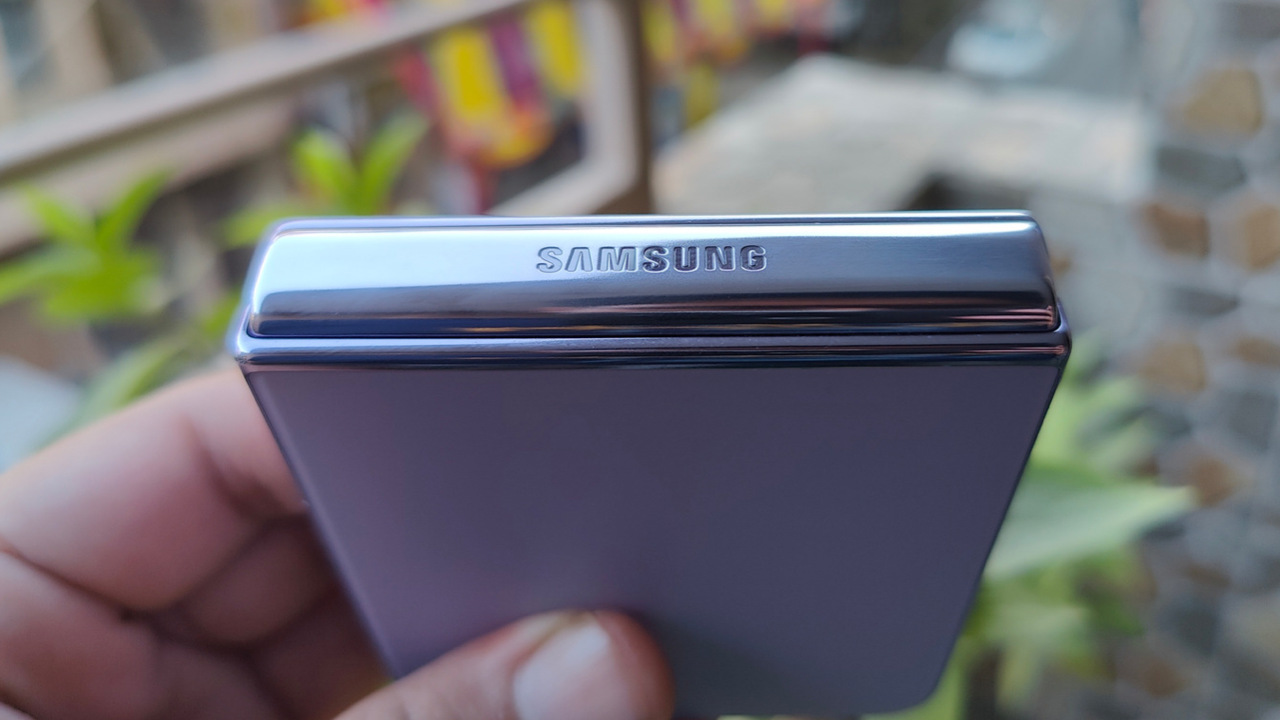 Yes, it has gotten a little more smoother compared to what it felt when I took it out of the box, but that's expected with moving parts inside a phone. The hinge on Z Flip 4 also feels much smoother compared to Flip 3, and I can easily say that this shouldn't give you any issues in the long run, which I was slightly sceptical about with Flip 3. It can stay rigid at most of the angles, which is again what I expected.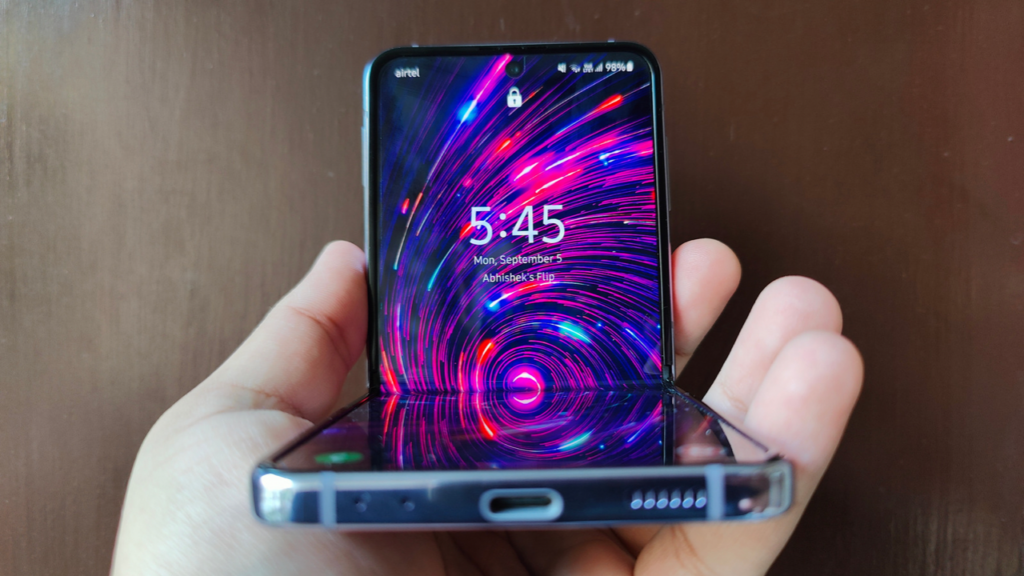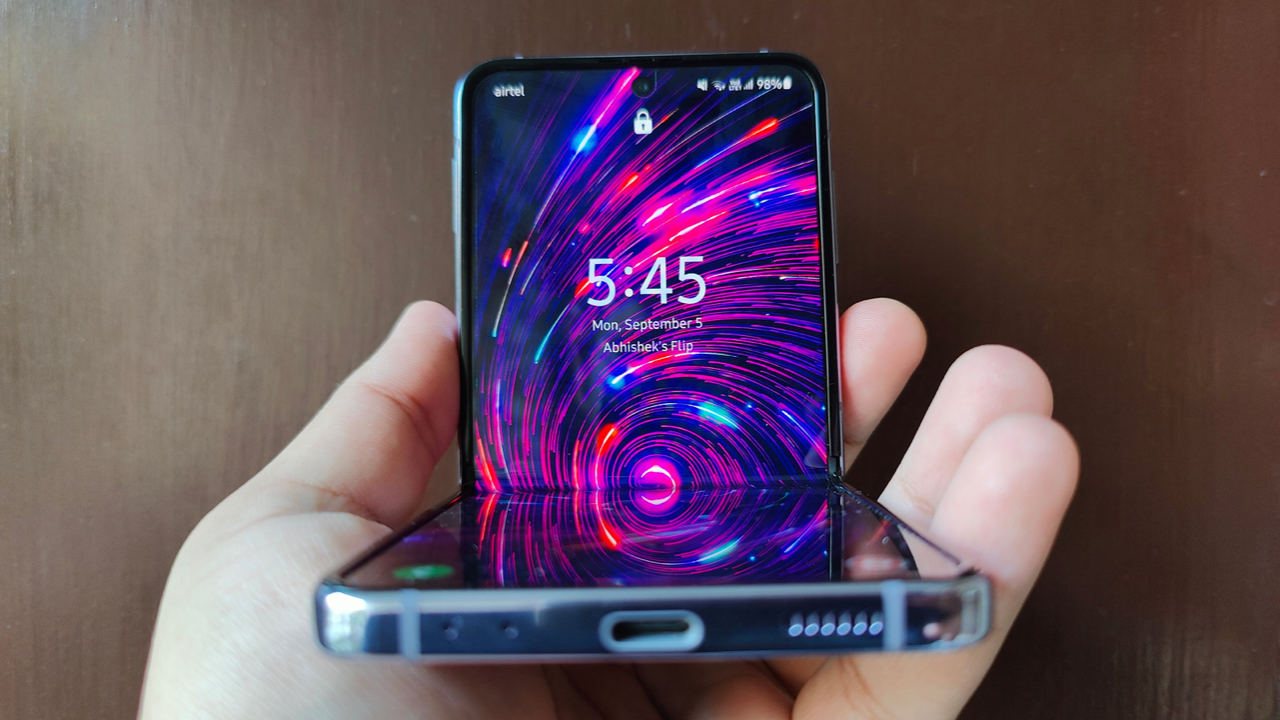 In Flip 3, there used to be a lock at the end of the unfolding angle that used to keep it open, but Samsung's refinement with this year's model has removed that, and it is all a smooth journey from unfolding to the folding and vice versa. Also, the clap sound when folding it shut is even more satisfying than last year's model.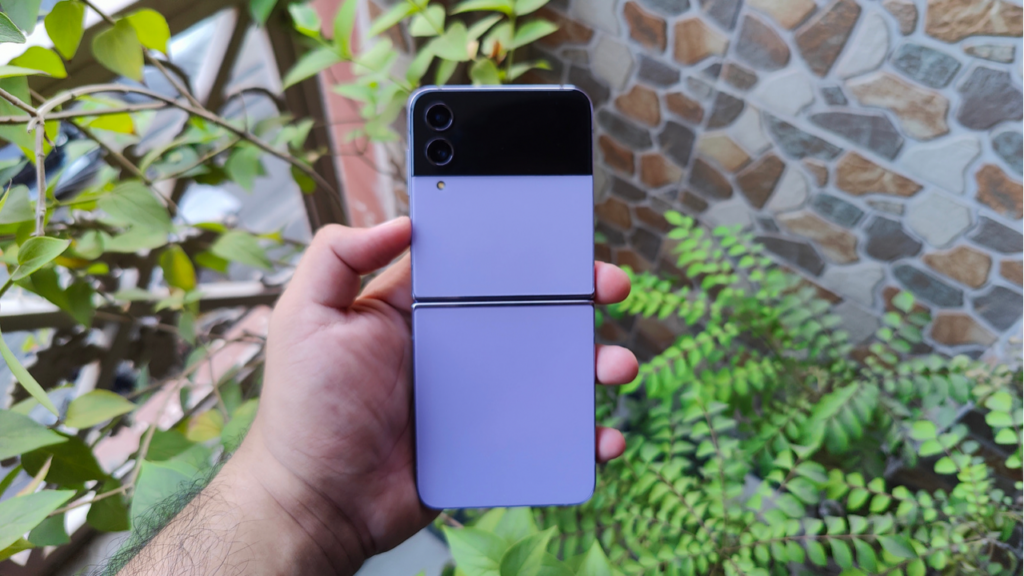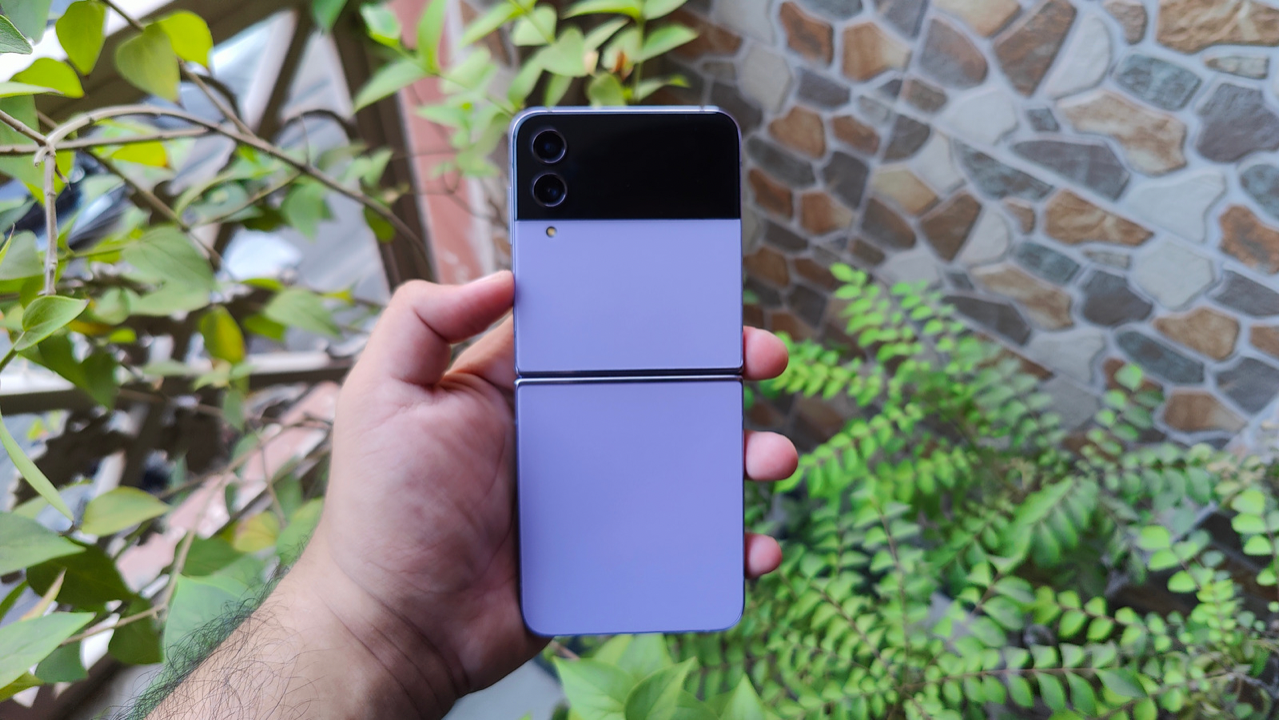 Further, while the Flip 3 already had a great in-hand feel, the Flip 4, in my opinion, feels even more premium. It now has glossy sides compared to a matte finish on the previous generation, and I seem to like this change more than I expected because it gives you a more confident grip with an even more premium feel.
Also, Samsung gave a matte finish to the device only in the black variant with the Flip 3, but with Flip 4, all four colour options get it, while the Bespoke edition models have a glass finish which will attract a lot of fingerprints. The matte on the Flip 4 isn't a fingerprint magnet by any means.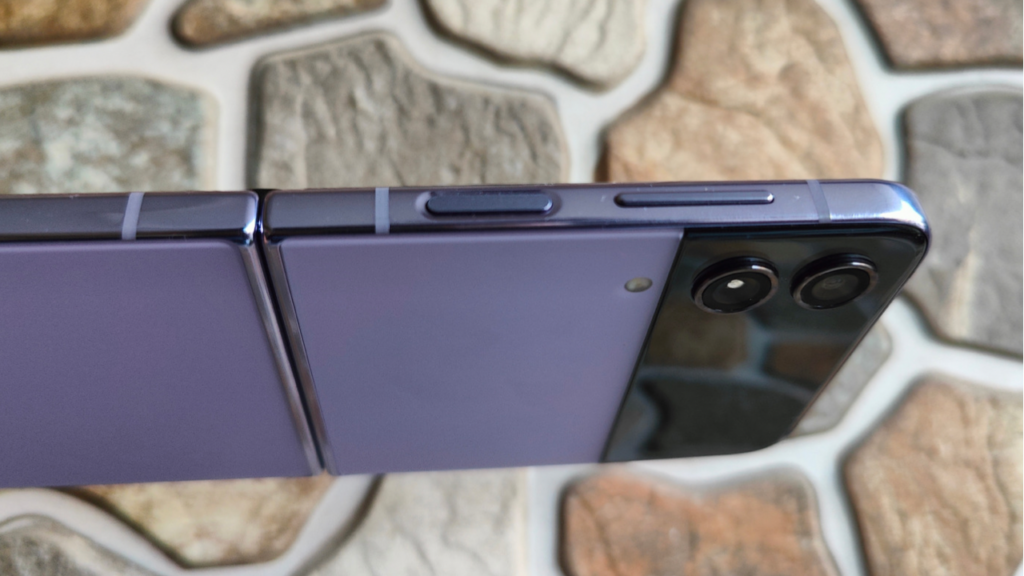 The fingerprint-integrated power key stays on the right, but the placement still isn't done right as it is quite high up when the device is unfolded, and the overall aspect ratio of the device is also amongst the taller ones. However, the fingerprint itself works very well with quick recognition.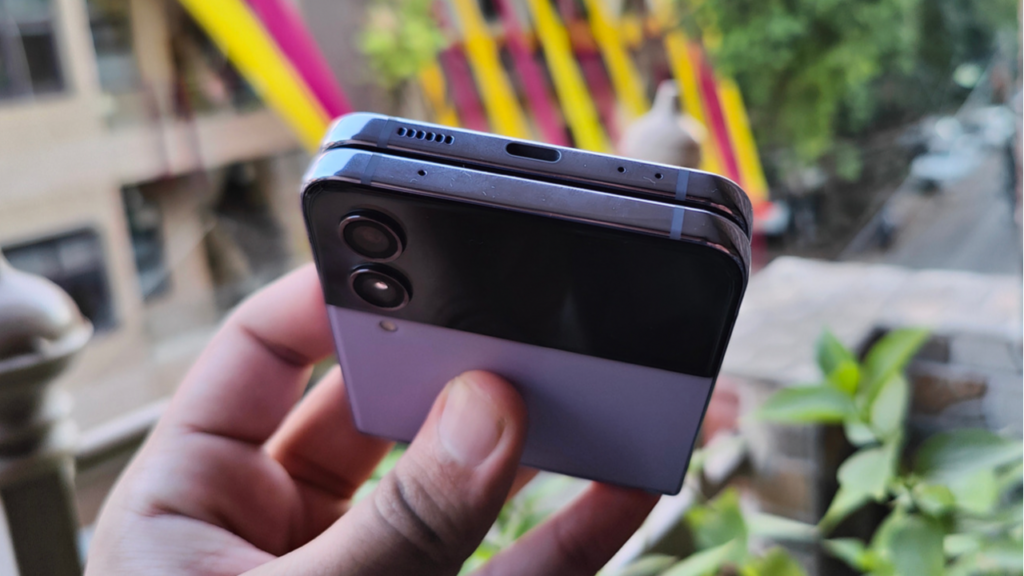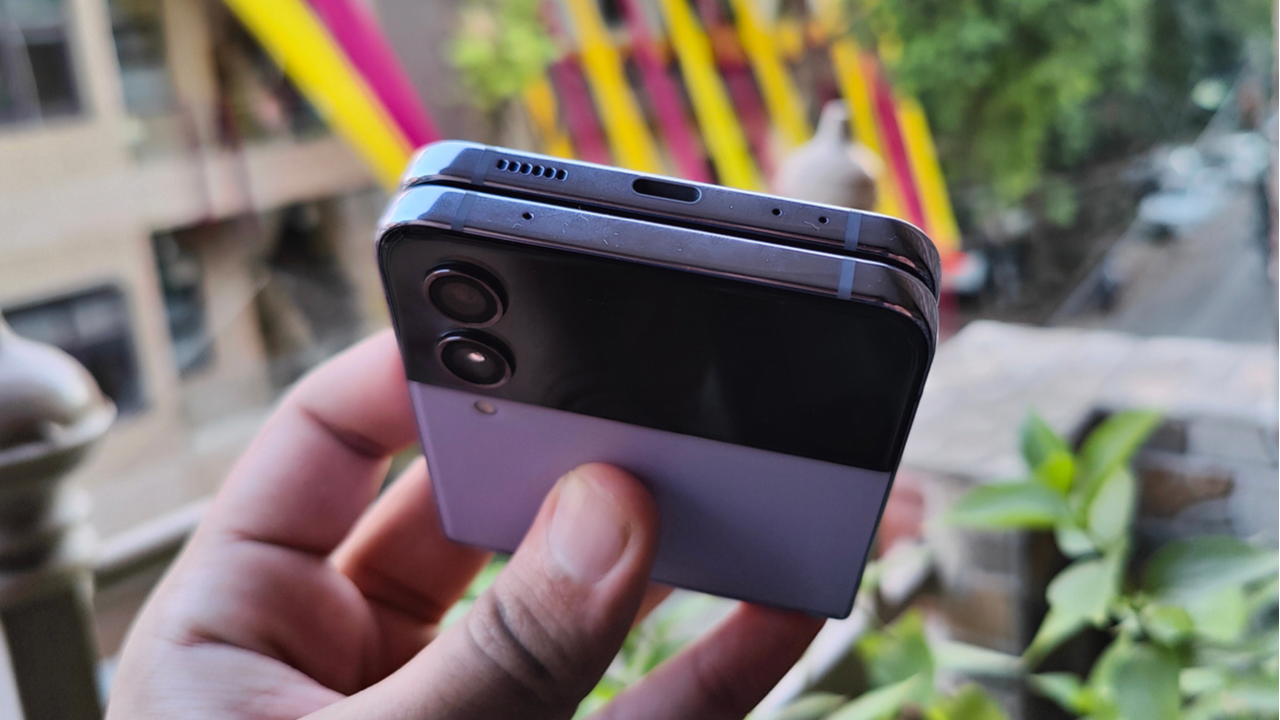 Then there's a USB-C port, dual mics and a speaker grille at the bottom. Now, talking about the audio experience, while we are unsure if Samsung has changed or upgraded the speakers, what we did notice was a slight hint of bass (which wasn't there in Flip 3) and even clearer music output.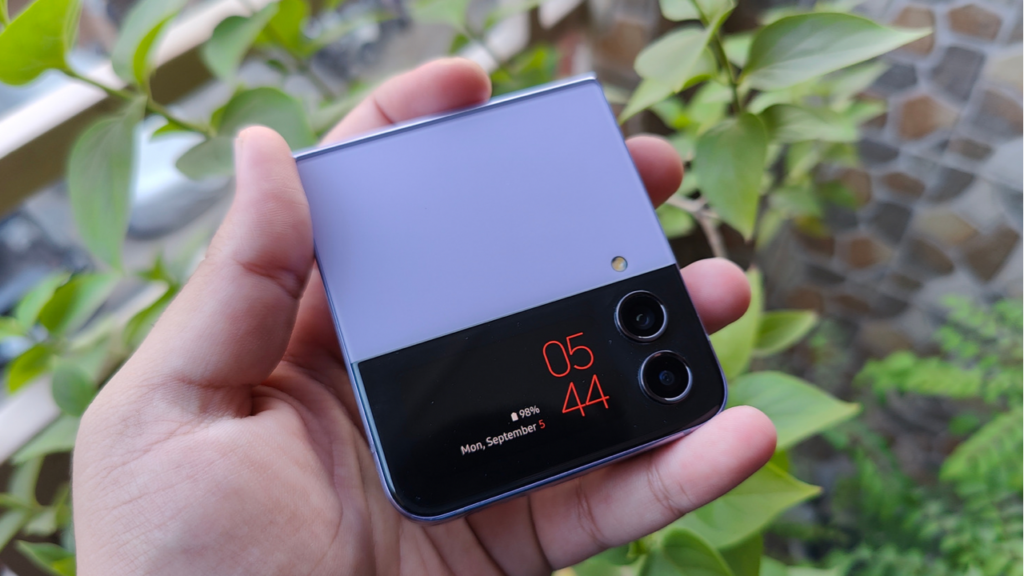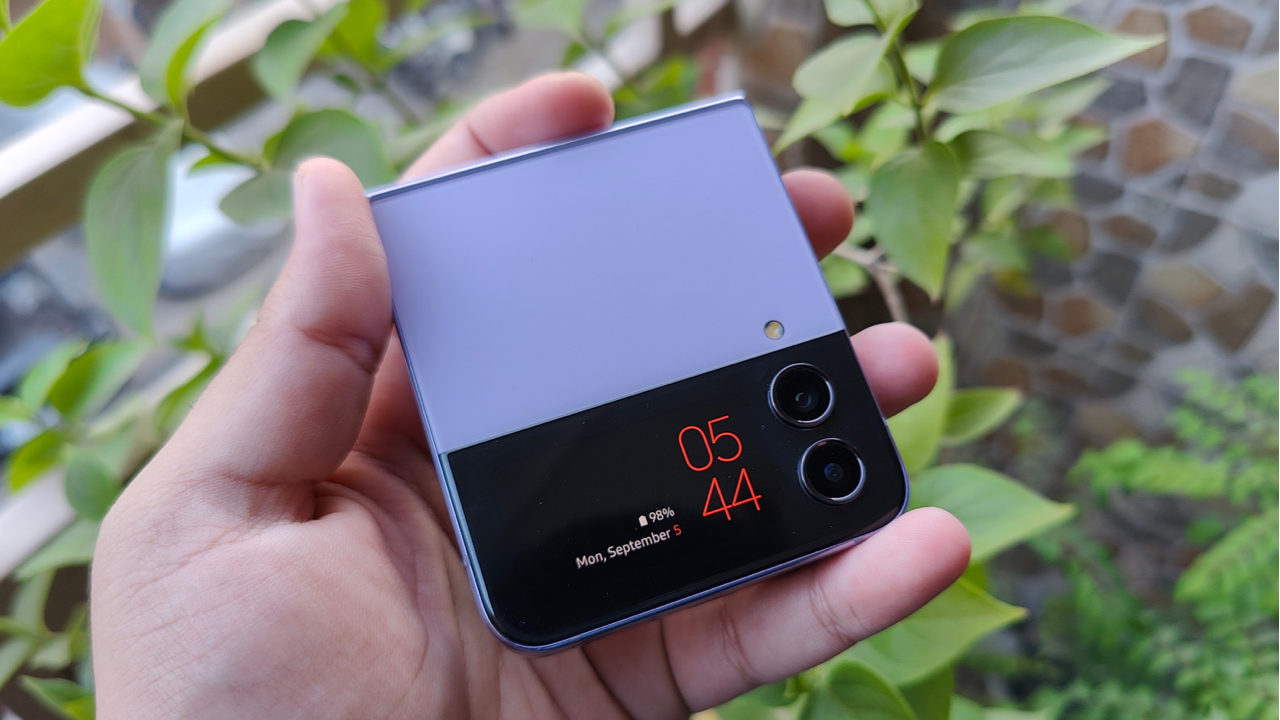 As for the haptics, they are the same as Flip 3 but with a slightly stronger feel. The Galaxy Z Flip 4 Haptics aren't really bad, but they do lack that tight feel that some other flagships have, including Samsung's own Galaxy S22 series.
Galaxy Z Flip 4: Is the crease bad?
The display on the Galaxy Z Flip 4 is a 6.7-inch FHD+ panel which looks punchy and reproduces great colours. As expected from a Samsung flagship, this is one of the best display experiences you can get on a foldable device. It gets bright enough outdoors, and viewing angles look good as well.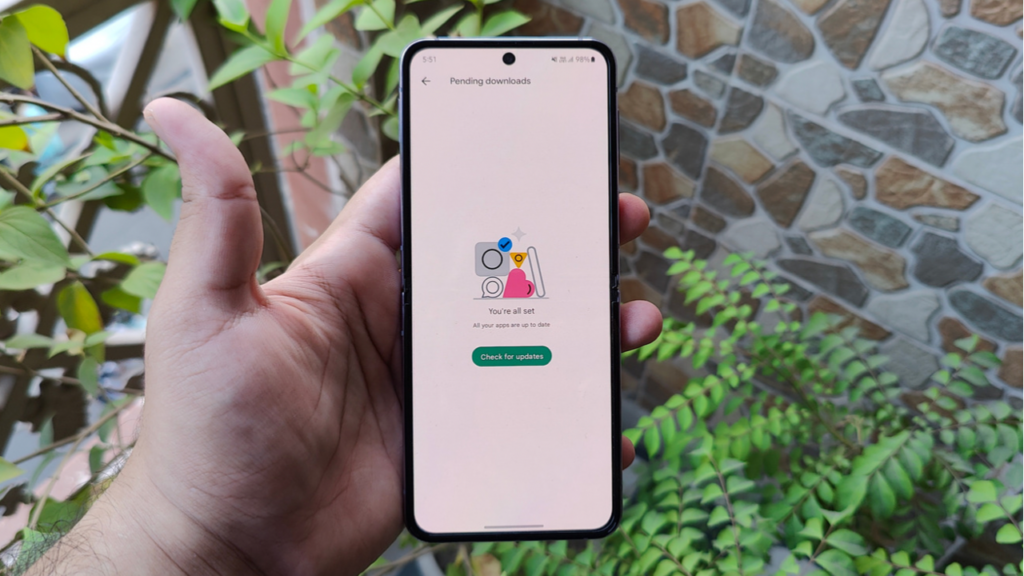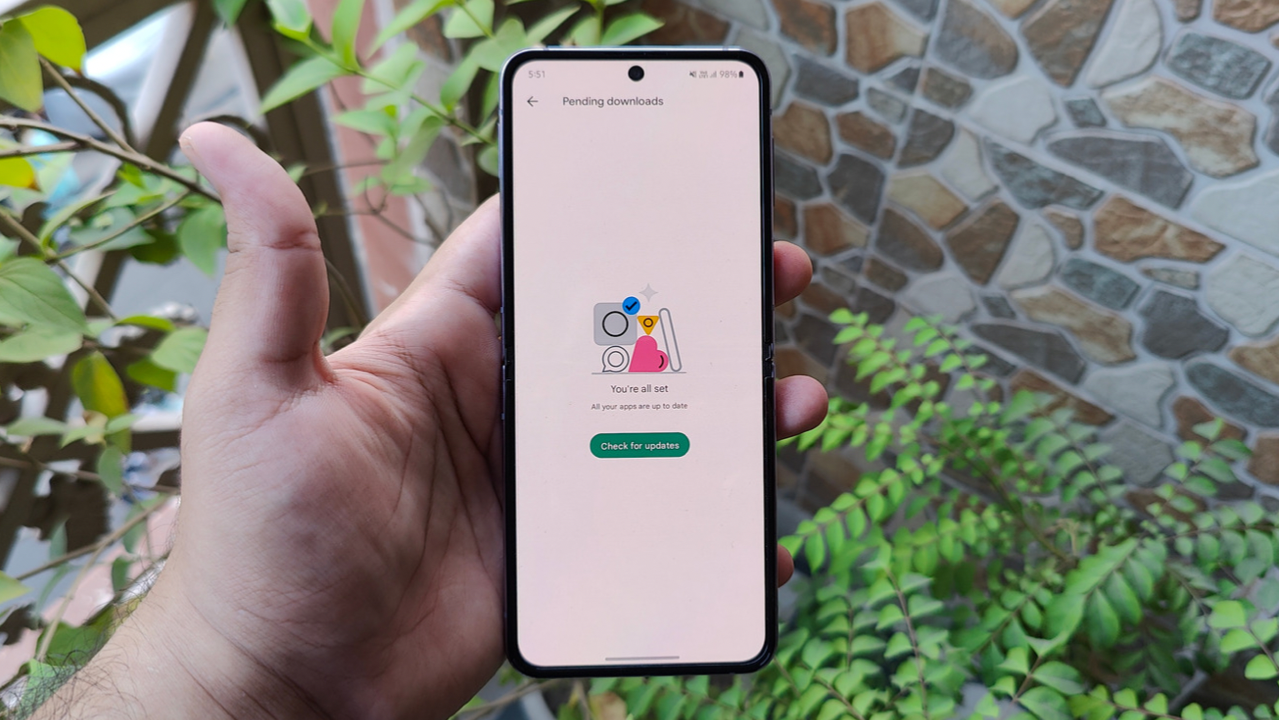 The Netflix App supports HDR 10 playback and Widevine L1 as well, and watching movies on the Flip 4 was an enjoyable experience. The crease is slightly improved over last year's Flip 3, but it's not a major improvement. You can still feel it when you swipe your finger over it, but the indent isn't as deep.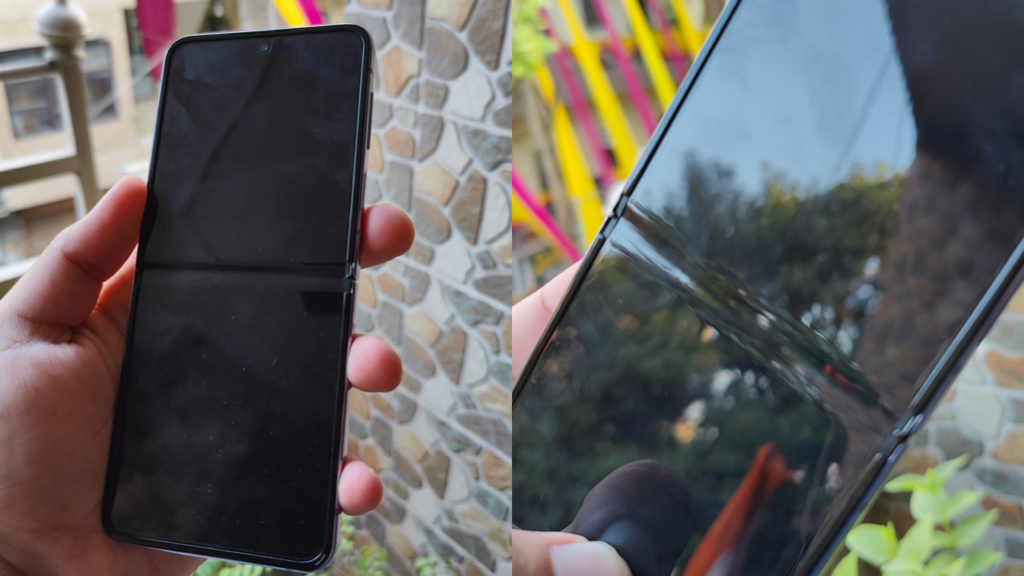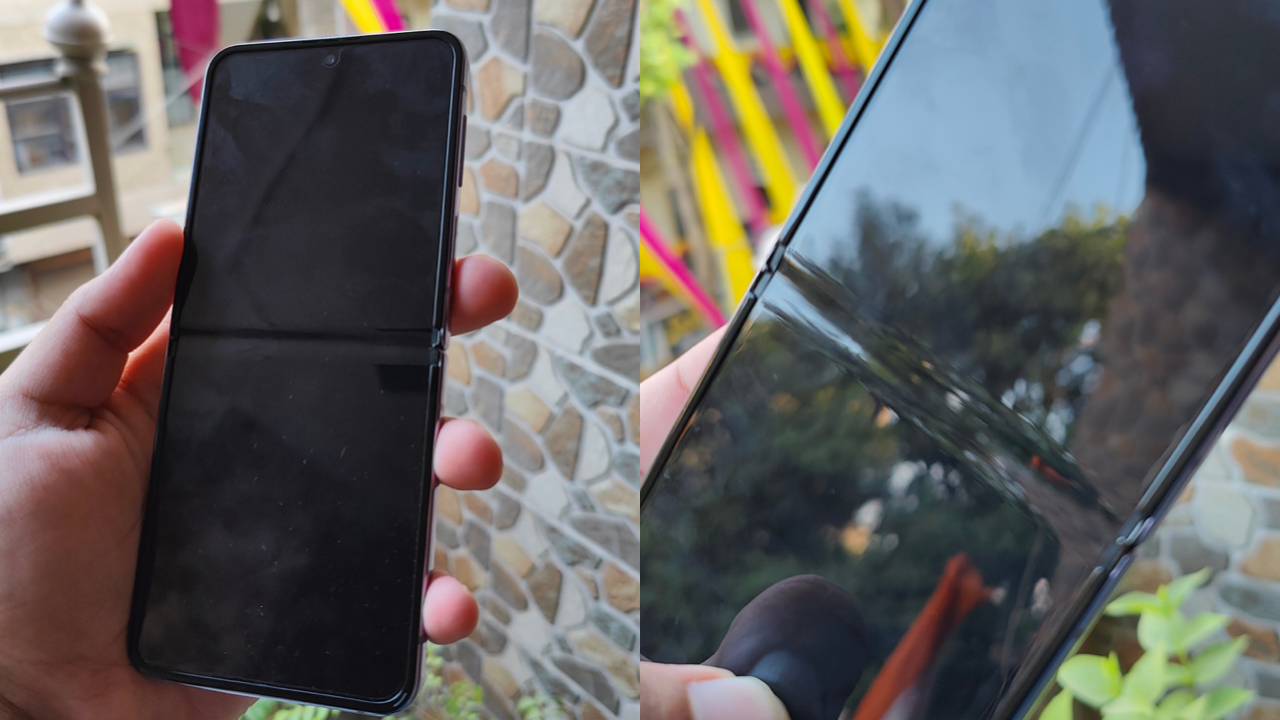 While viewing regular content like swiping your insta feed or Twitter timeline, the crease isn't noticeable for the most part, except from certain angles where it is evident. Also, note that when you get the device, the crease is actually close to none but as you fold and unfold it, it won't remain that way and becomes more dense. Further for protection, the display is also claimed to be 45% stronger with the new ultra-thin glass Samsung has used on the device.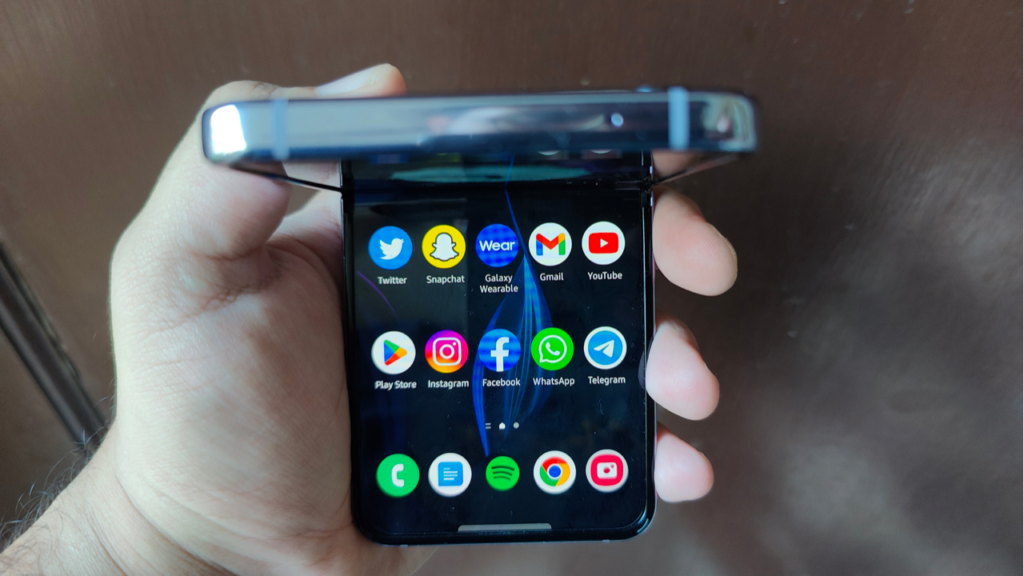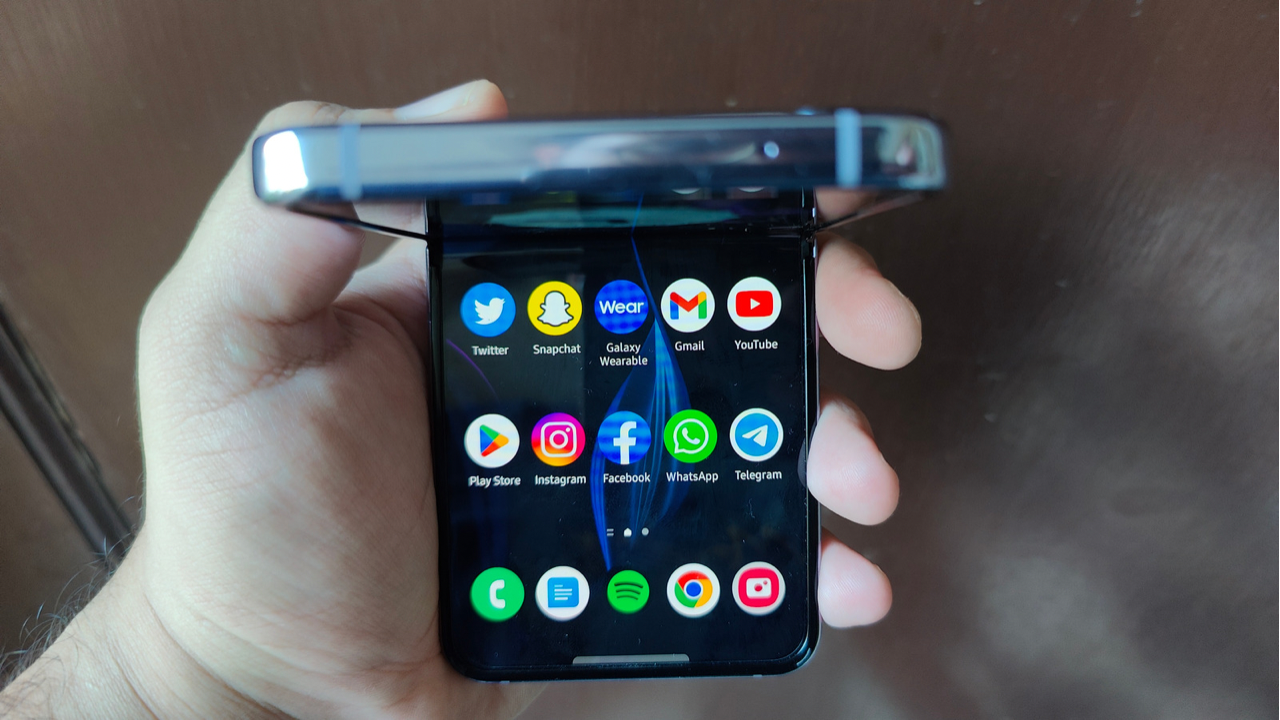 As for the cover display, it is the same small panel which we saw last year, along with an identical size of 1.9-inches. However, it now gets some new widgets just to make it more useful. You can now also use the cover screen to turn on/off Wi-Fi, Bluetooth, Airplane Mode and the Flashlight.
You can also toggle between silent, vibrate and ring mode and also change the brightness of the cover display. A little attention to detail I liked was the fact that you will have to unlock your device with the fingerprint (if you have configured one) to toggle on/off Wi-Fi and Bluetooth, and you can do that while the phone is folded.
Apart from that, I did use it to check notifications, but it still isn't as useful as I expect it to be. What I did find myself using the most on-cover display apart from Quick settings is the music player for skipping or playing & pausing the songs.
I would also like to mention an app called Cover Screen OS that is available on the Play Store, which just makes the cover display a lot more productive. Furthermore, the cover display on the Flip 4 gets some new clock styles as well, which definitely adds an appealing factor to the overall look. For protection against cracks and scratches, the cover display has Gorilla Glass Victus+ protecting it.
Read More: Samsung Galaxy Buds 2 Pro First Look: Has it gotten better?
Galaxy Z Flip 4: Snapdragon 8+ Gen 1 does its magic
The Snapdragon 8+ Gen 1 has proven itself to be the worthy successor to the 8 Gen 1, and with the iQOO 9T, we were impressed with what we saw. The Z Flip 4 is no exception and performs really well under heavy loads as well. It won't be wrong to say that it is one of the smoothest Samsung smartphones I have used till date, even more so than the Galaxy S22+ and the Galaxy S22.
The Galaxy Z Flip 4 is a very capable smartphone and can handle a lot with ease. The thermals are well in control as compared to the Galaxy S22+, which got warm even in regular working conditions. However, it did get warm, a little more than the iQOO 9T but it was way better than what we saw with Galaxy S22+. RAM Management was decently handled as well.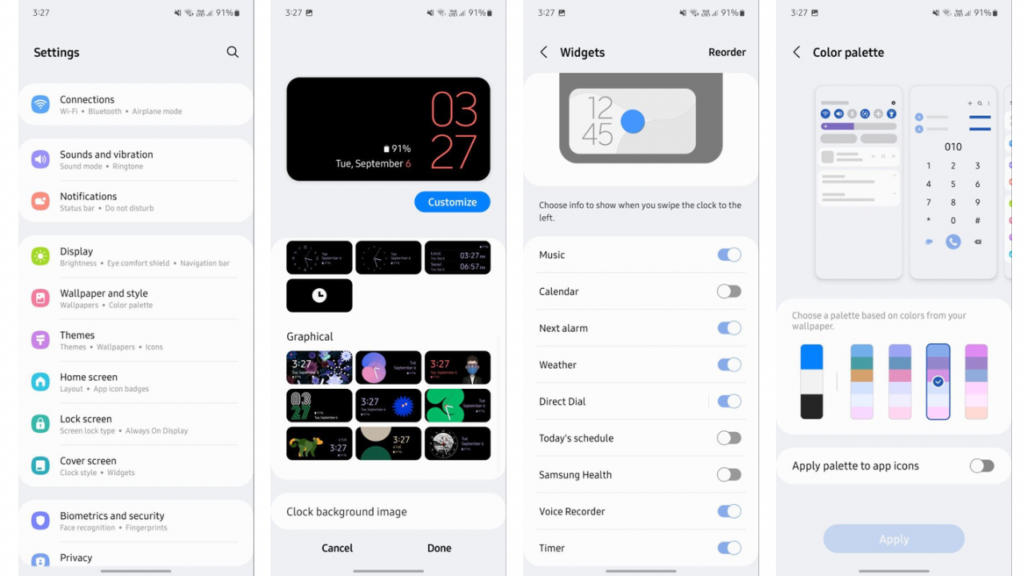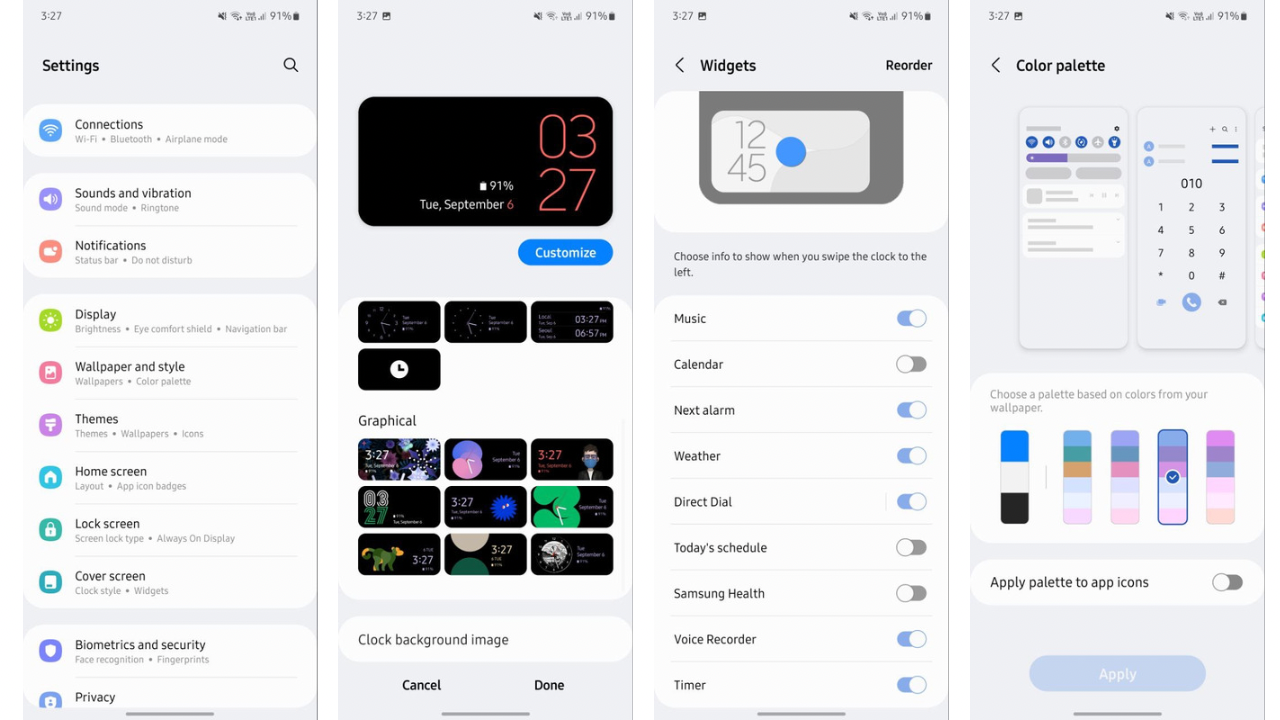 OneUI 4.1.1 based on Android 12, is a lot more fluid in comparison to OneUI 4.0. There aren't a lot of changes in the UI but then under-the-hood improvements in terms of performance make up for it. Animations are very smooth and are not slow by any means.
There are all the features that you would expect from a Samsung device, including fingerprint gestures where you can swipe up on it while on the home screen to bring up Samsung pay which is one of my favourites as it's really convenient.
Then there's the foldable-exclusive Flex mode panel where you can fold the phone 90-degree to access a control panel at the bottom half with the app being pushed to the upper half. There's also a new trackpad feature using which the bottom half of the device turns into a trackpad with a cursor appearing up top.
Then you can use the trackpad to move the cursor and double/single tap on it to trigger various functions. For instance, you can double tap the trackpad while the cursor is on a photo in Instagram to like the photo. Not only that, but the trackpad also supports gestures like they do in Windows laptops, such as swiping with two fingers to scroll.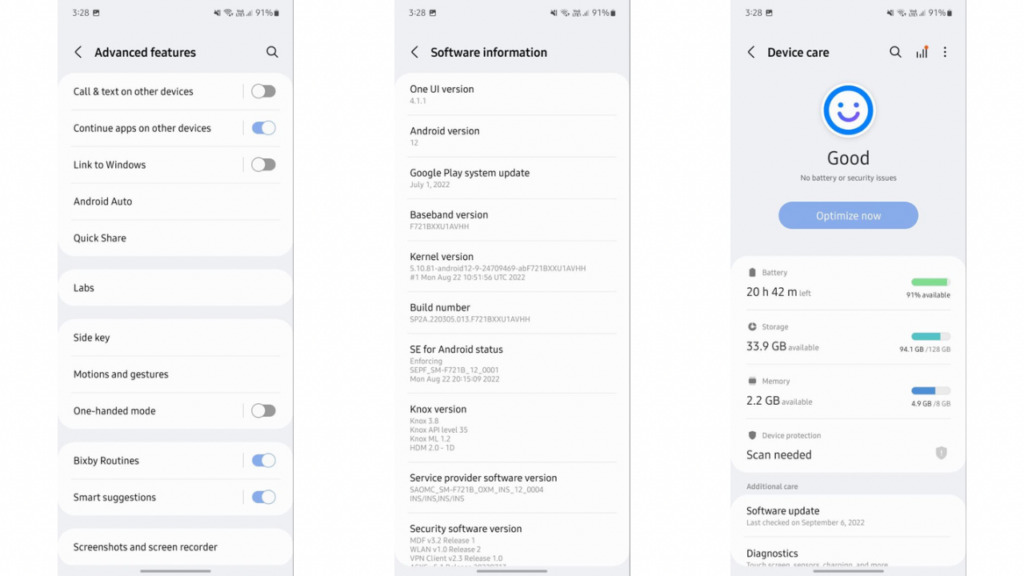 Coming to security, we are still stuck on the July patch for some reason, even though we have received a software update. However, we expect Samsung to roll out the September patch soon.
Connectivity experience, including Wi-Fi, Calling and Mobile data, remained optimum. Slamming the phone shut to end the call and opening it to accept it is a good feeling to experience in this era of candybar form factor smartphones. As for gaming, the device can run all of the demanding games such as Call of Duty Mobile at the highest graphics and FPS possible. There weren't any lags but the device can get warm to the touch with longer gaming sessions.
Battery Life: Small leap makes a big improvement
The major con of the Z Flip 3 was its small 3300mAh battery cell which kept me from recommending it to anybody as it couldn't even last a day with heavy use. While the Flip 4's battery is still smaller compared to other flagships, this 3700mAh cell, when combined with the efficiency of the software and the processor, can provide an experience that gets real close to the flagships.
With moderate to heavy use, I could easily get close to 5 hours of screen-on time and sometimes slightly more. This can reduce to 4.5 hours or less with the most demanding apps in use such as maps for navigation, heavy gaming and camera for shooting photos or videos.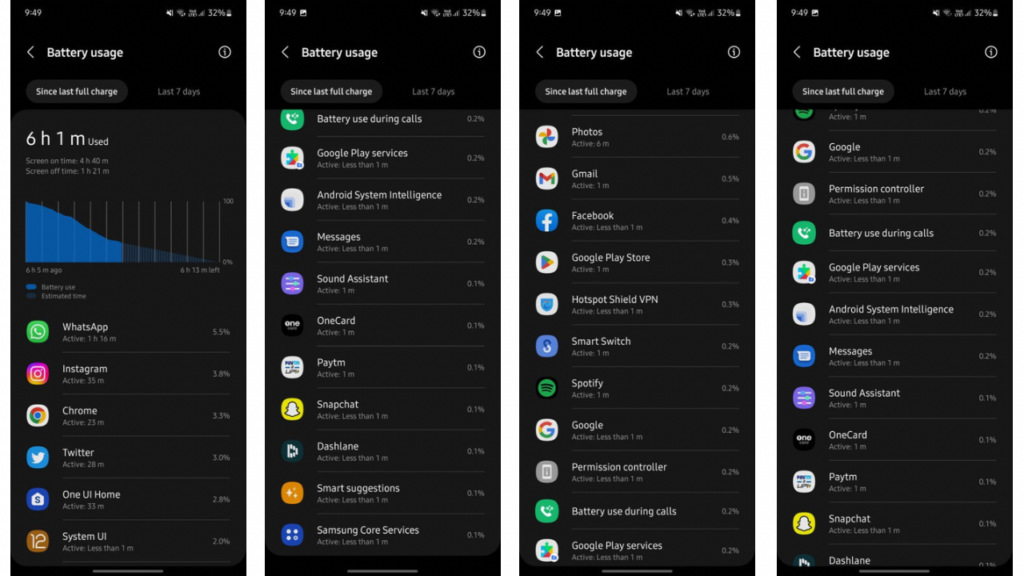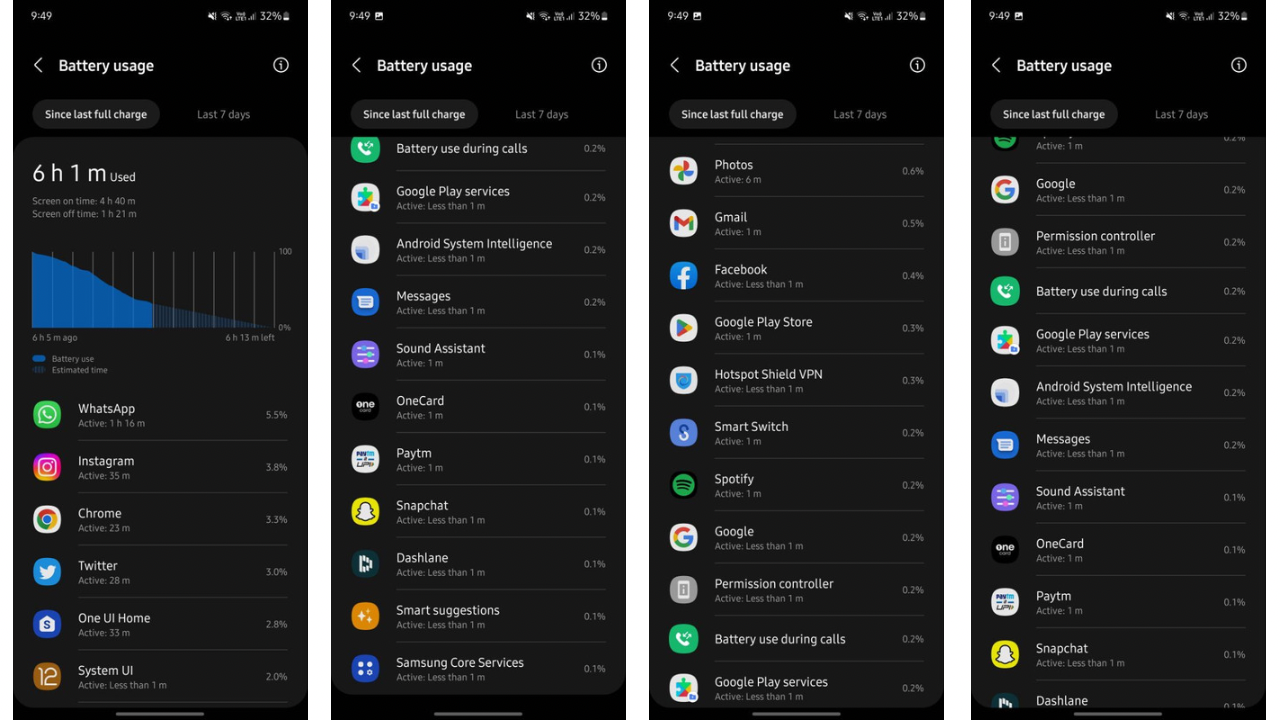 But the major improvement is in terms of how long it can last in normal use, which the Flip 3 always struggled with. With my use, the device could easily last 20 hours and sometimes even more and this is what I expect from a foldable, making it even more recommendable now. Moreover, the stand-by drain was minimal as well, which shows how well the Processor and software coordinate with each other.
Apart from that, Samsung also improved the charging speeds and bumped it up from 15W on Flip 3 to 25W Z Flip 4. Wireless charging speed is now supported up to 15 watts.
While you may not notice a major improvement in time consumed while charging, a matter of minutes can sometimes make a difference. The Flip 4 still takes more than an hour to go from 10 to 100% which is not exactly up to flagship standards but acceptable. The 15W wireless charging takes close to 2 hours to top up the device.
Galaxy Z Flip 4: Flagship level cameras?
The dual cameras at the back have also been upgraded. The primary 12MP sensor has been upgraded to let in more light which should apparently help you in low-light shots. You can also take selfies, shoot videos and portraits with the rear cameras by using the camera on the cover screen which can be accessed by double pressing the power button when the cover screen is ON. You can also switch to the Wide-Angle sensor by swiping down and switch through modes (Photo, Video, Portrait) by swiping right or left.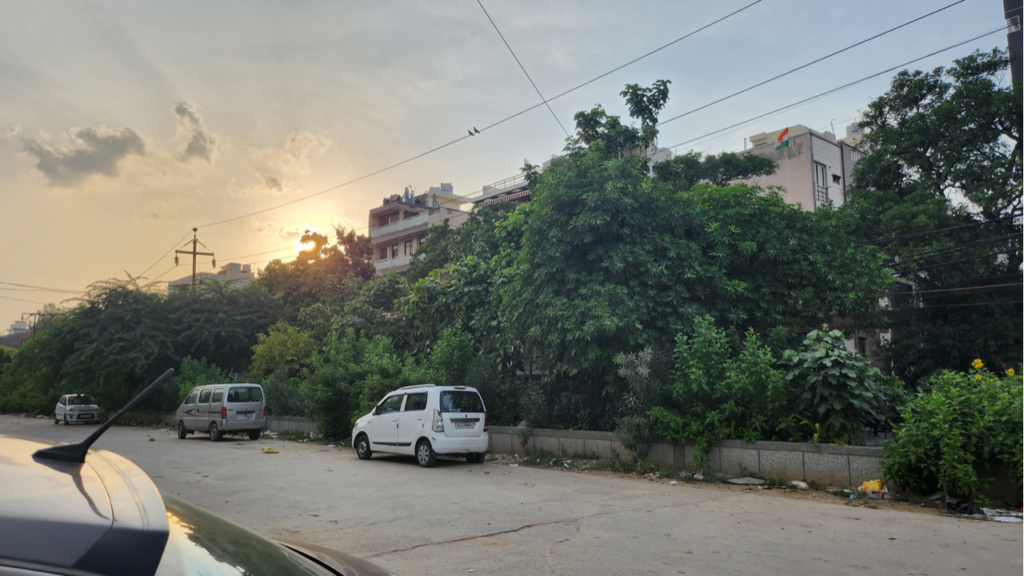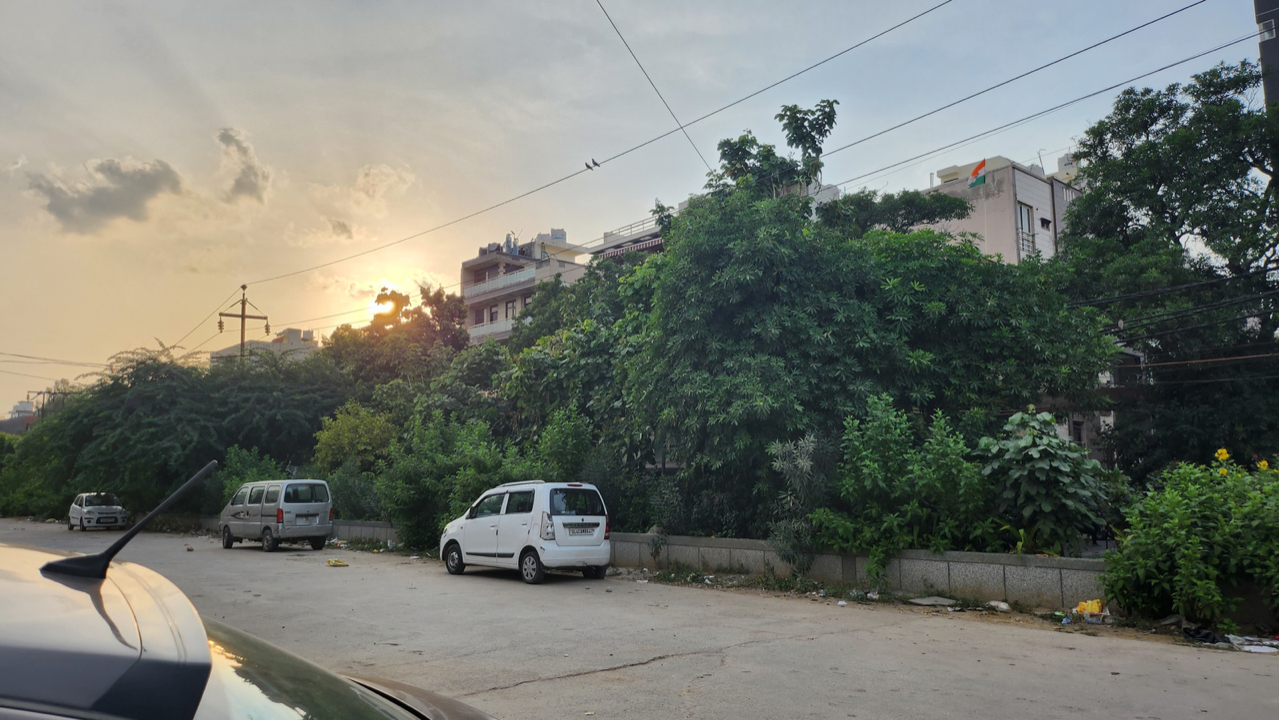 Now, while the camera remains unchanged from the Flip 3, the shots from the main sensor are slightly improved. When given enough light, there's good dynamic range in the shot and pictures come out to be sharp and detailed. The colours are punchy and deviate from the natural look. Same was the case in Flip 3 and it looks really good in some shots.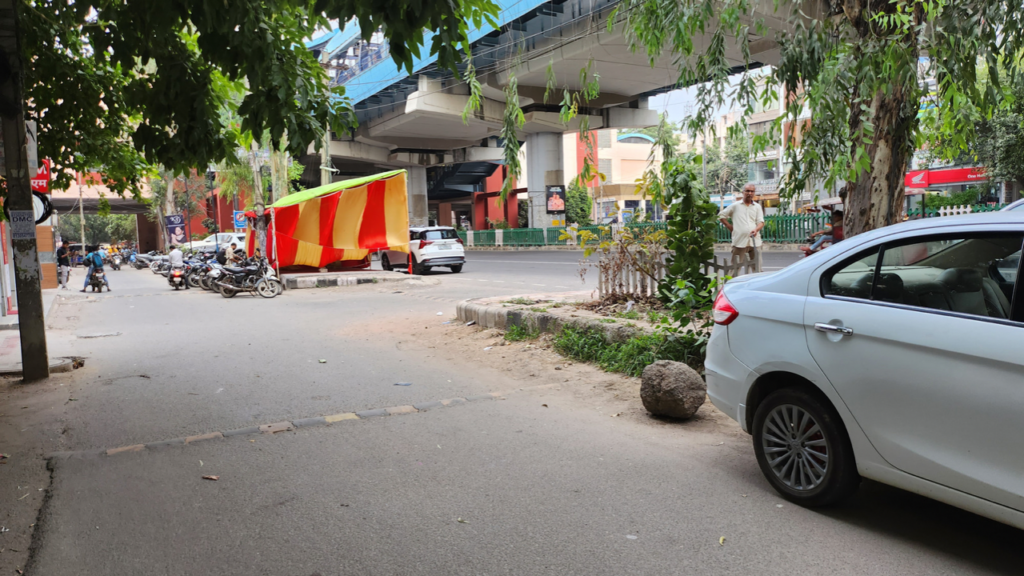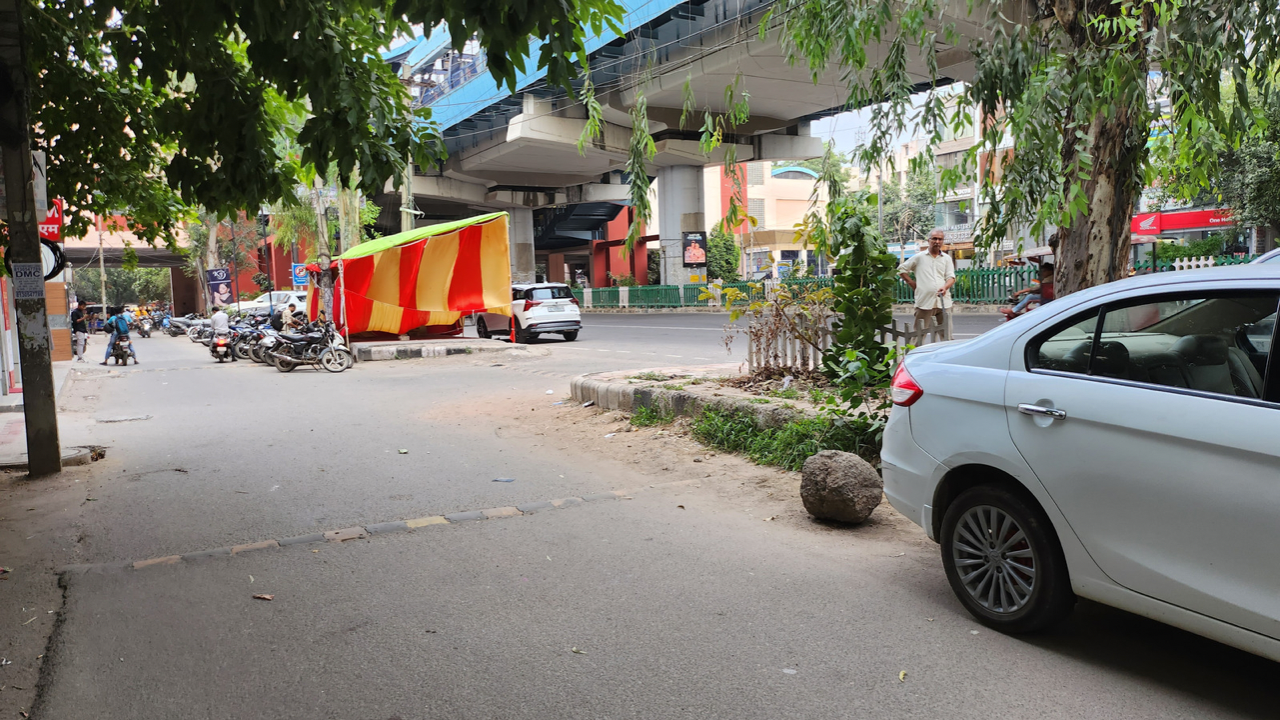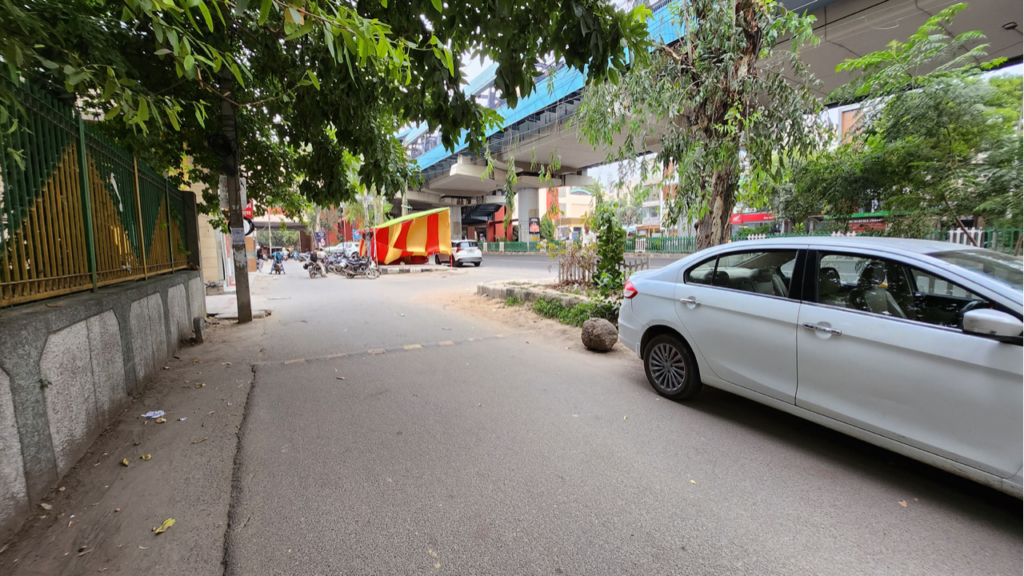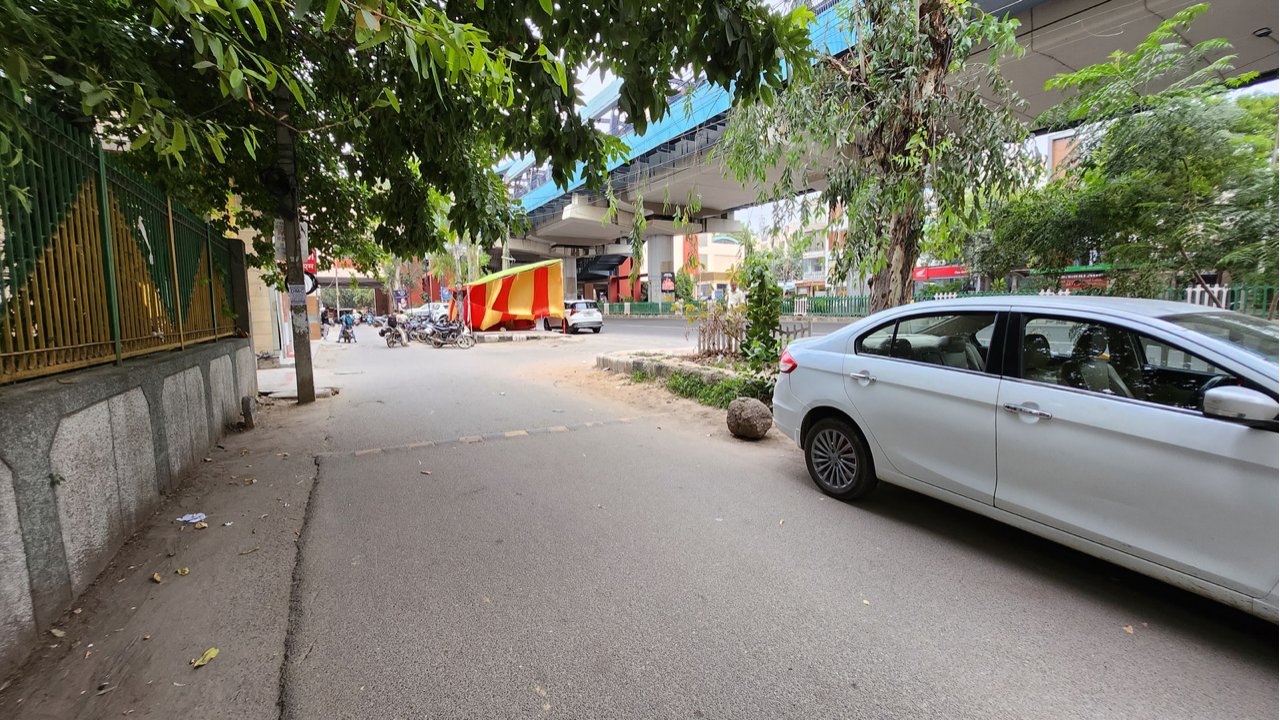 There's still a lot of room for improvement in wide-angle photos. Where the colour shift from primary sensor photos remains close to none, the sharpness doesn't carry forward. When zooming in, some of the elements get blurry and details take a hit. Moreover, I have the same issue with the Flip 4 which I had with Flip 3, where the distortion at edges isn't well contained and the photo loses a lot of sharpness at the edges.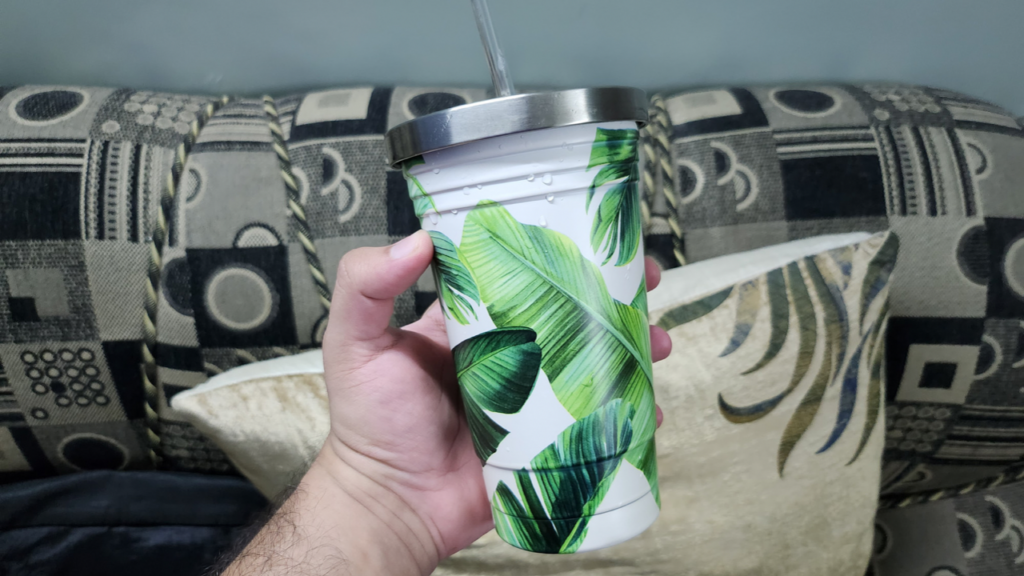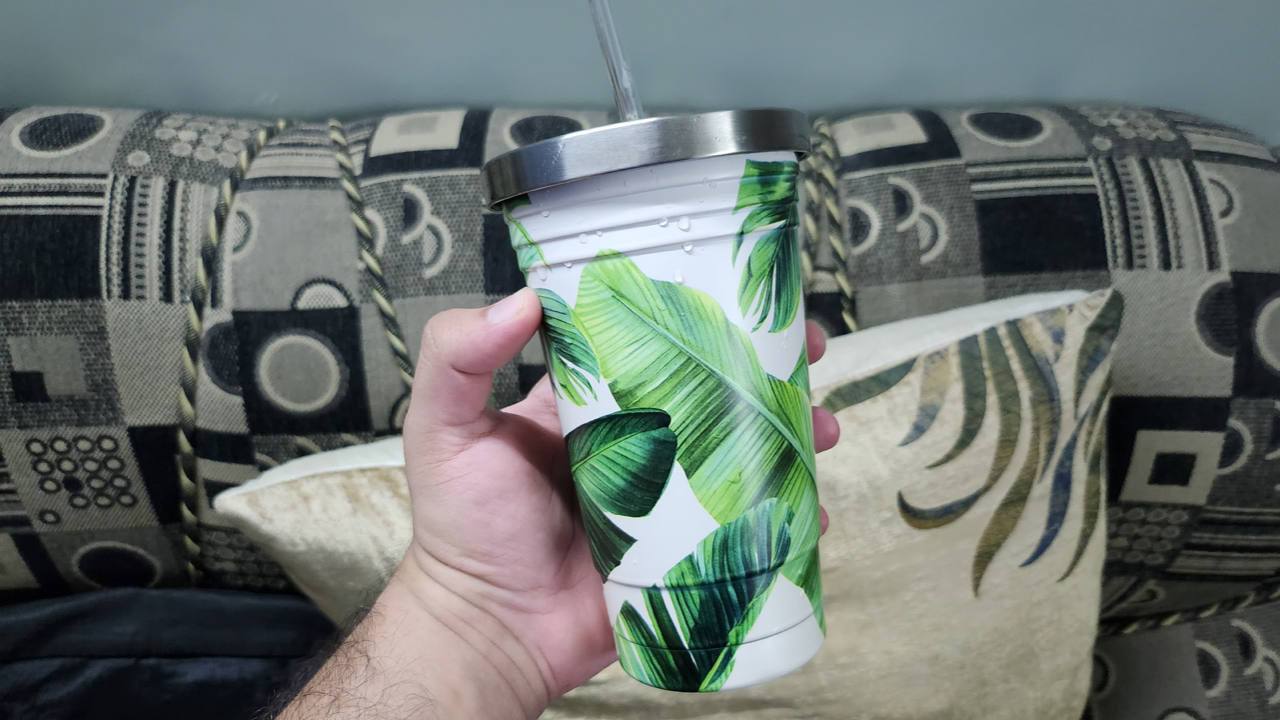 As for shots under artificial lighting, they are decently detailed and the colours are very well maintained. The natural look of the overall photo is retained while the bokeh effect and EDGE detection remained optimum.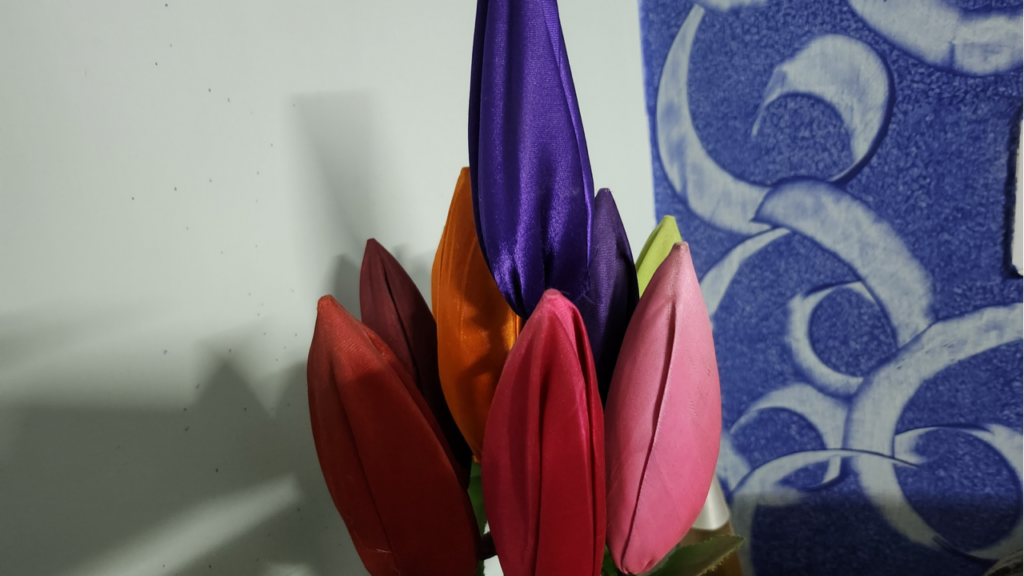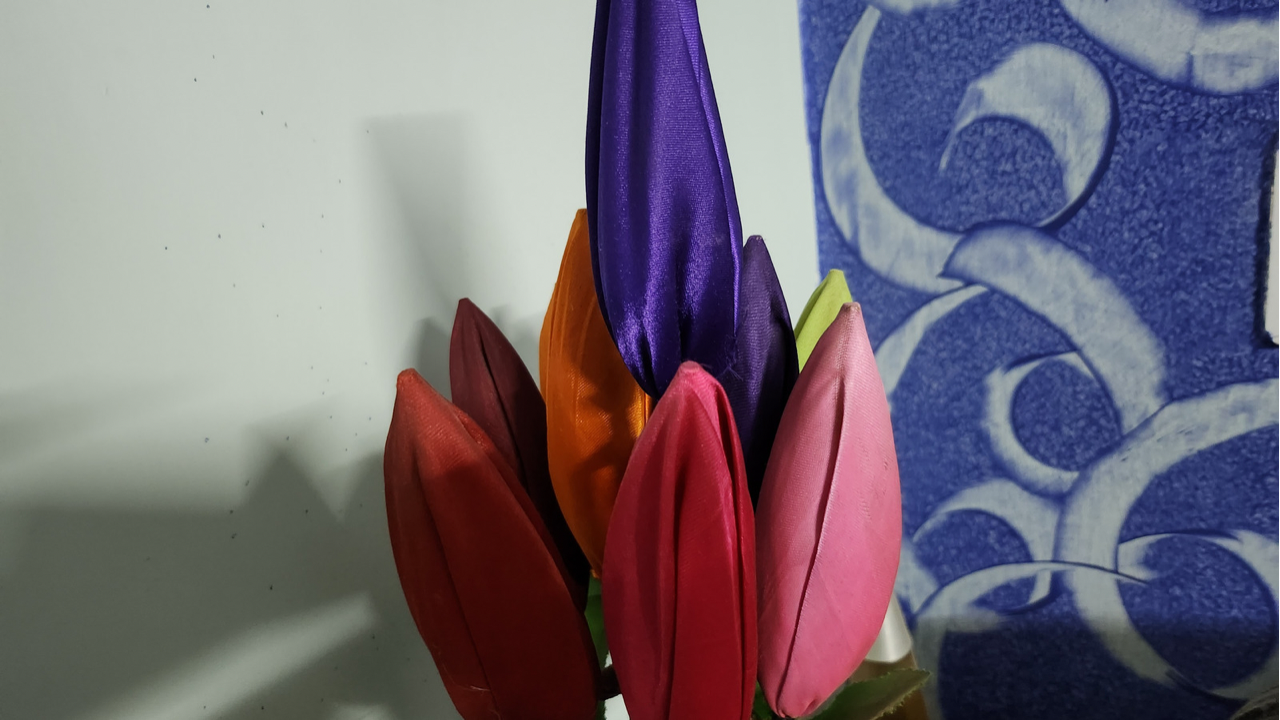 Shots taken under low lighting conditions have improved over last year's model. It isn't a drastic improvement but can be noticed in certain conditions. Some shots can get slightly blurry but most of them had a good amount of details and pretty great colours as well.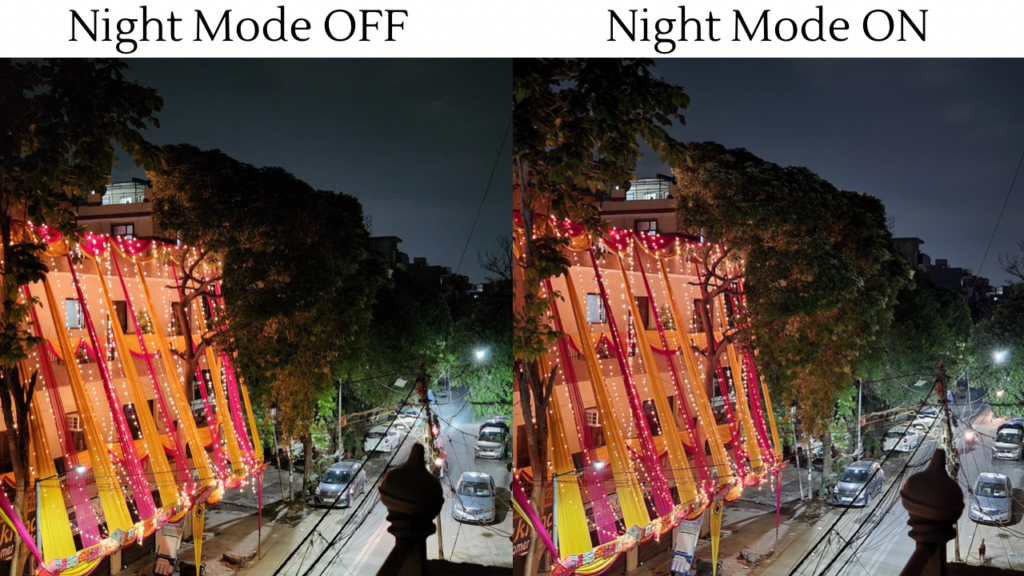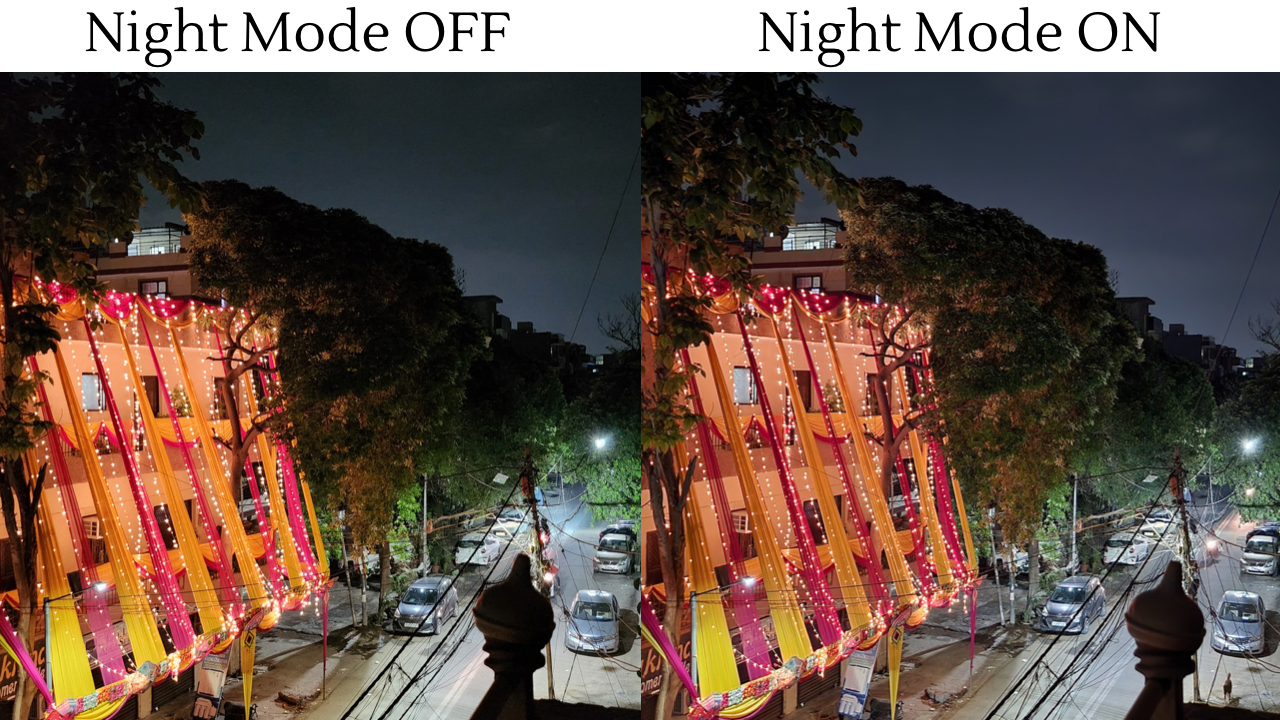 The photos under night conditions are handled well by the sensor again. I found the shots had plenty of details and very accurate colours. With Night mode ON, there's a good difference in sharpness but the colours take a slight hit.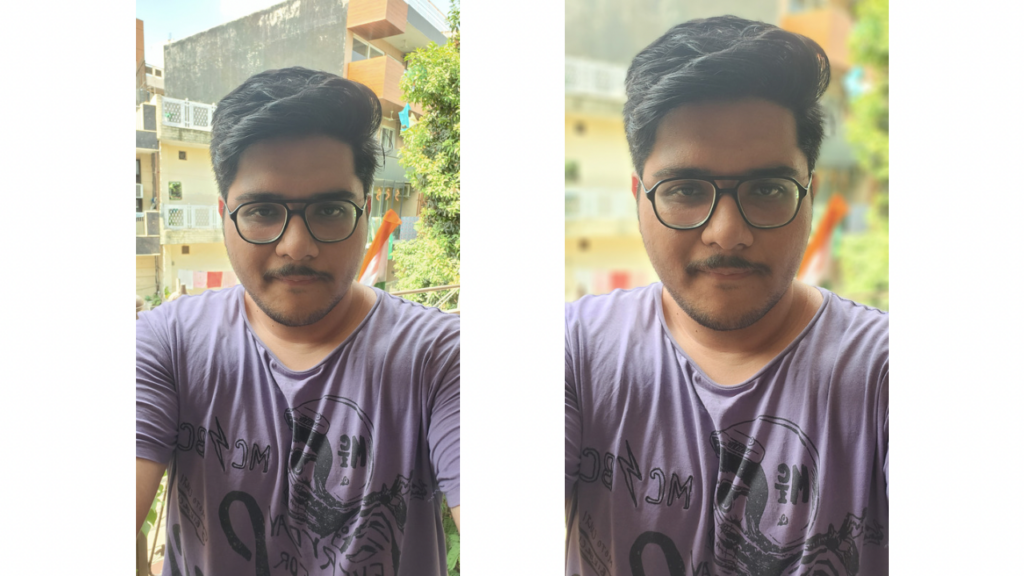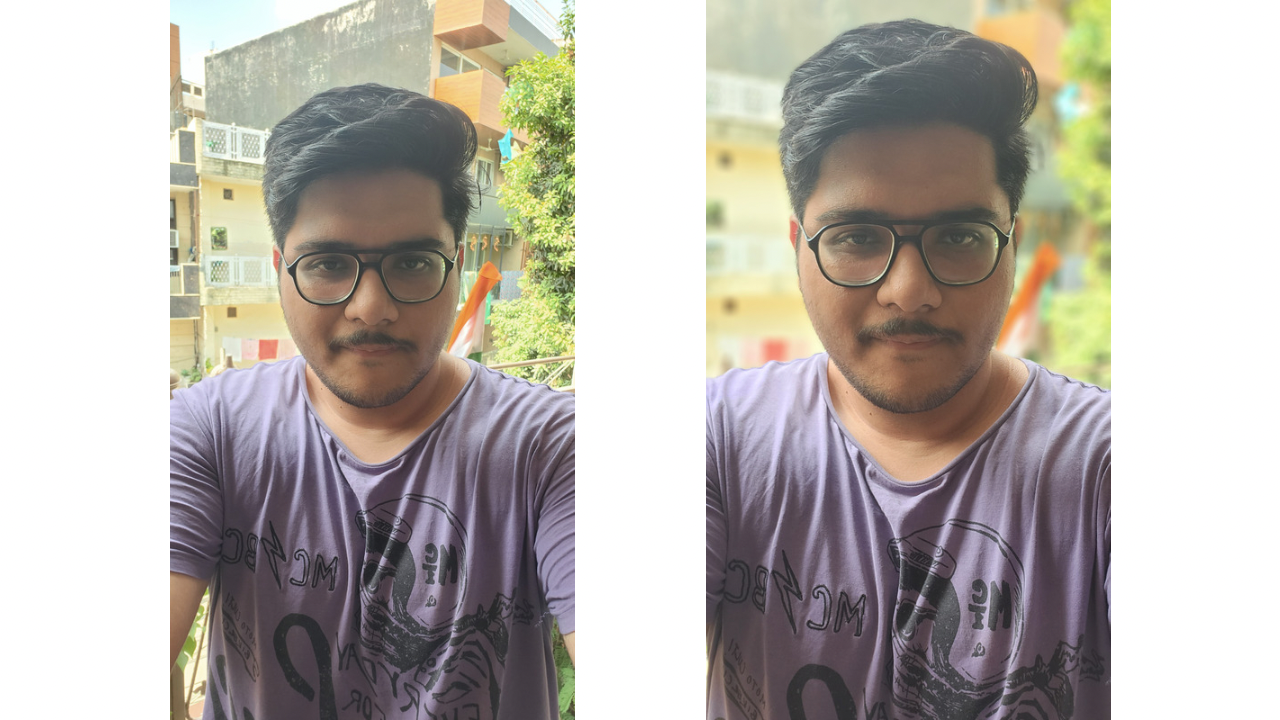 As for selfies, they are also handled well by the 10MP sensor. The detailing is quite well done while in portrait shots, the bokeh effect looks natural and edge detection is super accurate. What I didn't like much with the selfies were the colours that at times looked faded. They could have been slightly more vibrant.