For many in India, it seems that a smartphone is a device based on the Android operating system (OS). This can be gauged by the fact that all the major handset majors – except Nokia, Apple and BlackBerry – including the Indian brands have at least one Android smartphone in their portfolio. This consumer sentiment is also reflected in the Handset Hotlist survey (August 2012) of The Mobile Indian (www.themobileindian.com), as 18 out of the most searched for 25 handsets are based on the Android platform.
In this month's survey, Nokia's C5 03 relinquished its numero one position to Samsung Galaxy SIII after occupying the slot for a record nine consecutive months. In this Hotlist survey, Nokia C5 03 was the eighth most searched smartphone.
The second position was bagged by Sony Xperia Go which made its entry into the list soon after its launch. Also, this month's Handset Hotlist saw 13 new entrants of which nine were Android based handsets while one each were based on S40, Java, Belle and BlackBerry OS 6.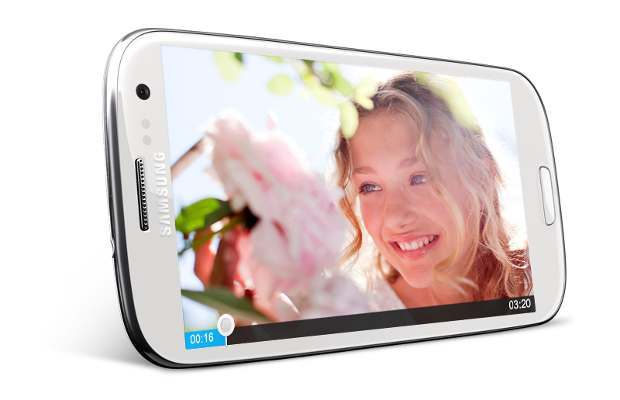 In the Handset Hotlist for August 2012, 11 of the top 25 handsets are from Samsung, four from Sony Mobiles, three each from Nokia and LG Mobiles, two from HTC, and one each from Micromax and BlackBerry.
Commenting on the survey, a spokesperson of The Mobile Indian, said, "In India, smartphones based on Android 2.3 operating system are still the most sought after because most handset marketers have not rolled out Android 4.0 (Ice Cream Sandwich)."
The spokesperson further added, "The mobile internet experience seems to be among the top priorities for Indian mobile consumers and this explains why eight of the handsets featured this month have a screen size of 4 inch or bigger."
Besides Android, consumers also showed interest in phones with good camera capabilities. According to the survey's findings, as many as 18 of the top 25 most searched phones come with a camera resolution of 5 megapixel or more. Little wonder that the leader of camera phones, the Nokia 808 Pureview which comes with a 41 mega pixel resolution, bagged the fourth place in the list.
The Handset Hotlist survey (August 2012) is based on a study of online preferences of about one million people who visited the website (themobileindian.com) in July 2012 and searched for and viewed information about mobiles on the site's 'Compare Mobiles' section, which lists about 2,000 models. In this month's Hotlist we have introduced a popularity index, where the number one handset has 100 per cent popularity.

Top 25 Handset Hotlist for May 2012

Rank July
Last report
Change
Brand
Model
Price (in Rs.)
Popularity Index
1
7
6
Samsung
Samsung Galaxy SIII
37500
100.0
2
NA
NEW
Sony Mobiles
Sony Xperia Go
18500
62.1
3
NA
NEW
Nokia
Nokia 808 PureView
31000
57.5
4
NA
NEW
BlackBerry
BlackBerry Porsche Design P9981
133990
51.0
5
NA
NEW
Nokia
Nokia Asha 305
4700
42.9
6
5
-1
Samsung
Samsung Galaxy Y Duos
8900
42.1
7
4
-3
Samsung
Samsung Galaxy Y S5360
7000
40.4
8
1
-7
Nokia
Nokia C5-03
8500
38.3
9
6
-3
Samsung
Samsung Galaxy Pocket
6190
38.3
10
NA
NEW
Sony Mobiles
Sony Xperia Neo L
14000
37.8
11
18
7
Samsung
Samsung Star 3 Duos WiFi
5390
37.4
12
8
-4
Samsung
Samsung Galaxy Ace Plus
15500
37.2
13
12
-1
Samsung
Samsung Galaxy Ace Duos
11900
36.6
14
NA
NEW
LG Mobiles
LG T375 Cookie Smart
4600
35.8
15
17
2
Samsung
Samsung Wave Y S5380
6300
32.8
16
NA
NEW
Micromax
Micromax Superfone A56
5900
31.2
17
NA
NEW
LG Mobiles
LG Optimus 4X HD
35000
28.9
18
NA
NEW
HTC
HTC Desire C
13650
28.3
19
15
-9
Samsung
Samsung Galaxy Ace S5830
10000
27.7
20
NA
NEW
LG Mobiles
LG Optimus L5
13000
27.7
21
NA
NEW
Samsung
Samsung Galaxy S Advance
19500
25.3
22
11
-10
HTC
HTC One V
17000
24.4
23
NA
NEW
Sony Mobiles
Sony Xperia U
12750
24.3
24
NA
NEW
Sony Mobiles
Sony Xperia S
28000
0.0
25
25
0
Samsung
Samsung Champ Deluxe Duos C3312
3890
0.0