Samsung will launch its newest Android based smartphone – the Galaxy R, in India in this month.
"The Samsung Galaxy R smartphone will be launched in India in the next 15 days," said a spokesperson of the company to The Mobile Indian on the sidelines of a function here today.
The Galaxy R Android smartphone features a design that is similar to that of the Galaxy S2 with a slightly smaller display standing at 4.2 inches. The Galaxy R, however, misses out on the Amoled display but gets a super clear LCD like the one featured on the Samsung Galaxy I9003.
The Galaxy R also features Android Gingerbread v2.3 operating system with Samsung's touch wiz user interface on top of it. The new smartphone will also feature Samsung Hubs for delivering content such as gaming, music, social media and videos directly to the user.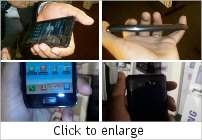 Samsung Galaxy R comes with a dual core Nvidia Tegra 2 processor. The Galaxy R will come with an 8 GB of internal storage along with a 32 GB expandable memory option as well.
A 5 megapixel real camera with a power LED flash has been included in the device which is capable of recording 720P high definition videos at 30 frames per second. For video calling, it also features a 1.3 megapixel front camera.
However, the price of the device has not been officially announced yet but it is expected to be priced around Rs. 27,000 approximately.