Samsung announced the Galaxy M20 as the latest addition to its budget lineup of smartphones in India. Available for purchase on Amazon and Samsung's store from today, the Galaxy M20 can be purchased for a starting price of Rs 10,990 for the base 3GB+32GB variant. There's also a 4GB+64GB version which Samsung will be selling for Rs 12,990.
For around the same price, the Galaxy M20 competes with Asus' Zenfone Max Pro M2 since both phones offer mid-range chipset with large battery units, a dual camera setup for photography and bezel-less displays with notches on the top. Will Samsung's Galaxy M20 be able to beat the Zenfone Max Pro M2 as the best budget smartphone during the first half of the year? Let's find out.
Display:
Samsung has finally undertaken the notch game as the Galaxy M20 has employed the Infinity V-display on the front which bears a similar resemblance to the teardrop notch found on many smartphones as of late. It features a 6.3-inch Full HD+ PLS IPS display with a resolution of 2340 x 1080 pixels. In our review, the Galaxy M20's screen delivers punchy colours with good viewing angles and outdoor visibility. The device also supports Widevine L1 support for watching HD content on Prime videos and Netflix.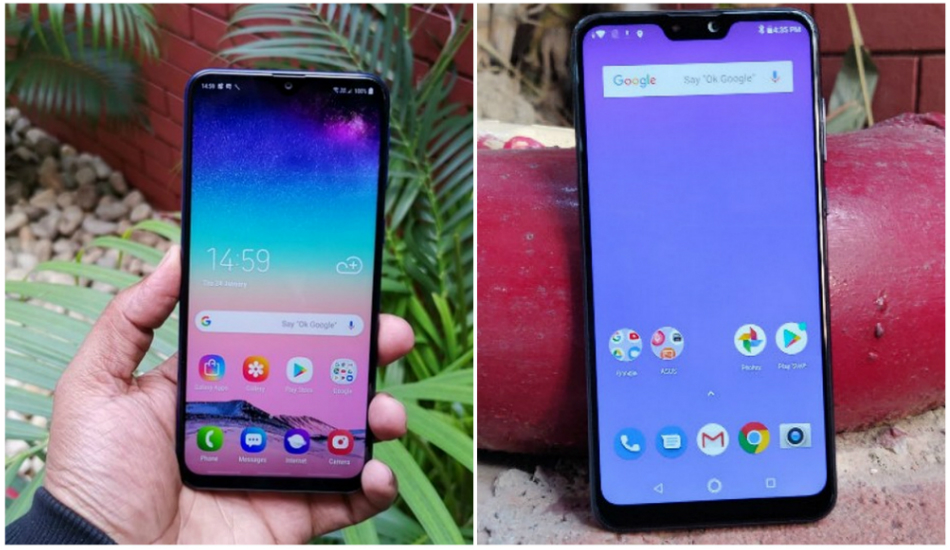 Asus' Zenfone Max Pro M2, on the other hand, features a relatively wider notch at the top which can't be hidden through a software option. Apps which are optimised for the notch run in fullscreen, while for other apps, you will see a black area around the notch. Coming to the screen, the Zenfone Max Pro M2 features a 6.26-inch Full HD+ display with a screen resolution of 2180 x 1080 pixels and 500nits brightness.
Winner: Samsung Galaxy M20
Design:
As welcome a change Samsung's display has been, the Galaxy M20's design language is equally unattractive. The back of the smartphone is made of a polycarbonate material which is glossy. Samsung appears to have copied the market trends and has stuck to other manufacturers' layout to design the Galaxy M20. While the back is smooth, it's prone to scratches and also attracts smudges.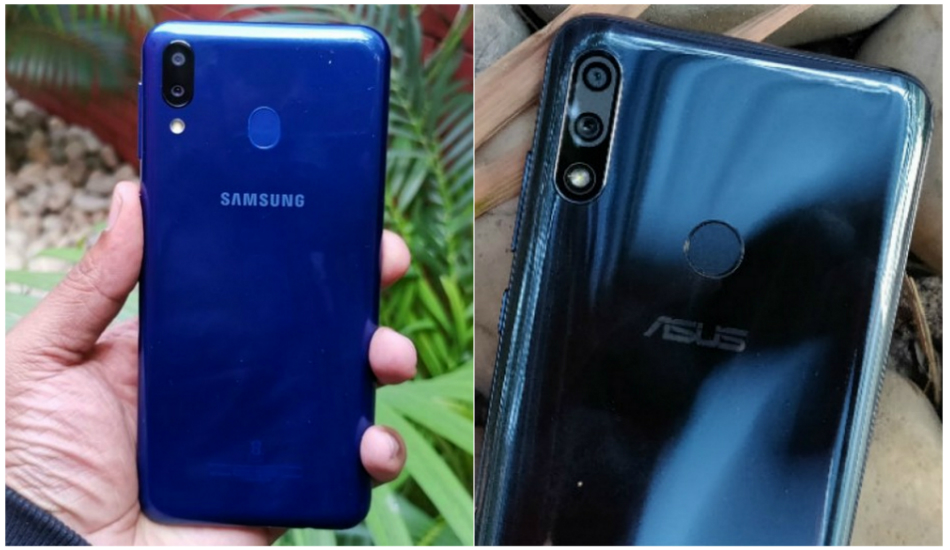 The Zenfone Max Pro M2 offers a similar polycarbonate material at the back buy the glossy finish is mirror-like in nature, unlike that of the Galaxy M20. This gives the Zenfone a sense of premium-ness and adding to this is the fact that the device comes with Corning Gorilla Glass 6 protection. The device thus has a high probability for not shattering into pieces when it falls down.
Winner: Asus Zenfone Max Pro M2
Hardware:
The Zenfone Max Pro M2 is powered by a Qualcomm Snapdragon 660 processor coupled with Adreno 512 GPU, up to 6GB of RAM and 64GB of internal storage. During our time with the device, the Zenfone performed smoothly with fluid-like transitions and handled casual games with ease. We also managed to run PUBG Mobile in Balanced graphics settings with Medium frame rates and the output was satisfying as we did not notice any lag or frame drop during our gameplay experience. The main highlight of the device is that it comes in a 6GB RAM variant unlike that of the Samsung device.
Samsung's Galaxy M20, while being revolutionary in the display front also brings a significant change in the internals. It's powered by Samsung's own Exynos 7 series 7904 processor with up to 4GB of RAM and 64GB of onboard storage. As we played with the 4GB RAM variant that we received for the review, we found the Galaxy M20 to handle most of the daily tasks like using WhatsApp, Facebook, replying to emails and more without any hassle. However, the device as rather sluggish with frame drops and lag when playing PUBG in medium settings.
Winner: Asus Zenfone Max Pro M2
Software:
Coming to the software front, the Galaxy M20 runs on Samsung Experience UX 9.5 based on Android 8.1 Oreo which is a sad thing to witness that in 2019. However, the Experience 9.5 UX offers highly customisable options. You have an option to choose different icons packs, change icon size and grids. However, in addition to personalised options, the phone is also loaded with lots of bloatware like Dailyhunt, Facebook, Microsoft app suites and Google apps. Keeping all of this in mind, the Galaxy M20 will start to lag a lot more after months of use.
The Zenfone Max Pro M2 runs on Android 8.1 Oreo with company's ZenUI running on top of it. Android 9 Pie will soon arrive on the smartphone as beta updates have started rolling out. The actual interface resembles that of Google Pixel's and offers close to a stock Android experience with minimal bloatware and some gestures to easy use.
Winner: Asus Zenfone Max Pro M2
Camera:
The Zenfone Max Pro M2 is equipped with a dual-camera setup. The primary lens with a 12-megapixel Sony IM486 sensor with f/1.8 aperture, 27mm focal length, 6 element lens, phase autofocus and LED flash coupled with a 5-megapixel secondary shooter with 84-degree Field of view. For the front, there is a 13-megapixel shooter with f/2.0 aperture, 26mm focal length, LED flash and face unlock. While there some improvements when clicking pictures in daylight, the inconsistency of missed details and slow focus does bear some grievances. Even low light pictures were average at best with poor edge detection when clicking through portrait mode.
The Samsung Galaxy M20 features a dual-camera setup, which comes with a combination of a 13-megapixel primary sensor with f/1.9 aperture and a 5-megapixel ultra-wide sensor. For the front, the company has employed an 8-megapixel shooter with f/2.0 aperture. Unlike other companies, which majorly uses a secondary camera for depth sensing, Samsung has given you ultra-wide lens, which is a rarity in this price band. The camera clicks good shots in broad daylight. You get an option to choose between normal mode and wide-angle mode just above the shutter button. The front camera does a decent job in capturing selfies when the lighting conditions are good.
Winner: Samsung Galaxy M20, for the added wide-angle camera
Battery:
Both the Samsung and Asus device boasts of a 5,000mAh battery and is the only two devices in the price segment to equip power units of such magnitude. You can get two days of battery backup on a single charge using either of the two devices and still manage the take them out with some juice intact. One positive thing about the Galaxy M20 is that it comes with a USB Type-C port and 15W fast charging adapter to fuel the device from 30 percent to 80 percent in less than 60 minutes. Asus' Zenfone Max Pro M2 on the other hand only ships with a standard 10W charger which takes about 2 hours and 20 minutes to fully charge the device.
Winner: Samsung Galaxy M20
Verdict:
Samsung has really introduced an interesting change to the budget smartphone lineup with the Galaxy M20. The device not only offers mid-level internals but there are also other good points to talk about. The Galaxy M20 being a budget device clicks pictures with a decent amount of details and we can speak of such quality about the Infinity V-display as well. The device also equips a massive 5,000mAh battery with 15W fast charging which is unavailable on any smartphone in the same price level. On the other hand, AsusZenfone Max Pro M2 has been great with updates and every time we have used a device we had something new to explore. So which one should you consider, Samsung has done a good job with M20 but Asus has done a better job in terms of updates. In head-on comparison, Samsung scores impressive wins in some section but Asus inspite of its shortcomings has never given any issue in terms of performance.