Samsung just launched it's entry-level Galaxy J6 smartphone with an Infinity Display and promising a slew of features at an attractive yet affordable price bracket. The latest entrant to Samsung's sub-Rs 15,000 range is also the cheapest Samsung smartphone to come with the popular Infinity Display, which was first found on last year's flagship Galaxy S8. With a starting price of Rs 13,990, the Galaxy J6 not only offers an elongated display with minimal bezels but also features Face Unlock, Live Focus, Bixby Assistant and Samsung Pay Mini.
The entry-level 3GB variant thus lines up right alongside the highest available version of Asus' Zenfone Max Pro M1 and we've thus compared the two budget smartphones side-by-side to see which one holds up to provide the best bang for the buck.
Design:
The Galaxy J6 as expected from a Samsung phone in the budget segment is a compact device made of plastic. Though the absence of metal at the back is barely noticeable in the hands, there are a dozen phones in the market which offer a sturdier and durable build. However, the Galaxy J6 isn't such a bad option considering the device doesn't weigh much and can be easily slipped into your pocket.
Though designed like any other mid-range smartphone, the Zenfone Max Pro M1 features a metal unibody with 2.5D curved on the front. Looking at the phone front the back, we can easily distinguish the Asus phone from other metallic framed smartphone since the camera module is aligned vertically and sits flushed with no bump whatsoever. Though a little slippery, the smoother premium finish at the back more than makes up for it.
Winner: Asus Zenfone Max Pro M1
Display:
Though priced cheaper than the Samsung device, Asus has still managed to implement a Full HD+ 6-inch display with a resolution of 2160 x 1080 pixels. Ideally the 85 percent NTSC colour gamut and 1500:1 contrast ratio translates to a vivid display and the Zenfone M1 surely doesn't disappoint in offering saturated colours and sharp blacks. With 450nits of brightness, the device is also quite bright if not for its reflective glass on the front which hinders outdoor use. With minimum bezels and a denser screen, the Zenfone manages to output 77 percent screen-to-body ratio with a pixel density of 402 ppi.
Samsung's Galaxy J6 is the cheapest smartphone to offer their popular Infinity Display that first debuted on last year's flagship Galaxy S8. The Super AMOLED display with a resolution of 720 x 1480 pixels looks great for its price but a Full HD+ panel would have been much better. The Galaxy J6 offers okays brightness with decent colour reproduction but even with an Infinity Display, the phone offers a lower screen-to-body ratio of 75.9 percent and an even lower 294 ppi pixel density.
Winner: Asus Zenfone Max Pro M1
Hardware:
The Galaxy J6 houses Samsung's own Exynos 7870 SoC which is a higher entry-level chipset at best. For a price of Rs 13,990, users will only be able to get their hands on the 3GB RAM variant of the Galaxy J6 which also sports 32GB of onboard storage. Day-to-day performance is fluid but we doubt whether it'll be able to handle graphics intensive games like PUBG and Asphalt without lags.
Asus' Zenfone M1 is powered by the Snapdragon 636 chipset which also powered the popular Redmi Note 5 Pro. The variant in question comes with 4GB of RAM and 64GB of internal storage and as tested in our in-depth review, the Max Pro works like a charm. Day-to-day functions are managed smoothly and the device also does an immersive job in the gaming department. Moreover, the SND 636 SoC consumes lesser power than any chipset in the mid-range catalogue and even so offered no compromises in performance whatsoever.
Winner: Asus Zenfone Max Pro M1
Software:
The J6 runs on Android 8.0 Oreo and on top of running the not-so-latest build of Google's mobile OS, the device comes with a heavily skinned Experience 9.0 UI. There has been no official word on an update to Android P and we would suggest you to not be hopeful of the same. While daily tasks might be carried out swiftly on the device, we assume the Experience UI would hinder the performance of the rather lowly-specced smartphone.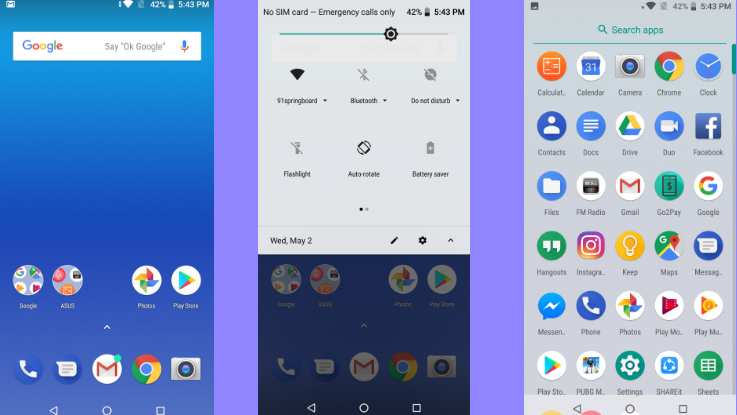 Asus has come a long way from earning terrible criticisms over its ZenUI to being praised for ordering a near-to-stock Android experience on the Zenfone Max Pro M1. Not only does the M1 come with the latest build of Android 8.1 Oreo, the interface offers minimal bloatware and no heavy customizations. That in addition to a snappy Snapdragon 636 will provide a smoother user interface that is easy to navigate. Asus has also promised timely updates for the M1 and we'd like to believe so since it rolled out a Face Unlock feature within a week of the device's launch(https://www.themobileindian.com/news/asus-zenfone-max-pro-m1-gets-first-major-update-a-week-after-launch-22070).
Winner: Zenfone Max Pro M1
Camera:
Asus' formula for the camera modules on the Zenfone M1 is a combination of dual 13 MP (f/2.2, 1.12µm) + 5 MP (f/2.4, 1.12µm) lenses which offers phase detection autofocus, a 5 element lens, and a wide-angle 80-degree lens. The pictures captured on the device came out with definitive natural colours and details in good lighting. The bokeh effect works on most days but you can expect a drop in quality once a while or on low light conditions. There's also an 85.5-degree wide angle 8-megapixel front snapper with an aperture of /2.2 aperture.
The 13 MP (f/1.9, 28mm) primary sensor on the back of the Galaxy J6 is decent at best in well-lit environments which makes doubtful about the phones low light capabilities. The camera does a good job at reproducing colours but it remains to be seen how the device handles stabilization or moving targets. The front-facing 8-megapixel lens, however, makes up for the primary sensor's demerits. There's a beautification mode which also allows you to apply the right amount of post-processing so the subject doesn't look overexposed in the pictures.
Winner: Zenfone Max Pro M1
Battery:
If all of that didn't speak nice of the Zenfone M1, Asus has also pushed limits to equip a massive 5,000mAh battery, which first debuted on the Zenfone Max three years ago. The large battery will last you to up to a whole day on heavy usage and might even give you two days of power on moderate use and can be charged in as much as two hours, which is pretty impressive.
Though the Galaxy J6 offers a standard 3,000mAh power unit, the phone is reported to have survived over a day on a single charge. Even so, the Samsung phone fails to live up to the standard that the Zenfone M1 has set since at the end of the day it still falls short of an additional 2,000mAh battery that's available on the Asus device.
Winner: Asus Zenfone Max Pro M1, by miles!
Verdict:
Samsung is trying to solve the problems it has been facing in the market since losing its market share in India and the Galaxy J6 seems to be its first attempt to lure back its users in the budget segment. The J6 offers a compact design with Infinity Display on the front which offers minimal bezels around the Super AMOLED screen. Though there are certain hiccups here and there, the J6 could be a welcome change for Samsung loyals who want to buy a budget phone for as low as Rs 13,990.
But the Galaxy device comes nowhere near matching Asus' Zenfone Max Pro M1. The M1 which was specifically brought to disrupt Xiaomi's Redmi Note 5 Pro doesn't disappoint for what all it offers at a price which is lower than the Samsung phone. For Rs 12,999, the Zenfone M1 not only offers the latest power efficient SND 636 chipset and a near-to-stock Android experience but an enhanced dual-camera setup and a mammoth 5,000mAh battery as well. All of this leaves the Galaxy J6 to bite the dust in every aspect that needs to be considered when buying a budget phone.