Korean electronics giant Samsung has released a video showing a concept device which has a flexible display.


The video shows a user walking comfortably with a flexible and see through tablet which looks capable of increasing in size as well. It shows the device making video calls, displaying holograms and performing other tasks as well. We believe it should be an Amoled display, like the one found in Samsung Galaxy S II smartphones.
Interestingly, this is not the first time Samsung is making news about the foldable touchscreen. Sometime back, Samsung was in news for making a smartphone which would have a bigger screen like tablet without sullying your view with creases. Advanced Institute of technology research at Samsung Korea has revealed the prototype of the smartphone with a folding touchscreen display.
With the folded screens, a smaller phone that used to house a 3.5 inch display would be able to house a double size screen.
As reported by physorg.com, these displays have been tested for over 1 lakh folding cycles and after that they show a difference of 6 per cent when compared to new screens.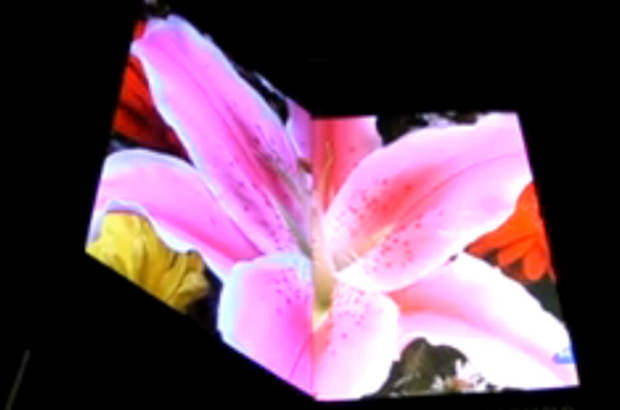 To make this folding display a possibility, Samsung has used two totally different independent displays controlled by a display controller and joined them using a flexible materiel like silicon glue.
With use of this technology, smartphones and tablets will definitely get a size advantage where in device will now be smaller than the display. Also Smaller display will help in making device more sturdy while to some extent reduce the cost of manufacturing also.