S Mobility, formerly known as Spice Mobility, a Indian Mobile phone brand, has launched two new Music phone called 'Samba, and 'Carnival'. The phones are priced at Rs. 3599.
The handset has a 'Party Light' feature that makes the handset glow during the music playback (based on the type and mood of the song). The phones come in four vibrant colours – Midnight Blue, Fiery Red, Grayish Black and Tangy Orange.
The company claims that the phones are loaded with a software that enhances the music/ audio processing coupled and comes with Spice wireless speakers & stereo earphones.
Both the phones support Dual SIM function. The Samba sports a 2.2 inch QVGA screen with multitap keypad, while the Carnival has a QWERTY key pad and a broad 2.2 inch screen.
Both the phones sport a 1.3 megapixel shooter that can also capture and play videos. Other features include expandable memory upto 8 GB with a Free 2 GB Memory card, FM with recording, 950 mAh battery with claimed talk time of 4 hours and a 3.5mm audio jack.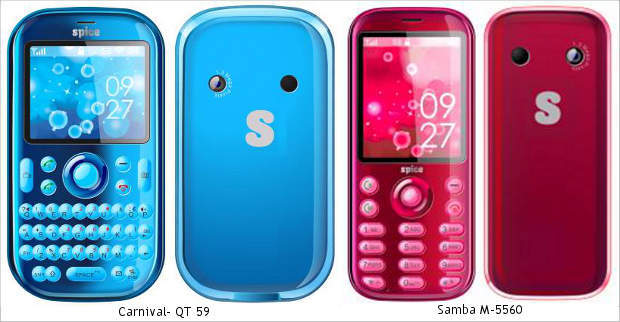 Dilip Modi, Managing Director, S Mobility said "We at S Mobility, believe in innovations and consistently working towards providing futuristic technology through our devices. The two new products launched today are targeted to the youth with surround music, led lights and bright attractive colours. "