Research In Motion (RIM) has kept its promise and formally released the BlackBerry PlayBook OS 2.0 update for its PlayBook tablet. The new BlackBerry PlayBook OS 2.0.0.7971 update however takes a lot of time to get downloaded as several people are trying to download it at the same time. While RIM's servers get hammered, take a look at what you can expect to see with the new PlayBook OS 2.0 update.
With the new PlayBook OS 2.0, the PlayBook tablet will get built-in email, calendar and contacts apps to keep the user updated. The Calendar gets bit of social integration – the app pulls information from the user's social networks.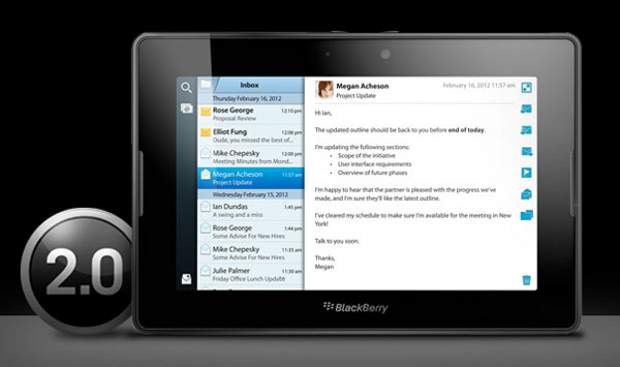 The new update for the BlackBerry Bridge software for BlackBerry smartphones will let the user control the PlayBook with the smartphone itself.
Most important aspect is the Android App Player with which users can download and install select Android apps that have been developed to be compatible with the PlayBook tablet. For some regions, the update will bring a Video Store from which users can rent movies.
RIM has also added A2DP Bluetooth functionality for several users who would like to use it. Massive improvements are being made in the mobile web browser and we shall get to know about it only after getting the update. Several other user experience improvements have been added to this update.
The new PlayBook OS 2.0 update can be downloaded on the PlayBook tablet by simply connecting it to the WiFi and tapping on Software Updates in Settings. Alternatively, you can connect the PlayBook with the PC or Mac and download the update using the Desktop Manager.