Research In Motion has announced the launch of their latest version of the BlackBerry Messenger. The new BBM 6.0.1 version brings along a whole lot of new features specifically targeted at application users and usage. With the latest update, BlackBerry Messenger users will be able to utilise and access the BBM connected applications and much more.
With the BBM connected applications, users will be able to share instant information with fellow BBM users without even leaving or getting out of the BBM interface. The new BBM focuses on giving additional sharing capabilities to the BBM users as well.
As opposed to picture and file sharing, users now will be able to share application related data and even the application itself right from within the BBM application.
To share an application, a BBM 6.0.1 user will just have to share the link or application related information with a contact on the BBM and the other user will be immediately intimated about the same thorough BBM. If the other user does not have that application, he will then be prompted to download the new BBM 6.0.1 version. The other person can then, using the new BBM version, share other applications.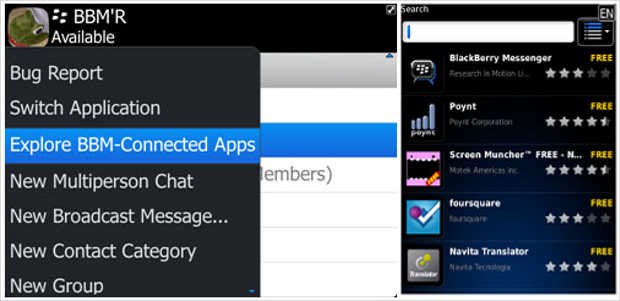 Newer BBM 6.0.1 users thus can invite users of older version of BBM to download and try the new one. Users who want to upgrade their BlackBerry messenger or BBM to version 6.0.1 can update it via the BlackBerry app store application on their device or can simply follow this link to update the application via both the PC and smartphone.