Last year, Sony split from the Sony Ericsson joint venture and completed a year of being on its own in February 2013. The new Sony Mobile team was focused on delivering competitive smartphones with the best of Sony's technologies. Most importantly, Sony had laid down the foundation with big plans to compete with the three top Android handset makers: Samsung, HTC and LG. The competition was getting tougher not only on the hardware (physical design) of the smartphone, but also on delivering software updates.
Sony delivered a big promise of rolling out the updates for eligible devices with expected dates. Not only that, Sony introduced the developer program where advanced developers and enthusiasts could download alpha builds of Android 4.x Jelly Bean update for compatible devices. Rolling out updates is still a tedious and lengthy process of ensuring that the update works on each Xperia device. When it comes to services Sony opened up PlayStation Mobile to several countries and introduced new entertainment centric services such as Sony Music and Sony LIV for Indian consumers.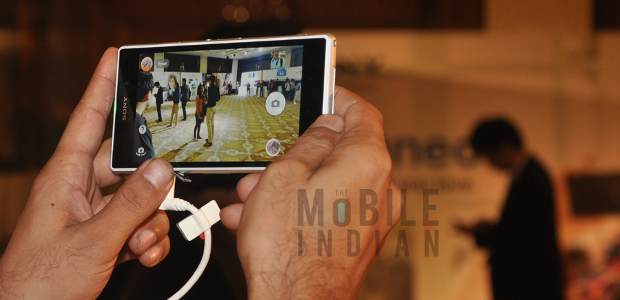 On the tablet front, Sony gifted an amazing tablet that basically has Xperia design married to the tablet form fact as Xperia Tablet Z. In fact, the Xperia Tablet Z also managed to scoop loads of accolades and awards at the Mobile World Congress in 2013. Not to forget, Sony marked its name as the premium handset maker offering certified dustproof and waterproof devices.
Tablet
Sony has launched only one tablet in India this year – Xperia Tablet Z. Premium Xperia NXT design and looks bearing Xperia Tablet Z was launched for Rs 46,990 and had to survive amidst the battle between Apple iPad, Samsung Galaxy Tabs and the affordable Google Nexus 7. The Xperia Tablet Z is not only splash proof but is also a decent leap from last year's offerings. Sony has started to roll out Android 4.3 Jelly Bean update for Xperia Tablet Z and other devices.
Smartphones
The mid-range Xperia mobile phones were quite successful last year. At the start of this year, Sony introduced the Xperia Z with a bang in India. Xperia Z became the first top of the line smartphone with certifications for water and dust resistance. Not only that, the Xperia Z flaunted a new impressive design, display and camera. Sony announced spin off models-Xperia ZL and Xperia ZR immediately after that, but made them available only later.
The mid-tier was gifted with Xperia SP and Xperia L handsets that had promising design and hardware. Meanwhile, the entry level segment was filled with Xperia E and Xperia E dual SIM. Sony sort of lost the game after the Xperia Z faced troubled waters. However, the arrival of Xperia Z1 immediately fixed what was missing and it became a true top of the line product for Sony Mobile in the year 2013.
Sony forayed into the phablet race with a large screen, sleek Xperia Z Ultra. This humongous tablet was liked by business folk and big display lovers. Sony also announced the Xperia Z Ultra Google Play Edition-a phablet with the Nexus experience. The last handset launch by Sony was Xperia C with promising specifications, but it had to fight tough competition with the newly launched Micromax Canvas 4 and Samsung Galaxy Grand Duos.
Sony has struggled to keep pricing competitive with its rivals. At the same time, its pricing was a bit heavy for consumers. However, we have observed that Sony handsets go through decent price cuts. That would be fairly evident from our weekly Deals story.
Sony Xperia Z Ultra
Sony Xperia Z1
Xperia C
Apps
Sony Mobile had already opened up its PlayStation Store to the Indian audience, along with the Sony Music and Sony LIV apps. Sony later introduced Sony Select, which gives one stop access to movies, videos and music. Apart from that, Sony also improved the Albums app to make it easily usable over the native Gallery app on Android. The Walkman app for music playback constantly continues to improve.
Great Expectations – 2014
Sony has a plethora of technologies under its umbrella of products, ranging from display to sound. The most recent inclusion in the smartphones was the Triluminos technology also offered in the Bravia family of LED televisions. However, the mind-blowing quality of Sony DSLR cameras is what we expect in the Sony Xperia lineup in 2014. Imaging is one aspect where Sony continues to struggle which is surprising since it offered CyberShot K-series mobile phones in the last decade. We really hope that Sony's mobile imaging team takes up the challenge against Nokia PureView and Apple iPhone cameras.
Sony may have added Walkman but the sound is not that great when it comes from the core level. Probably, high fidelity audio-hub chips along with a rewritten stack of Walkman apps packing a software equalizer and Sony's music specific features can get consumers grooving over Xperia devices.
Lastly, the battery has been the biggest pain for the year 2013 not just for Sony, but for every handset maker. Hopefully Sony also made some advances in tweaking battery technology to deliver better battery life, instead of packing large non-removable batteries.
With top of the line products such as Xperia Z and Xperia Z Ultra Google Play Edition, it is still surprising why Google and Sony have not worked together for a Nexus device. We have our fingers crossed and are expecting to see some really competitive devices from the Sony Xperia family.