2013 was busy year in terms of tablet and phone launches in India. Last year on an average one device was launched every day. If we look at the numbers, in total 357 devices were launched in 2013 out of which 304 were phones and 53 were tablets.
In 2012, around 271 mobile devices were launched in India, which includes 52 tablets and before that in 2011 the tally was around 657.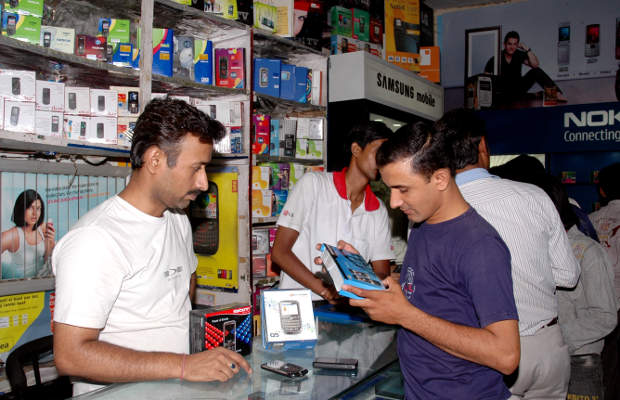 2011 can be labeled as a year of feature phones because out of 657 devices launched, 80 per cent were feature phones, whereas 2012 can be labeled as year of emergence of smartphones as of the 271 devices around 61 per cent were smartphones.
In contrast, 2013 was year of smart devices as 93 per cent of devices launched were smartphones and tablets. Last year smartphones and tablets were made available in different price brackets and interestingly the prices started from around Rs 3,000. Apart from that almost all the telcos were offering free bundled data along with the smartphones and tablets.



Brands:
In 2013, on an average Samsung had launched around 3 devices every month; it had launched 40 devices in the year including feature phones, smartphones and tablets. As a result it the topped the list of the brands with maximum launches in India.
Micromax, which got a tremendous response from consumers for its Canvas range of smartphones, bagged the second spot with 30 launches.
Karbonn, another Indian brand, which shot into limelight because of its Titanium range of smartphones, occupied the third slot with 24 launches.
Nokia, a brand which was a synonym for mobile phones in yester years, inspite of all the odds, bagged the 4th slot with 22 launches. It has launched devices in Asha and Lumia range. In the Lumia range, Nokia Lumia 520 was a runaway success among first time smartphone users. Another Indian brand Xolo, which shot into prominence in 2012 with the launch of first Intel processor based smartphone and ended 2013 with the launch of world's first Nvidia Tegra 4 processor based tablet, occupied 5th spot by launching 21 devices last year.
For the slot No 6, there was a tie between Lava, Celkon and HTC. All the three brands launched 18 devices each and while Lava and Celkon played on pricing, HTC focused on design and performance.
Again for slot No 7, there was tie between LG and Spice Mobiles. Both the brands launched 16 devices each. In 2013, LG Mobiles came up with interesting design element which had high utility value while on the other hand like most of the Indian brands USP of Spice was its pricing.
Intex, which had unveiled an octa core smartphone in December last year and had roped in Farhan Akhtar as a brand ambassador, bagged the No 8 slot with 15 launches.
With 13 devices each, Apple and Sony bagged the 9th position while the 10th position was jointly bagged by Huawei and iBall with 12 launches respectively.
If we look at overall picture in the list of top 10 brands, including the position in which there was a tie, 6 were Indian brands, 5 were MNC and one was Chinese brand. This shows Indian brands were quite aggressive in terms of launches and increasing their product portfolio range last year.
Note: We have taken upmost care in compiling the data related to mobiles and tablets launched in 2013 but there are chances that we may have missed a few launches. Also, before compiling the list we had dropped a mail to all the handset marketers to share list of the launches they did last year and most of them had shared their inputs.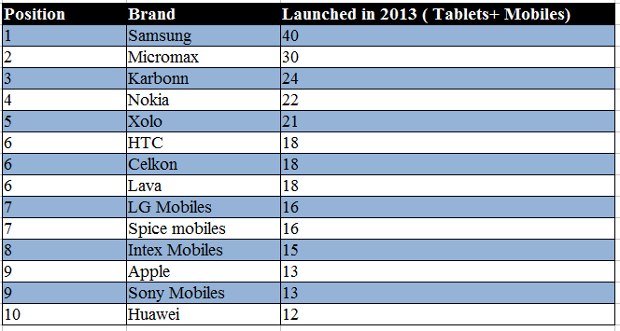 Operating system:
There could not be any guesses when it comes to the most favored operating system of 2013. Google's Android was the standout winner; out of the total 357 devices that were launched last year a whopping 306 smartphones and tablets were based on Android. Second slot was bagged by proprietary OS (Java based OS which is used in feature phones); just 15 feature phones were launched last year.
Windows Phone OS which is majorly adopted by Nokia occupied the third slot with 14 devices while 13 devices were launched with Apple's iOS. On the other hand, just five and four devices were launched based on Asha and Blackberry OS in 2013.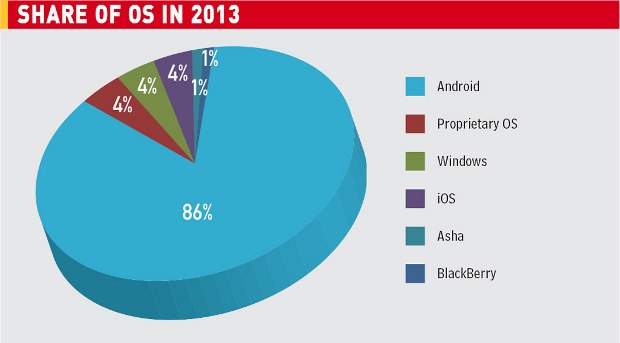 Display screen size:
2013, was the year of emergence of 5 inch and above device but if we look the display sizes of the devices launched last year 33 per cent (114) mobiles had 4 inch or less screen size and it was closely followed by devices with screens between 5 to 5.9 inches, about 28 per cent (96 phones).
About 24 per cent of newly launched phones (82 devices to be specific) had displays between 4.1 inch and 4.9 inch while tablets and phablets that have 6 inch and bigger screens constituted 15 per cent of the total devices launched in the year (in total 51 such devices were launched in 2013).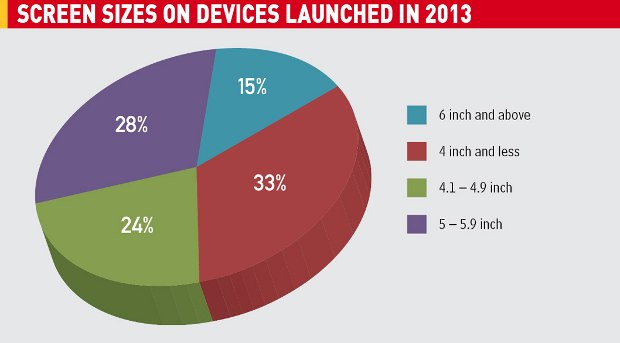 Camera:
Point and shoot camera had a tough time in 2013 and the reason for their distress was the betterment in camera capabilities on mobile phones. Last year majority of phones, 33 per cent (117), were having rear camera resolution of between 5 and 7.9 megapixel. About 27 per cent (98) of the total launched devices of 2013 had 8 to 13 megapixel resolution based camera while 29 phones, constituting about 8 per cent, had 13 megapixel camera resolution. The remaining phones (113) have less than 4.9 megapixel resolution.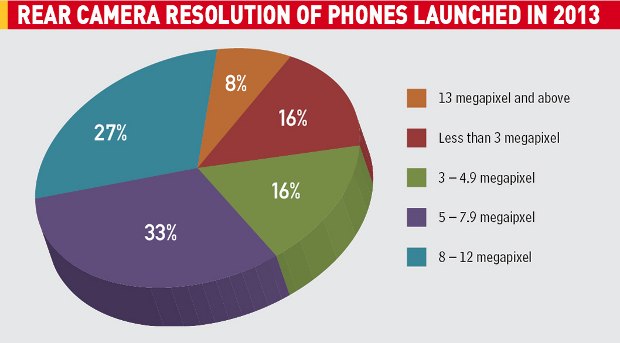 Price:
Last year average price of handsets and tablets that were launched was around Rs 15,000. Maximum numbers of devices were launched in the sub-Rs 5,000 segment that underlines why India is known as a market of affordable devices. In the price bracket of Rs 10, 001 – Rs 15,000, about 20 per cent devices were launched. Below we had a graphical analysis of the devices that were launched last year in different price bracket.