redBus has announced the launch of its ride-sharing rPool app on Android phones and with that, the company has also ventured into carpooling business. redBus will initially be making rPool available across three cities in India – Bengaluru, Pune and Hyderabad.
redBus says rPool is an eco-smart option which will help users connect with fellow professional riders when travelling to work. The company aims to achieve an Eco-smart Solution to cut down on traffic and pollution by making the most use of one vehicle rather than many. redBus claims that its service is different from other carpooling cab services because it caters exclusively to working professionals.
rPool offers cost-splitting between fellow riders and also brings a Recurring Ride feature which allows users to auto-generate their daily commute (home to office and vice versa) without needing to apply for a ride every time. Riders can also choose the days and timings for the ride after which they will be presented with the list of Ride Givers according to their requirements.
Users will be able to pay for rPool rides through their rPool Wallet which can be recharged like any other wallet or through TMW or Amazon cards. In addition to requesting a ride, users can also invite a co-rider of their choice.
How to use redBus rPool?
In order to book a ride through rPool, you'll need to download the redBus app from the Google Play Store and activate your account for rPool. After that's done, users will be able to enter the origin and destination, choose the number of seats, set date and time and schedule the same rides for repeated usage. A list of verified car-owners will then be displayed from which you'll be able to choose depending on the route and charge. You can also chat or call the driver without sharing the number and pay through the rPool wallet.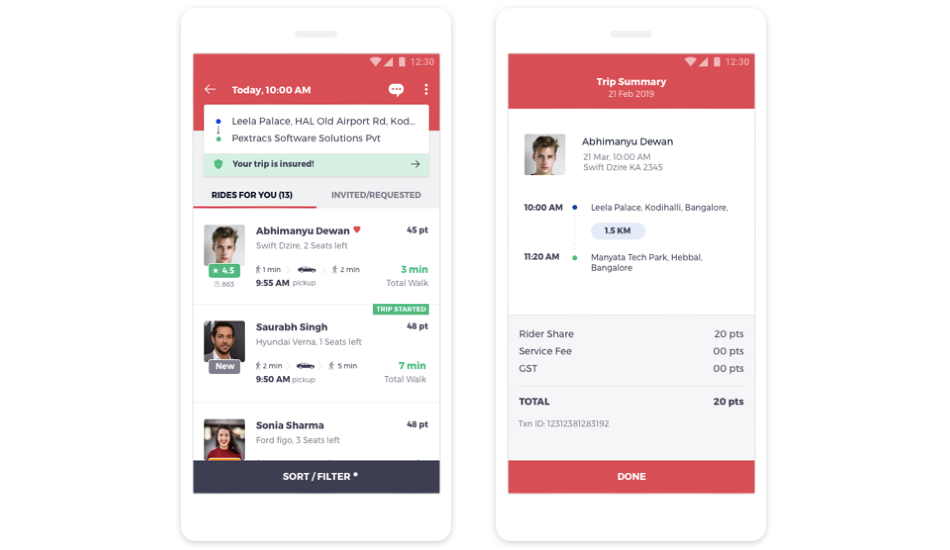 redBus rPool is currently live in Bengaluru, Pune and Hyderabad.