Reliance Communications' (RCom) Android 2.3 based CDMA tablet, which is priced attractively at Rs 12,999, will be available in Rworld stores from today.
"RCom's CDMA tablet will be available in Rworld stores from today and the special introductory tariff plan introduced with the tablet will be only for post subscribers," an RCom spokesperson told The Mobile Indian.
The Reliance CDMA Tab comes with a 7-inch capacitive touch screen with Android 2.3 operating system, 512 MB RAM and a micro SD external storage. The 397 gram weighing tablet comes with a 2.0 megapixel rear camera and a front camera.
The Reliance CDMA Tab is supported by Reliance's CDMA network across 22 circles in over 1000 towns in the country. The device comes bundled with attractive monthly and annual data plans for postpaid RCom subscribers.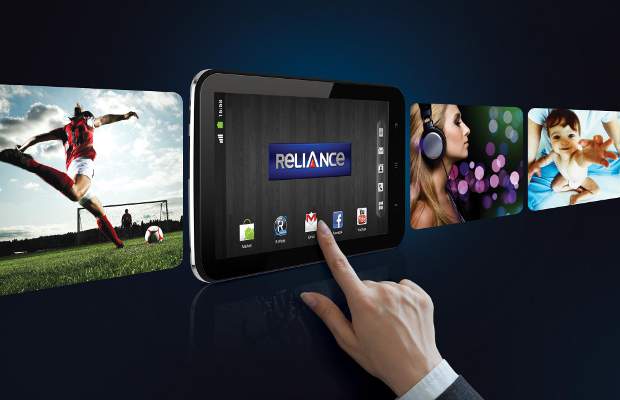 Annual data plans introduced with the RCom tablet are Rs 4,500, Rs 5,500 and Rs 7,000 for 1 GB, 2 GB and 5 GB of data usage per month respectively. Tariffs for monthly plans are Rs 598 for 2 GB, Rs 750 for 5 GB, Rs 950 for 10 GB and Rs 1200 for 15 GB.
RCom has also introduced tariff plans for first time tablet users. If a user consumes less than or equal to 500 MB tariff, he will be charged Rs 350, while if the consumption is between 500 MB and 1000 MB than the applicable tariff will be Rs 350 plus 60 paisa per MB. For usage above 1000 MB, subscribers have to pay Rs 650 plus 6 paisa per MB.
All the data plans will come with default voice tariff plan of 50 paisa per min for all intra and inter circle calls and 50 paisa for local and national SMS.
Rcom is also offering a one year free subscription of McAfee Mobile Security, 2 months free subscription on BigFlix+, and Rs 250 worth of calling on Reliance Global Call, all together valued at Rs 2,100.
For business users, the Reliance CDMA Tab provides a user-friendly email experience with push email capability and is bundled with 'Documents To Go' that supports Microsoft Excel, Word, PowerPoint and PDF formats. Other features include Mobile TV, voice calling, GPS and video recording.
Reliance CDMA Tab is pre-loaded with 15 most popular applications to provide information services (browsing, navigation maps and search), communication services (email, blog, SMS, and MMS), entertainment services (music, video, and games), and social networking services (Facebook) and has access to the Android Market.
The Reliance CDMA Tab comes with a free 4 GB SD card, which can be upgraded to 32 GB.