Reliance Communication has introduced two new International Roaming Packs – Unique UK and Fabulous Five, for its post-paid GSM customers. These two new packs offer great discounts on voice calls while roaming abroad. Along with that, RCOM has also slashed the price of an existing International Roaming Pack – Awesome America. All three packs at Rs 849 per month are meant for the post-paid GSM mobile subscribers.


International Roaming can be turn out to be a very costly affair if you have not selected better packages to stay connected with your office and loved ones. Reliance Communications has introduced the new Unique UK Pack at the rental of Rs 849 per month. Under this pack, the user can enjoy outgoing calls at Rs 25 per minute and calls back to India at Rs 25 per minute. Every incoming call is charged at Rs 15 per minute. For the data usage, the user gets charged Rs 25 per MB for the data usage. RCOM claimed to offer up to 92 per discount on overall costs with the new Unique UK Pack.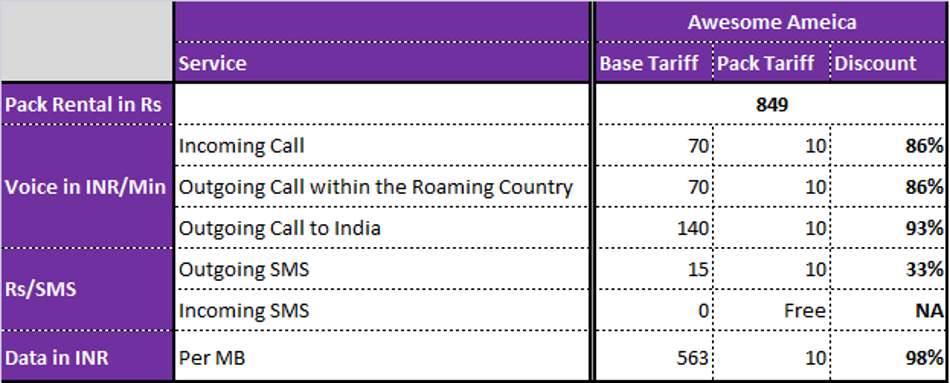 The Fabulous Five tariff Pack allows the user to avail International Roaming in five continents – North America, Asia, Europe, Australia and Africa. RCOM offers discounts on both voice and data calls. Meanwhile, the Awesome America pack offers Incoming and Outgoing calls at Rs 10 per minute while data gets charged at Rs 10 per MB.



Telecom operators are deemed to offer lucrative discounts on International Roamings while most consumers refute to services such as Skype, Viber and others to perform calls Voice-over Internet Protocols are relatively cheaper rate. While there is a different level of clarity in doing a normal voice call to the one over IP, it is the cost that is the key factor here.