Qualcomm has announced that it will soon incorporate support for 5G connectivity on its midrange Snapdragon chipsets by 2020. At the IFA 2019 event in Berlin, the silicon maker clarified that it will expand 5G support to more chipsets under the Snapdragon 800-series, 700-series and 600-series by next year.
Qualcomm says the next-generation Snapdragon 700-series chipsets will feature support for 5G platform. The company says OEMs including HMD, Redmi, Realme, Oppo, Vivo, LG and Motorola will launch phones with the 5G-powered processors. These chips are expected to be built on 7nm process nodes with integrated 5G support and are set for a commercial release in Q4 2019.
Not just that, Qualcomm has also disclosed that the more affordable Snapdragon 600-series will also employ 5G connectivity support. New Snapdragon 600 chips with integrated 5G will ship later next year, possibly in H2 2020.
Speaking about the announcement, Qualcomm Technologies Mobile Senior VP and GM, Alex Katouzian said "Qualcomm Technologies delivered the world's first and most advanced 5G mobile platform including the first comprehensive Modem-RF System to accelerate 5G commercialisation in 2019. And we are uniquely positioned to accelerate 5G commercialisation to scale globally with our OEM and operator customers with expanded mobile platform offerings across our Snapdragon 8 Series, 7 Series and 6 Series in 2020".
Besides that, Qualcomm has also unveiled the QTM527 mmWave antenna module which will be integrated inside the Snapdragon X55 5G Modem-RF System. The new component is set to enable operators to bring fixed broadband services to homes and enterprises for using 5G. The new system will also offer better coverage in urban, suburban and rural areas.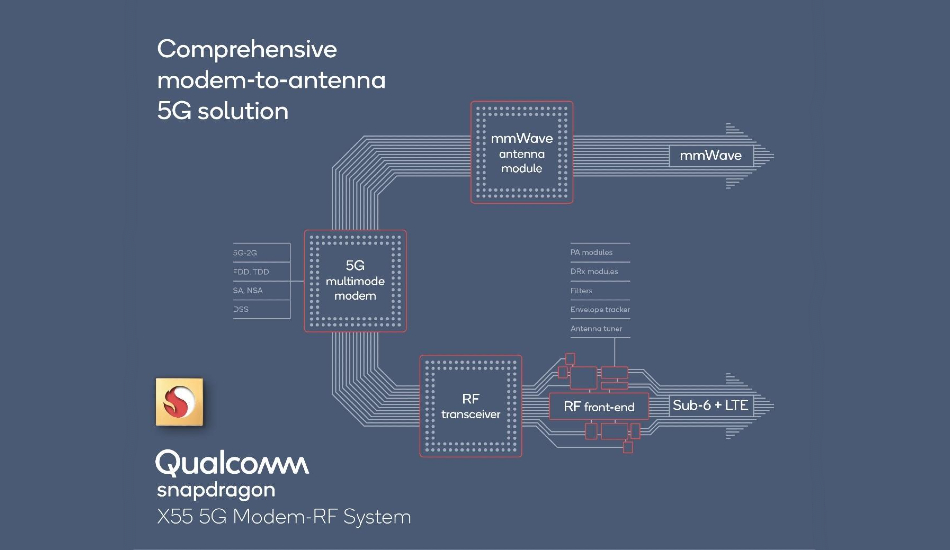 The company has also announced the Snapdragon 5G Modem-RF System which will combine a 5G modem, an RF Front-end and RF Transceiver. The 5G Modem-RF System is rolling out to OEMs and will be integrated inside smartphones, notebooks and other devices by the end of 2019.
It's not just Qualcomm which is gearing up for the expansion of 5G. At the IFA 2019 conference, Huawei also launched the HiSilicon Kirin 990 5G SoC as the world's first flagship 5G SoC where the 5G modem is integrated right into the platform.