Qualcomm, during its annual tech summit, has introduced its latest flagship processor. Dubbed as, Qualcomm Snapdragon 845 mobile platform, the latest chipset could feature in 2018 flagship devices from Samsung, OnePlus, Google and Xiaomi.
With the Snapdragon 845 mobile platform, the company is heavily banking on the AI, camera, faster performance, among others. For this, the brand has developed a new Qualcomm Hexagon 685 DSP architecture with GPU and CPU enhancements for faster processing of neural networks. The platform will allow more information to be processed locally, which will result in better latency, reliability and security. The AI platform supports popular frameworks such as Google TensorFlow and Facebook Caffe2.
Coming to the camera performance, the Qualcomm Snapdragon 845 comes loaded with Qualcomm Spectra 280 ISP, which it claims can capture 64 times more shades of colour information than our previous generation Snapdragon 835. The chipset will support up to 16-megapixel dual cameras and up to 32-megapixel single camera setup with hybrid autofocus, multi-frame noise reduction, HDR video recording and more. It will also allow shooting 4K videos at 60 frames per second and it also supports single-camera bokeh effect, similar to what we have seen in Google Pixel 2 series.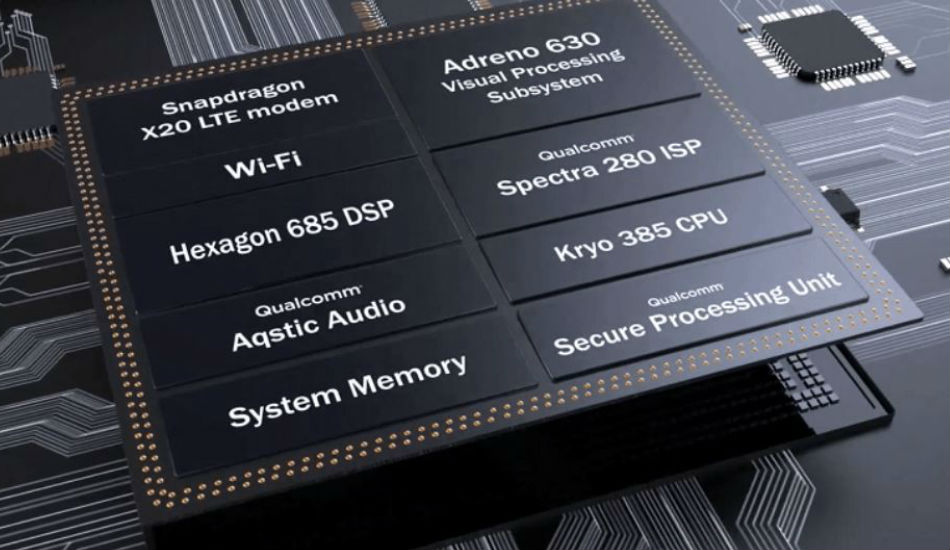 Moving to the performance, the latest Snapdragon 845 processor uses eight cores with ARM A75 and ARM A55 cores. The four high-performance A75 cores will run at a clock speed of up to 2.8GHz, while the four power-efficient A55 cores will run at a speed of up to 1.8GHz. The chipset also features new Qualcomm Adreno 630 visual processing subsystem that features room-scale 6DoF with SLAM, Adreno Foveation, and it offers a 30 percent improvement in graphics/video rendering compared to the previous generation.
The processor can support up to Ultra HD Premium display as well. For security, the company has added a new Qualcomm Secure Processing Unit (SPU) that it claims features vault-like security to store personal biometric data such as fingerprint, iris, voice and facial information. The SPU has its own dedicated processor and its own memory, segregated from the OS environment.
You might also like this:
The chipset also features Snapdragon X20 modem that allows cellular speeds at 1.2 gigabits per second, which is 20 percent faster than the previous generation. On the battery front, it features Qualcomm Quick Charge 4+ technology that is capable of charging 50 percent battery in only 15 minutes.