PVR Cinemas has released a new free iOS App for checking movie show times, trailers and booking tickets. Designed for iPad, iPhone and iPod touch, the new PVR Cinemas app also offers users to choose the desired seats from the available ones and even located the closest cinema hall. Apart from all that, the registered users will receive exclusive deals and offers through the App.
PVR Cinemas App is available for the iOS 4.0 or higher update running iPad, iPhone and iPod touch. Users can check the show times of the currently running movies in the PVR Cinemas of different cities. The movie listings offer a synopsis, posters and even high quality trailers.
Registered users can locate the closest PVR Cinemas based on their current location. Tickets can be booked using the App and one can also choose the seats. For those who are not comfortable with mobile payment can hold tickets and pay later at the box office of the respective PVR Cinemas.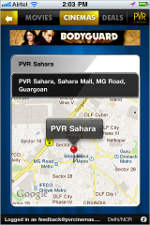 Of course, the registered users will get the first preference on special previews or screenings as part of offers and deals.
Apparently the PVR Cinemas is not the first one for Big Cinemas already has an iPhone and iPad compatible application for booking tickets, check movie listings and watching trailers. Both these applications compete with the BookMyShow.com app that offers listing across several cinemas but doesn't include PVR Cinemas. So movie buffs will have to possess both BookMyShow and PVR Cinemas App on their iPad, iPhone or iPod touch.