Purelogic Labs India has today announced new car cabin filters that protect passengers from pollution. The new cabin filters for cars comes with a price tag of Rs 1,990 and it is available for purchase from the company's official website.
The company claims that the Prana Air's new car cabin filters can stop harmful pollutants and particles such as PM2.5 and PM10 as well gases such as NO2 and SO2 from entering inside a vehicle. The brand has introduced multi-layered HEPA and activated carbon filters.
Prana Air's cabin filter comes in all sizes appropriate for every major car model in India. The company claims that the installation is quite easy and one can install the filter by simply placing it in the ventilation system which is generally accessible through the glove compartment.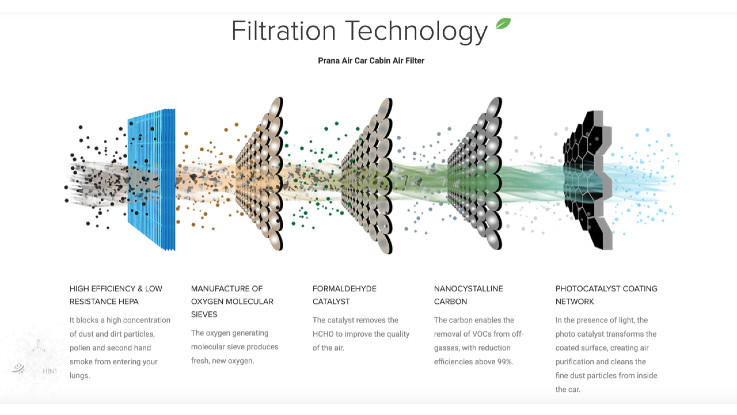 "Ensuring that people have clean air inside their vehicle is key in major cities of India, where drivers and car passengers experience a lot of traffic and congested roads. This results in longer commutes and inhalation of polluted air. Having a HEPA and activated carbon filter for the car, specially designed to ensure the lowest air quality levels, is the solution which guarantees a comfortable and safe ride." says Rohit Bansal, Founder of Purelogic Labs India.
Previously, the company introduced Prana Air Pocket Monitor in India. The Pocket Monitor can be purchased at PranaAir.com for a price of Rs 2,990. The Prana Air Pocket Monitor features a built-in sensor to check PM2.5 values on the go. PM2.5 means particles with a diameter less than 2.5 micrometres which are dangerous to inhale. The portable pocket monitor thus ensures that a user knows right away when the levels are too high.
The Prana Air monitor comes with a 400mAh battery that the company says will last up to 4 hours on a single charge. The device comes with a micro-USB cable for charging and can be fully charged from 0-100 per cent in 1 hour. The portable device can be used in indoor and outdoor environments including homes, offices or the car and can constantly check air quality levels in real-time.