OnePlus seeded the OxygenOS 5.1.6 with new features including portrait mode for selfies, battery percentage indicated in the status bar and dual 4G network options in India last week. After several complaints about stability from users in India, the company had to pause the rollout of the update. OnePlus later on rolled out the OxygenOS 5.1.7 but added that the update wouldn't be pushed to users in India and also that there will be an OxygenOS 5.1.8 OTA version which will be released for Indian-specific users.
Today, the company has seeded the OxygenOS 5.1.8 update for Indian OnePlus 6 users with stability enhancements and fixes to bugs in the previous update. The update not only solves the critical bootloader vulnerability but also solves the stability issues that were reported by Indian users. There's a fix for the DND scheduled setting which was solved in the OxygenOS 5.1.7 and users with the update will also notice an improvement in the call quality as was stated in the changelog.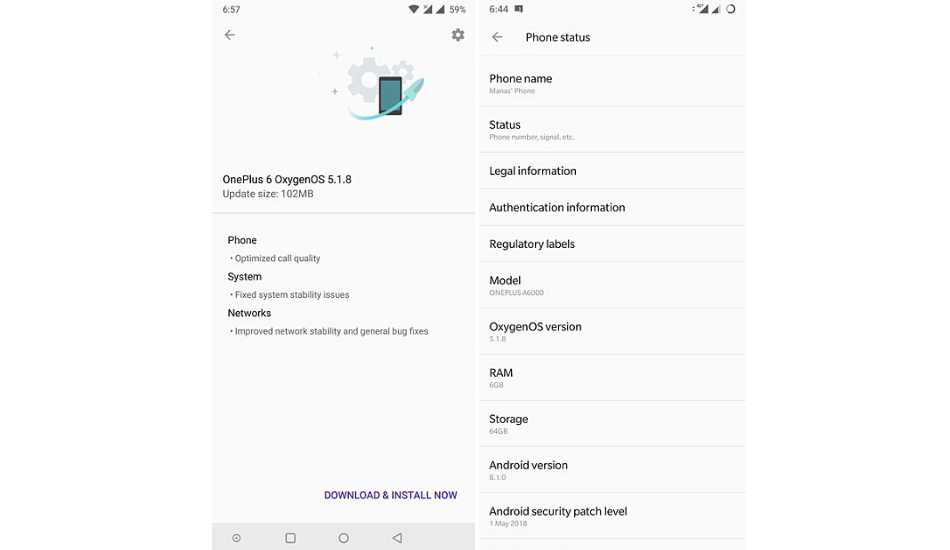 The update will be seeded to a small batch of users at first and will later be rolled out in bulk in the days to come. Upon receiving the update, users will be prompted to download and install the OxygenOS 5.1.8 through a notification which can also be accessed by heading over to Settings > System Updates manually.
Up until now, the OnePlus 6 has received a bunch of OTA updates since its launch and along with that came a ton of extra features to the camera, display and even performance of the phone. While the first update revolved around slow-mo video support and hiding the notch, latter updates made room for improved battery by removing the Always On feature, a new portrait mode for selfies and dual 4G support.