While OnePlus successfully managed to sell one million units of the OnePlus 6 flagship killer within a record 22 days of launch, there was a serious vulnerability that was spotted on the device last week after OnePlus rolled out the OxygenOS 5.1.6 OTA. The vulnerability allowed hackers with physical access to the device get full control of the device by just connecting to a PC.
Days after acknowledging the issue, OnePlus has now rolled out the OxygenOS 5.1.7 OTA update to the OnePlus 6 which comes as an incremental update with no extra features as was present on the last version. But there are fixes and stability improvements and certainly the solution to the vulnerability issue that was reported in the previous update.
Weighing in at under 1.5 GB, the OTA update will be rolled out to all OnePlus 6 devices in a phased manner and will come with an updated bootloader for boosting the system security, which previously gave hackers access to the phone with ease. The changelog also indicates fixes for the Do Not Disturb (DND) mode which was earlier reported to have an issue involving the schedule setting.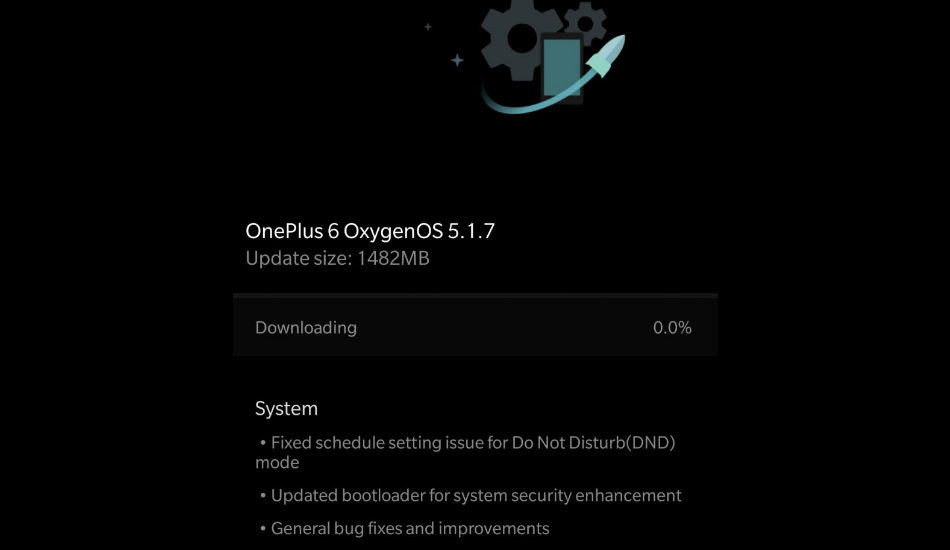 OnePlus has also mentioned that it received reports of stability issues from OnePlus 6 users in India running on OxygenOS 5.1.6 and thus has stopped the further rollout of the version 5.1.6 in the country. The company also added that OxygenOS 5.1.7 will not be seeded for users in India and to fix these stability issues, there will be an OxygenOS 5.1.8 which will be rolled out to Indian users soon.
The OnePlus 6 has received a slew of OTA updates since its release and along with that came a ton of extra features to the camera, design and even performance on the phone. While the first update revolved around slow-mo video support and hiding the notch, latter updates made room for improved battery by removing the Always On feature, a new portrait mode for selfies and dual 4G support.