Oppo was the first to tease an in-display camera sensor on a smartphone at the start of this month and now the company seems to be all ready to unveil the latest smartphone technology.
The Chinese company has scheduled an event that will take place at the MWC Shanghai on June 26. The poster released by Oppo shows a circular shaped lighted region which appears to be positioned at the top of a smartphone. Above the circle is a dotted crevice which we suspect is the earpiece, meaning the circular region will indeed house the front-facing camera of the smartphone.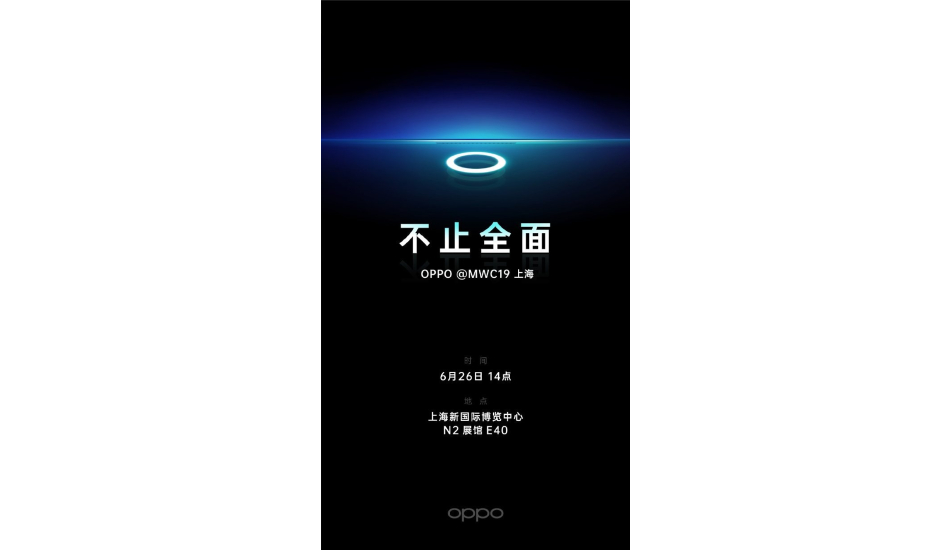 The device in the poster, shared by GizmoChina, resembles that of the camera UI that was seen in a previous video which was shared by Oppo earlier this month. The teaser video revealed a notchless phone that's sitting on top of a desk.
While the video shows a full-screen display at the top with no space for sensors apart from the earpiece, when the individual opens the camera app with the selfie mode, it shows the live view of the room's ceiling, thus confirming the fact that there is indeed a front-facing camera under the display. To increase the credibility of the technology, the user moves their finger over a region where the camera could be, at which point the sensor shows an unfocused preview of the person's finger.
At the time, Oppo VP Brian Shen also revealed that the technology is still "in its early days". Shen said "At this stage, it's difficult for under-display cameras to match the same results as normal cameras, there's bound to be some loss in optical quality. But, no new technology jumps to perfection right away".
However, Oppo isn't the only company to work on the in-display camera technology. Shortly after Oppo teased their in-display camera phone prototype, its Chinese rival Xiaomi demonstrated their own take on the under-display camera technology and later explained how it enabled the under-display selfie camera on its prototype Mi 9 device.
We'll know more about Oppo's in-display camera phone as we approach the Oppo keynote at the MWC Shanghai on June 26.