Huawei recently got caught for unfairly modifying performance in the benchmarks scores and now, it is Oppo that has been accused of applying the same tactics. UL Benchmarks have delisted the Oppo Find X and Oppo F7 from their database as the phones were found modifying performance in benchmark tests.
UL Benchmarks, the creator of the 3DMark benchmarking site, has debarred Oppo Find X, which was ranked at #4 in their list of the best smartphones for 3D Mark Sling Shot Extreme performance. The brand tested both the models with the public version of 3DMark and a private version, which is not available to the public or manufacturers.
The report highlights that the scores from the public 3DMark app were up to 41 per cent higher than the scores from the private app. It further added that both the smartphones recognised the 3DMark application by name rather than adapting to the type of work in the test. The brand states that this is against the rule for manufacturers, which is laid by the company. Hence it has delisted both the models.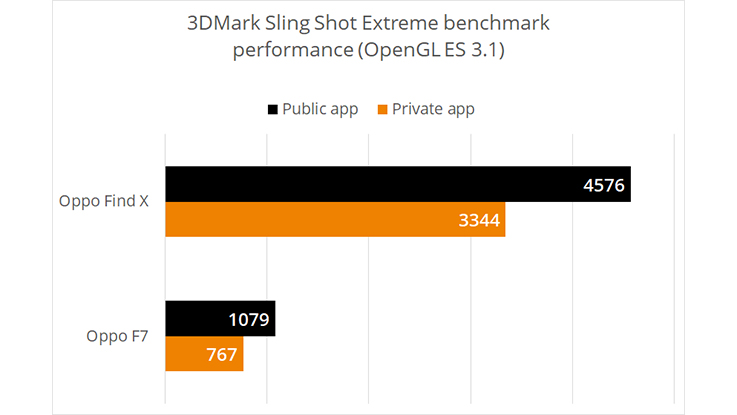 Interestingly, Oppo has admitted this issue and stated: "When we detect that the user is running applications like games or 3D Benchmarks that require high performance, we allow the SoC to run at full speed for the smoothest experience."
Huawei also made a similar claim when it was caught cheating the benchmark results. The company revealed that its smartphones now use AI to "optimise the performance of hardware, including the CPU, GPU and NPU". Thus, when opening a benchmarking app on a new Huawei phone, the AI will recognise the same and adapt to an enhanced performance mode to deliver more power.