Opera web browser has now been revamped and now integrates social messenger services while you browse simultaneously. Codenamed 'Reborn', the new browser will solve the problem of switching between tabs while your browse and chat with your friends side-by-side. With the new browser, Opera allows the messengers to reside within your browser without the need to install any extensions or apps.
You can now have quick access to the web version of popular messengers like Facebook Messenger, WhatsApp and Telegram. The messenger shortcuts will sit on browser's sidebar and you can also pin the messenger tab for even easier multitasking. One can also simply pick and drop images from anywhere to a messenger's icon on the sidebar, to share photos. There is also a menu button which will enable you to log out from messengers inside the browser itself.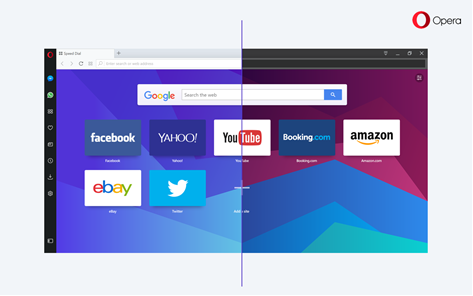 Apart from the messenger integration, the new version also brings a fresh look, new icons, colours, and wallpapers The new look brings in high-quality graphical design and a simpler, lighter tabs. As mentioned before, there is a new sidebar with a touch animation and we also have a dark theme for the entire browser along with a new set of backgrounds.
Off late, Opera has been introducing quite a bit of change especially earlier this year, when it launched its concept browser – Neon which also had the simultaneous chat messenger integration. Opera also introduced its free VPN service last year along with its native ad blocking service. Currently, the Reborn built is under beta, you can download it here