In a race to being the best mobile browser, we might not see Opera jumping on to the list anytime soon but Opera Touch might just be the way to start the proceedings with. The once-popular web browsing app which made web browsing easy and quick with its Opera Mini application is now bringing a brand new mobile browser that's designed with a sole purpose of making it easy to scroll through the Internet with one hand easily.
Upon downloading the Opera Touch from the Google Play and launching the same, you'll be greeted with an open keyboard and the search bar already toggled into. There's a new Fast Action Button (FAB) which can always be accessed from the bottom part of the screen. The FAB will allow users to browse the web with a single hand as it opens a circular menu with other options like going back to the previous page, switching between tabs and popping up the phone's keyboard, all of which is taken care of without you needing to use both your hands. Be it you're on a bus or metro and you only have a hand to hold your phone with, Opera Touch will come in handy in such situations and more.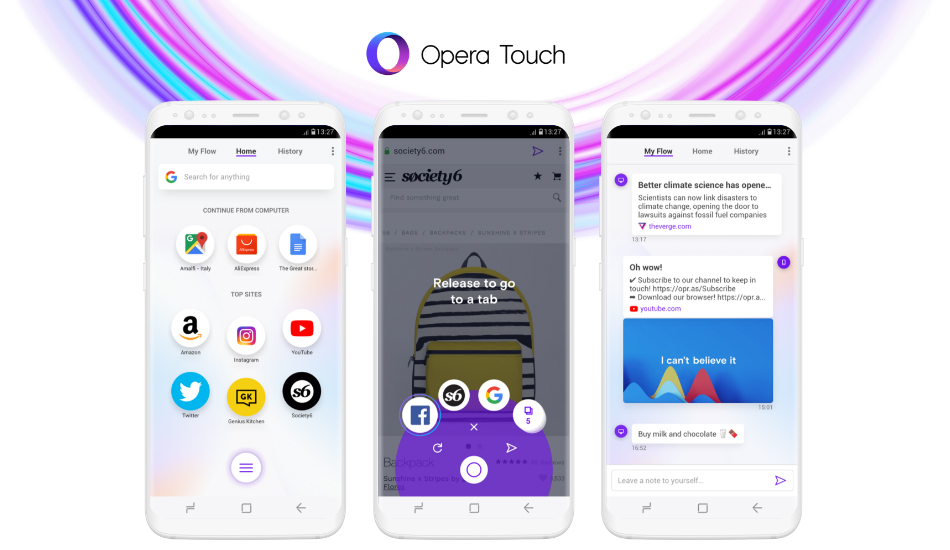 Another major addition to the browser is Opera Flow which allows users to quickly send and receive content between their smartphones and desktops. Upon scanning the given QR code on the desktop and accessing the same FAB on a smartphone, users can quickly share links and continue their browsing experience through multiple platforms. Opera claims that users would have to work about their privacy since all of these connections are end-to-end encrypted. In order to use this feature, users would also need to install the latest version of Opera browser on their Mac, Windows or Linus machine.
Opera Touch also employs an ad-blocker, a QR and barcode scanner, speed dial and crypto-jacking protection among the regular features you see on a web browser.