The OnePlus 7 and OnePlus 7 Pro are just two months old but as it is with the company tradition, we could soon be greeted by the OnePlus 7T line of smartphones. Now two alleged pictures of the OnePlus 7T Pro have been leaked online, giving us a glimpse of what to expect from the upcoming flagship device.
The pictures, as hared by /Leaks, show the OnePlus 7T Pro encased inside a shell so as to not reveal the complete design of the phone. While one can mistakingly claim that the device looks like the original OnePlus 7 Pro, the fact that the speaker grills on the device are much more visible than that of the already launched OnePlus 7 Pro, point otherwise. The leaked phone also appears to have a different curved design as compared to the OnePlus 7 Pro.
Beyond that, if the OnePlus 7T Pro does launch, we can expect no big cosmetic changes on the device compared to its predecessor. The phone could equip the same pop-up mechanical camera for selfies and triple camera setup at the back with maybe slight tweaks in its specifications.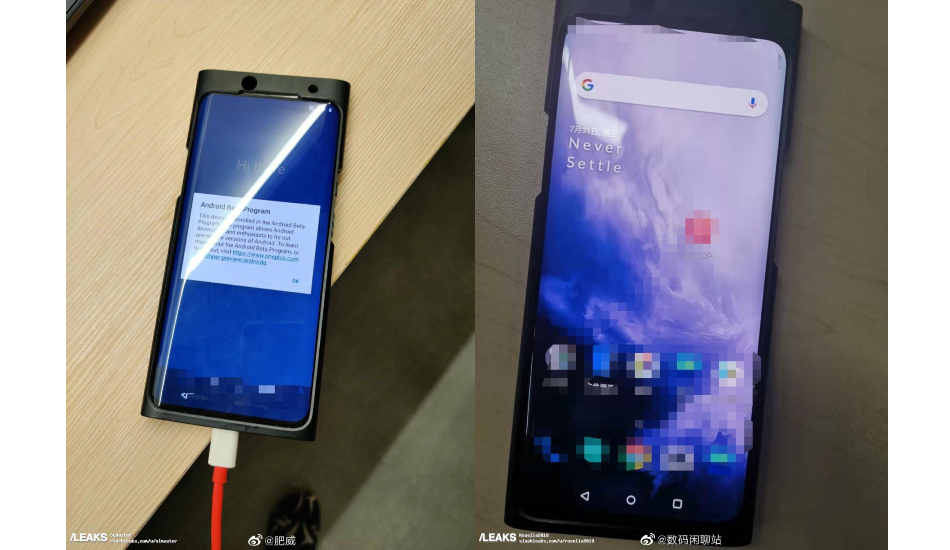 We could also expect the successor the OnePlus 7 Pro to comes with the more recent Snapdragon 855 Plus chipset from Qualcomm. The SoC comes loaded with eight Kryo 485 CPU that runs at a clock speed of 2.96 GHz as compared to the 2.8 GHz present in the Snapdragon 855. Other rumoured speculation include wireless charging and a higher refresh rate.
Judging by the fact that we're seeing news of a OnePlus 7T Pro for the first time in August comes in line with the timeline of OnePlus' T lineup phones that usually launch in November. This means, we're still months away from the launch and there's a chance that OnePlus 7T Pro could come with Android 10 Q out of the box.