Nvidia has announced a new tablet with 8-inch display. The new Nvidia Shield is powered by the Tegra K1 mobile chipset. The tablet is the updated version of the Shield tablet launched last year which has been renamed to Shield Portable. It will be offered in 16 GB WiFi only option for $299 (Rs 18,020 approx.) and 32 GB WiFi+LTE model for $399 (Rs 24,030 approx.) – both the versions are set to be made available in the USA from July 29.
Nvidia Shield comes with capability to support the new Shield controller. The Shield tablet offers an 8-inch multi-touch display with 1920×1200 pixel resolution natively. Nvidia has powered this tablet with 2.2 GHz Tegra K1 mobile chipset featuring 192 graphics-core bearing Kepler GPU for mobile platform. This is the 32-bit version is the refreshed version of the Tegra 4 mobile chipset and features the four plus ARM A15 CPU setting.
Shield's gaming potential is powered by the 192 graphic cores bearing Nvidia Kepler GPU architecture which is actually a refined and mobile version of the Kepler GPU architecture for desktops. The Kepler GPU supports several desktop level graphic technologies such as DirectX 11, OpenGL 4.4 and Tessellation. In a nutshell, quite a lot of popular PC games will be ported for Android and the users will be able to enjoy almost same or refined level of graphics on the Shield tablets. The tablet is also loaded with 3-axis gyroscope, accelerometer and compass to make the best of the gaming apps.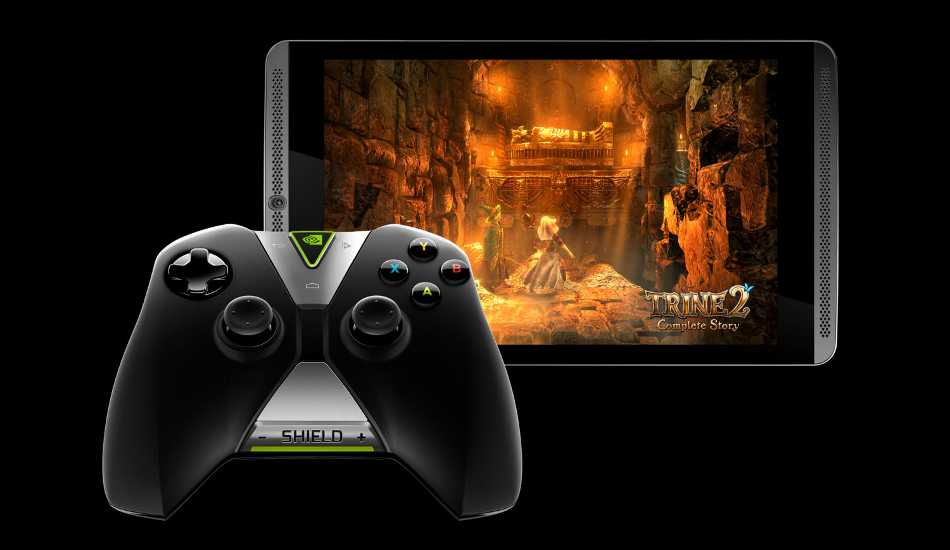 The tablet comes packed with 2 GB RAM and will be offered in 16 GB or 32 GB on-board storage options. Both the versions of the tablet also offers a micro SD card slot. Shield Tablet offers front facing stereo speakers for better audio feedback and dual bass reflex port with built-in microphone.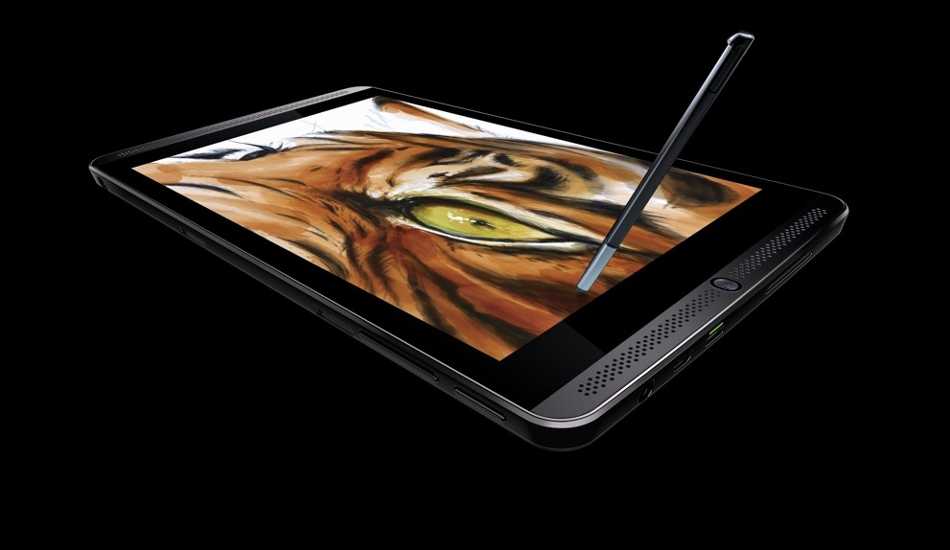 For faster downloads and mobile internet experience, Nvidia has packed dual-band 802.11n 2×2 MIMO solution. Nvidia has also added Bluetooth 4.0 Low Energy and GPS along with GLONASS support. The tablet supports Micro-SIM module. Nvidia has loaded the tablet with specific gaming features the GameStream, ShadowPlay, GRID Cloud Gaming Beta and Gamepad Mapper. The tablet also comes loaded with Trine 2: Complete Story game.
Shield tablet has a 5 megapixel camera with HDR capabilities and rear has 5 megapixel auto-focus camera with HDR. The Shield tablet also bundles along with DirectStylus 2 with 3D Paint software included.
Measuring 9.2 mm thick, the Shield tablet can be used with a Nvidia GTX family GPU powered computers to stream games as well. As of now, Nvidia has not shared its plans to introduce the tablet in India.