Finnish handset maker Nokia today announced its first Windows Phone smartphones – Lumia 710, and Lumia 800. Both smartphones will be available in India in December this year and are likely to be priced Rs 19,000 and Rs 29,000 respectively.
The more expensive, Lumia 800 has a polycarbonate body with subtle curves topped with a bright Amoled ClearBlack display with toughened glass similar to the Meego based Nokia N9.
There is no physical button, but the Back, Start and Search buttons on the front of the screen are set in the glass. Lumia 800 comes in three colours: black, cyan and magenta.
On the back, there's an eight-megapixel auto-focus camera with Carl Zeiss optics. The camera also shoots HD video at 30 frames per second.
Inside, there's a 1.4 GHz processor and a graphics co-processor. Besides the 16 GB of internal user memory, integrated cloud computing offers 25 GB of free SkyDrive storage for music and pictures. Lumia 800 is 3G enabled phone and has a talktime up to 13 hours, and standby time up to 335 hours. It measures 116.5 x 61.2 x 12.1mm and weighs 142g.
It also gets Nokia Music with new MixRadio service that will offer a free, global, mobile music-streaming service with hundreds of locally-relevant channels available.
Social networking has also been taken care of with every major network covered (Facebook Twitter and the likes), and social sharing or online storage can happen automatically or with two taps on the interface. And also offers integration through communications and contacts.
Nokia 710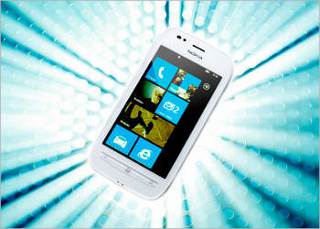 Nokia 710 is an entry level Windows Phone from Nokia. It has got exchangeable back covers and will come in black and white varieties, with the choice of black, white, cyan, fuchsia and yellow back covers.
Its 3.7-inch screen offers an 800 x 480-pixel resolution with a ClearBlack TFT, which, Nokia says, is good for readability in sunlight. At the rear, there's a five-megapixel auto-focus camera with an LED flash. The camera can also shoot HD video at 30 frames-per-second.
Social networking has been taken care with full integration of Facebook, Twitter and Linked-In, which also allows easy photo-sharing. Like all Windows Phone devices the default browser is the Internet Explorer 9.
Like the big brother Lumia 800 this one too gets Nokia drive for navigation and the latest version of Nokia Music featuring MixRadio which offers hundreds of locally-relevant music channels.
Also on board is the xbox Live Hub for gaming and Outlook Mobile for corporate email accounts. Similarities don't just end there inside too is similar to Lumia 800 with the same 1.4GHz processor, hardware acceleration and graphics processor. Inside there's 8GB of user storage memory and 512MB of RAM.
It has quadband radio reception, 3G up to HSDPA, WiFi and Bluetooth. The phone measures 119 x 62.4 x 12.5mm and weighs 125.5g.