Foursquare has become a hot favorite amongst many people of late. People have actually started understanding the meaning and need for location sharing, thanks to Foursquare. Nokia also understands the importance of location and activity sharing and that is why it has announced Nokia Pulse. Nokia Pulse is a location sharing application somewhat similar to Foursquare but with more secure and personal location sharing.
Nokia Pulse sends updates on conversations, location and the places being visited to the contacts on the list in a simple yet effective manner. While all this is shared with people within your group, no one outside the group can access this information. The Nokia Pulse application is available across various platforms as well so accessing it from different places is not a problem.
Apart from being just a mobile based application Nokia Pulse is accessible through the internet on any personal computer or mobile device capable of logging onto the internet.
What makes Nokia Pulse unique is its ability to share selectively so that people can choose with whom they wish to share their information at any given time.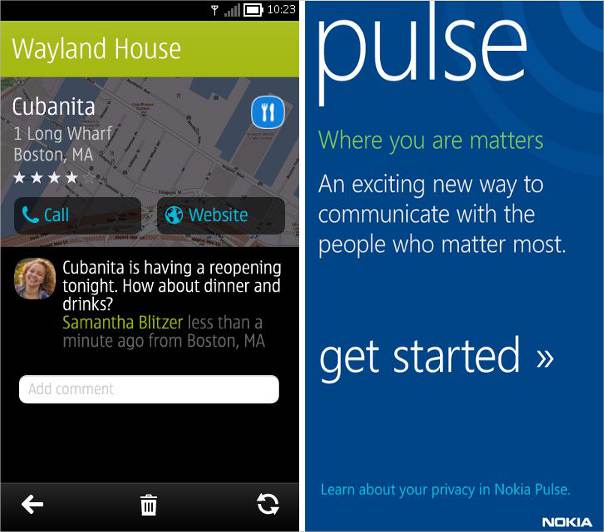 Along with that the Nokia Pulse application comes fully integrated with Nokia Maps (new name for the Ovi Maps) hence users can easily find their location and along with that choose or search for nearby places and even get directions to those places right form within the application.
Currently the application is available for Symbian and Windows Phone. Other smartphone and feature phone users can access the mobile web version of the application at pulse.nokia.com. Or users can also use a tablet or computer to access it.
The application is in beta phase so it might have some bugs, but once it gets out of this phase many more features are expected to be added to it. Nokia Pulse can be downloaded either from Nokia beta labs or from Symbian and Windows Phone application stores by accessing the given links.
Link:-
Windows Phone: https://www.windowsphone.com/en-US/apps/65ea5cd7-7d22-4aa6-99bc-7a4ff2993663
Symbian: https://betalabs.nokia.com/apps/nokia-pulse