Making its entry into the augmented reality domain, Nokia has added a beta version of its Live View browser, which adds information to whatever is being seen through the cameras viewfinder alongside the actual imagery.
In a disclaimer, Nokia said that this is an experimental product and might disappear after the beta trial is over. But, the fact is that this has been a common trend followed by Nokia in the past during introduction of a new product and we are expecting a final version product of the Live View Browser very soon.
The Live View browser works in conjunction with the Nokia Maps. Users, however, should install the latest version of the Nokia Maps on their device for a better experience. With the use of Nokia Maps, the Live View browser is able to access points of interests and users can also get direction to the nearest caf&#233 or place while walking or driving as added in the latest Nokia Maps update.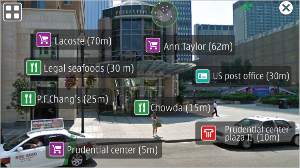 As of now, there is no official word on the availability of this service with any geographical limitation from the developers and anyone anywhere can use this application.
Nokia has confirmed the compatibility and testing of this application on devices such as Nokia N8, Nokia C7 and the E7 as well running the newer or the updated OS. For other devices users can use and share their experience as it would help other users too.
For installing, the Nokia Live browser users can head straight to the Nokia beta labs and download the token file and it is advised that the users stay connected to a WiFi network during installation as the installation will require download of additional files.