Android has been many things but lightweight isn't one of them. To explore this route, HMD Global seems to be working on a feature phone (yes, you read that right) which could run Android.
An Image of a feature phone has popped up online resembling Nokia's line of feature phones in candy bar form factor. Shared by 9to5Google, the image shows a feature phone running some skin of Android where the software itself bears a striking resemblance to Kai OS, which has been powering Nokia's feature phones lately.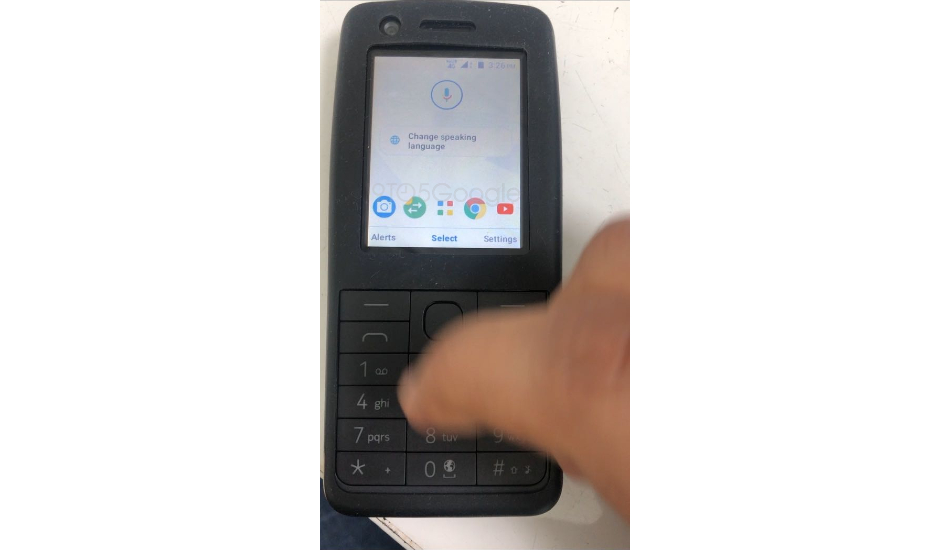 The phone in the image also appears similar to the Nokia 220 with a four-sided D-pad, call and end buttons, T9 format keys and additional buttons for selecting on both sides of the screen.
There's a status bar on the top right corner of the phone which has different indicators for the signal, battery and time. There's an icon in the middle of the top portion which looks like Google's microphone icon. This could be something that gets triggered by long-pressing the centre button and offers voice commands through Google Assistant.
On the bottom side, there is a row of icons, one of which looks like an app drawer and is positioned at the centre. The phone screen shows icons of other apps including the Camera, Google Chrome and YouTube.
Additionally, there's an indicator below the Google Microphone which reads "Change speaking language" which could be something to do with the Google Assistant or translate service.
Lastly, the bottom-most portion shows the options bar which has Alerts, Select and Settings options which can be selected by pressing the relevant physical buttons below the screen. In contrast, KaiOS has Alerts, a drawer and Shortcuts on its phones.
Since there has been no word on such an OS from Google or a phone from HMD Global, we suggest you take this with a grain of salt. In case this is real, we could be looking at a new competitor to KaiOS which has been making its way to new feature phones from Nokia as well as Jio.