After rolling out theAndroid 8.0 Oreo update for the Nokia 8, HMD Global is all set to open the Android Oreo Beta Lab for the Nokia 6 and Nokia 5 very soon. This bit of information comes from the twitter handle of the Juho Sarvikas, Chief Officer at HMD Global.
Sarvikas posted "Yes, Nokia 6 and Nokia 5 next. Just reviewed today, we will open Beta Labs for those model soon". Earlier, the HMD's General Manager of Australia, New Zealand and Indonesia Mark Trundle also confirmed to deliver Android Oreo update Nokia 5 and 6 by the end of the year.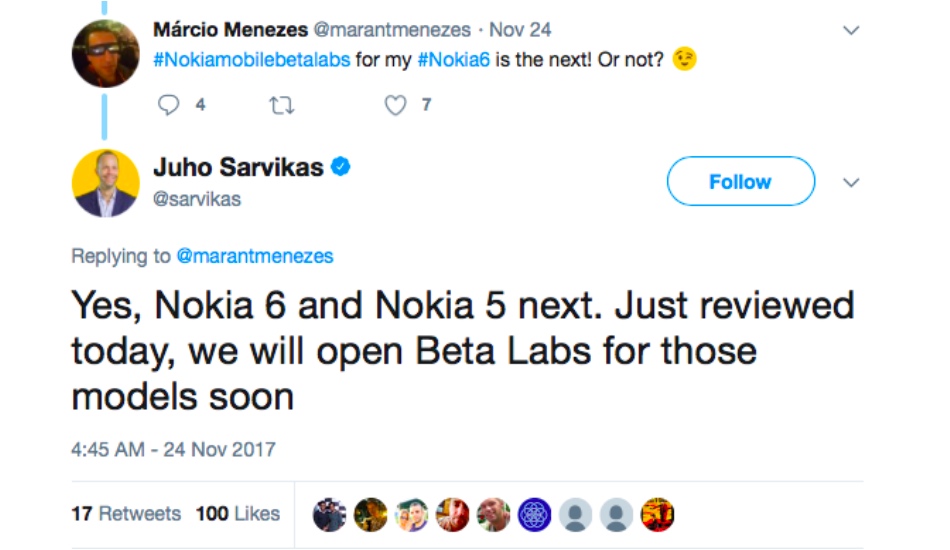 With the latest update, the smartphone will have picture-in-picture mode that lets users to two tasks simultaneously. So, for example, one can minimise a YouTube video while sending a text message or writing an email. Android Oreo has other features like including detailed Notification dots for every app and Autofill passwords, faster boot times, background limits, installation of apps via APK, over 60 new emojis, notification dots, Wide-gamut colour for apps, Snoozing individual notification, Adaptive icons, Keyboard navigation, WebView enhancements and much more.
You Might Also Like
Meanwhile, the Nokia 5 and 6 Series are currently running on Android 7.1.1 Nougat and available and are already available in India. The Nokia 6 is selling on a price tag of Rs 14,999 via Amazon, however, the Nokia 5 comes for Rs 12,999 through the offline channels.
To recall, during a launch event of Nokia in the Philippines, Shannon Mead, Philippines country manager, HMD Global has confirmed that the Nokia 3, 5, 6 and 8 will get two years of Android update which includes the next year Android version P.