HMD Global announced the launch of most talked about feature phone 'Nokia 3310' last week in India at Rs 3,310 and is now available for purchase through offline stores across India, whereas Darago 3310, so-called clone of Nokia 3310, priced at just Rs 799 and is available for purchase through Flipkart. Darago 3310 is manufactured by Shenzhen Darago Technology Co. Ltd and was established in July of 2012. The company has a base in Shenzhen, China.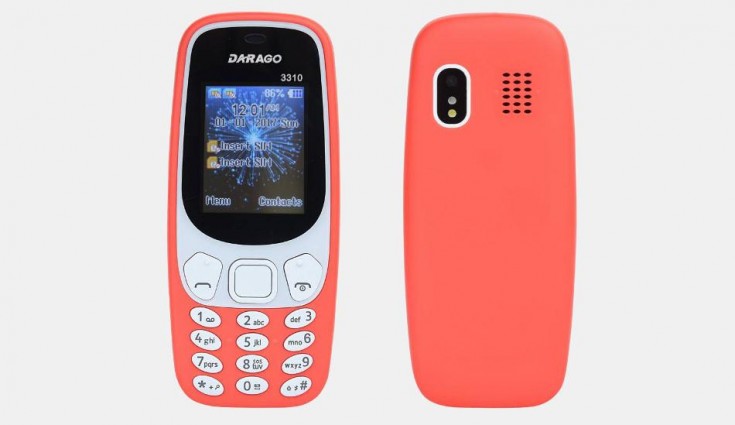 Let's keep these devices head to head and compare them from specifications point of view.
Design and Display
This Darago 3310 looks almost identical to new avatar of Nokia 3310 in terms of design. The keypad layout and the camera cutouts are also quite similar to Nokia 3310. The only noticeable difference is the placement of the micro-USB charging port, which is placed at the bottom in the clone, while in Nokia 3310 it is placed on the top. The Nokia 3310 measures 115.6 x 51.0 x 12.8mm and weight 79.6 grams (including battery).
Regarding display, Darago 3310 comes with a smaller 1.77-inch screen, whereas Nokia 3310 has the bigger 2.4-inch display. However, both comes with QVGA resolution with 240×320 pixels. The larger screen size of Nokia 3310 will give you a better viewing experience in comparison to the smaller screen size of 1.77-inches.
Processor, Memory and OS
Nokia 3310 runs on Nokia's S30+ operating system, whereas in Darago 3310 we are unsure about the operating system this device runs. So here making comparison will be a difficult task. However, if you take my view Nokia's S30+ operating system will surely hold an upper hand.
Darago 3310 has 1MB of ROM and comes with an option to expand the storage up to 8GB via micro SD card, while Nokia 3310 has 16MB of ROM. Further, this storage can be expanded up to 32GB via micro SD card. Here Nokia 3310 is a clear winner in terms of RAM, internal and expandable storage.
Camera
On the camera front, Darago 3310 comes with a mediocre 0.3-megapixel (VGA resolution) rear camera with LED flash, while we get a 2-megapixel rear camera with LED flash in Nokia 3310. With this kind of resolution, we can't expect both phone's camera to perform outstanding, but Nokia 3310 can provide you with the better image quality than Darago 3310's VGA resolution camera. Both the feature phones don't have the front camera.
Battery and Connectivity
Darago 3310 gets its strength from a 1050 mAh battery, while the Nokia 3310 packs a 1200 mAh battery which Nokia claims can last you 22.1 hours of talk time, 31 days of standby, 51 hours of MP3 playback and 39 hours FM radio playback. Here also Nokia 3310 comes out as a winner.
On the connectivity front, both phones support Dual SIM, 2G, Bluetooth, FM Radio, Games, Music Player, Internet Browsing, and Video Recording support.
Wrapping up
Now let's see which smartphone is worth your hard earned money. The two devices have a price difference of almost Rs 2511, where Nokia 3310 is the costlier. But we have to keep this in mind that Nokia still has a strong fan following in India and the band value they possess. HMD Global recently issued a statement to a tech website 'nokiapoweruser' that the demand of Nokia 3310 in India has been exceeding expectations and they are overwhelmed by the response. Further, they have assured that they will be bringing in, even more, stocks soon.
And also if we compare the specifications of both the features phone, Nokia 3310 comes out to be a clear winner in all the departments and most likely to provide a much more pleasant experience while operating and it has a reliable Nokia name attached to it.