Nimbuzz, a popular instant messenger app which recently started offering apps called Bots within its app, is set to expand the number of bots it offers by opening its API to developers. Bots or internet bots are software applications that run automated tasks over the Internet.
Currently Bots like, Astrology (daily astrological predictions), Cricket (get latest scores), Twitter Bot (to tweet right from within the chat window) and Jimmy Testbot (to have funny conversations and test your mobile internet connection) are available. So if an astrology app has a bot, you can ask questions to which the bot will reply.
However, with the opening of the platform to developers this number is set to expand further, with bots for games, quiz, Wikipedia, weather, mobile e-store, IMDb (movie site), romantic ideas, and bot that helps you prepare your to do list will appear soon.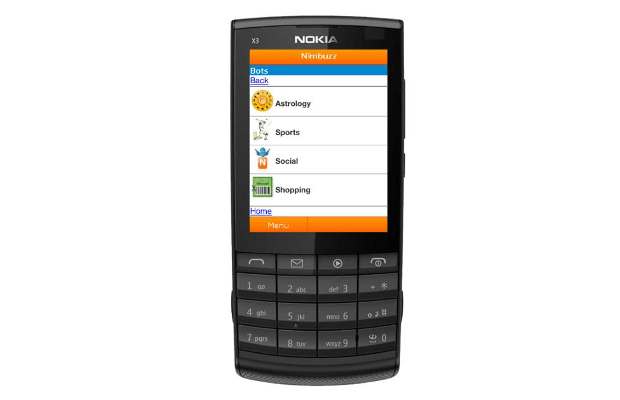 These bots can be downloaded from 'N World' which is the market place within Nimbuzz app.
"With the release of our API we are allowing developers to reach our 85 million plus users. Users will get benefit from increased utility of our app," Jamshed V Rajan, chief product officer, Nimbuzz told The Mobile Indian.
The best part is that the Nimbuzz application supports all internet (GPRS, EDGE, 3G) enabled phones including low end feature phones. And since feature phones cannot download much apps as that will slow them down, downloading Nimbuzz app will give them enough elbow room as this one app offers multiple apps within it.
While the app doesn't support payment gateway right now, users will soon get to pay for certain virtual gifts through a virtual currency called Nimbucks (Nimbuzz bucks).
Nimbuzz will also support operator billing (paying through phone balance and bill) in next few days with all the Indian operators.
Nimbuzz, apart from offering integrated IM chat client (where you can have only chat clent for all you accounts like Gtalk, Live messenger, Yahoo and more), also offers low cost calls to both local and International mobile numbers.