Google has got some really big plans regarding Google+, its social networking website launched recently. According to a post on the Google+ fan page on Facebook, the upcoming Nexus 3 smartphone will be featuring a dedicated Google+ button which will provide one touch access to sharing and liking content on the social networking website.
And this button will not just be an inclusion in the software or the operating system of the device but will be a physical hardware button on the device itself. Having a hardware button dedicated for Google+ makes a whole lot of sense as it would definitely make content sharing a lot easier.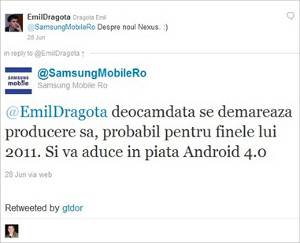 The post reveals some very shocking information about the upcoming Google Nexus device too. As mentioned in the post, Google Nexus 3 device will be manufactured by HTC. It is contrary to the earlier reports that the device will be manufactured by Samsung, who had also confirmed it on their Twitter page.
At this point, however, there is no clarity as the news seems to be based on rumours and an official confirmation on the same is yet to arrive and.
Also, earlier it was reported that Nexus 3 would not have any hardware button on it, which is now being contradicted by the announcement that talks about a dedicated hardware button for Google+ on the smartphone.
The disclosers about Nexus 3, however, are not official statements and an official statement from Google on this regard may come anytime soon.